Young Hiker Died After Falling From Mountain Peak While Taking Selfie
A 21-year-old hiker died after he fell 700 feet from a mountain peak in Arizona while attempting to take a selfie.
Richard Jacobson from Mesa, Arizona was camping with a friend on the Flatiron Peak of Superstition Mountain in Lost Dutchman State Park on Monday evening.
Officers said Jacobson lost his footing while attempting to take a photo of himself and the view of the skyline at about midnight. Soon after, his friend called 911 and reported that Jacobson had fallen off the mountain.
Officials later found Jacobson dead on a trail approximately 700 feet from where he was attempting to take the selfie.
A helicopter from the Arizona Department of Public Safety assisted with the late-night rescue efforts, People reported.
According to a study by the iO Foundation, a Spanish organization specializing in infectious diseases and tropical medicine, deaths involving selfies occurred about once every 13 days between January 2008 and July 2021.
The president of the foundation Manuel Linares Rufo said selfie-related fatalities are common enough that it can technically be considered a public health risk. An estimated 256 people have died after falling from cliffs, waterfalls, and rooftops while attempting to snap a photo, the study found.
The study found that most fatalities occur with residents and people familiar with the terrain rather than tourists. The numbers highlighted how tourists remained more focused in new areas whereas residents took more risk.
While it is unclear which route Jacobson and his friend took to get to Flatiron Peak, the Arizona State Parks website says the trek up to the Flatiron Peak is not for the inexperienced hiker. According to the website, one of the more popular ways to the peak is on a 5.5-mile trail called the Siphon Draw Trail.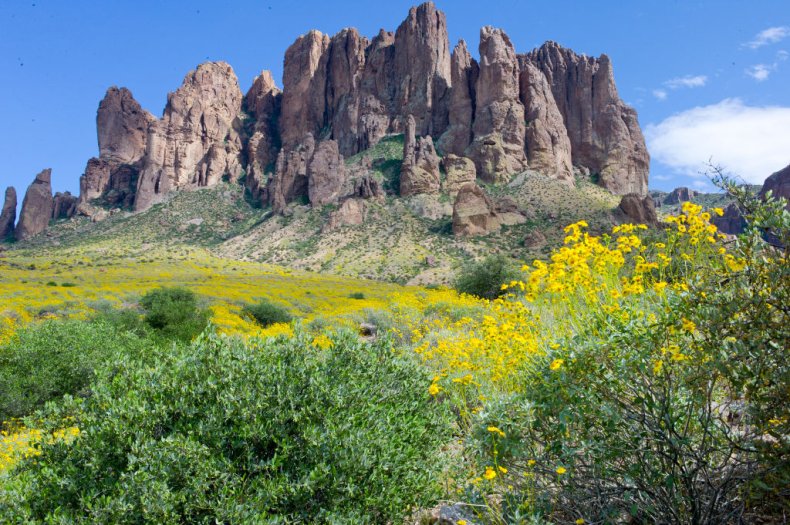 "It's advised that only experienced hikers in good shape attempt to hike to the top, as the climb is steep and difficult to follow," the website states. "Allow at least five hours for the Flatiron hike, up and back."
Brandon Torres, the branch chief of Emergency Services at the state park, told People that people must remain focused while hiking the trails and that there have been several accidents involving people who fell.
"There's been a couple of accidents where people took a picture and posed like they were going to fall off, and they really fell off," he said. "You gotta be super focused about being next to the edge, and not just at the rim. Hiking down steep canyon trails, think about how much opportunity there is to fall off a trail."
He said people don't often hear of individuals falling off trails at the Grand Canyon because people tend to stay focused on those trails and recommended that people stay equally as focused on every hike.