Young People Are Telling Their Climate Stories. World Leaders Must Listen | Opinion
The world leaders at the climate conference in Glasgow, Scotland, trot out pledges and plans—some of them substantive, many vague and toothless—to tell us a story of their own action and commitment. But another determined and outspoken cast of characters asserts its own narrative. That one is contradictory, but compelling—it reflects impatience, anger and a personal stake in the climate drama.
These storytellers are the students, activists and young people who are on the front lines of the climate future because they know they will live it. Many are already expressing frustration about the Glasgow talks. "Empty speeches" is how 19-year-old climate and human rights activist Maria Reyes described them. Climate activist Greta Thunberg told a crowd gathered in Glasgow the climate summit was a "failure."
In other words, too little, too late, too slow.
Today's youth have grown up with headlines, tweets, memes and digital networks all flashing climate red. Social media connects them to one another and to the world in unprecedented and profoundly personal ways. They experience the wildfires in California and Australia. They feel the heat in Arizona and sub-Saharan Africa. They watch parents deal with extreme weather in Florida and Germany. They worry about drought in Nevada and Brazil. They echo the open letter from health leaders representing 45 million workers and 450 organizations around the world warning that "the climate crisis is the single biggest health threat facing humanity."
One of the most influential young American voices belongs to Alexandria Villaseñor, a high school student from New York. Like Thunberg, Villaseñor is fearless, eloquent and adept at using the spotlight to turn up the heat. She helped organize the global climate strike and has led demonstrations in front of the United Nations every Friday for more than a year. She spoke at the Democratic National Convention in 2020. She started Earth Uprising and was co-founder of the U.S. Youth Climate strike.
I spoke to Villaseñor for Planet Forward, an environmental journalism project I started at the George Washington University that focuses on climate change, sustainability and the innovations needed to address our daunting problems. College students across the U.S. have used this platform to tell thousands of stories about food, water, energy, biodiversity and more. As COP26 convened, several reported from personal vantage points: Matthew Cox, a student from Texas, wrote about searing heat; Yuting Wu invoked her grandma and rising sea levels in Shanghai; Zuha Hameed relayed her experience with extreme weather and flooding in Virginia.
"Youth are the intergenerational bridge for climate change awareness," Villasenor told me, citing studies showing that kids can change their parents' thinking about climate change.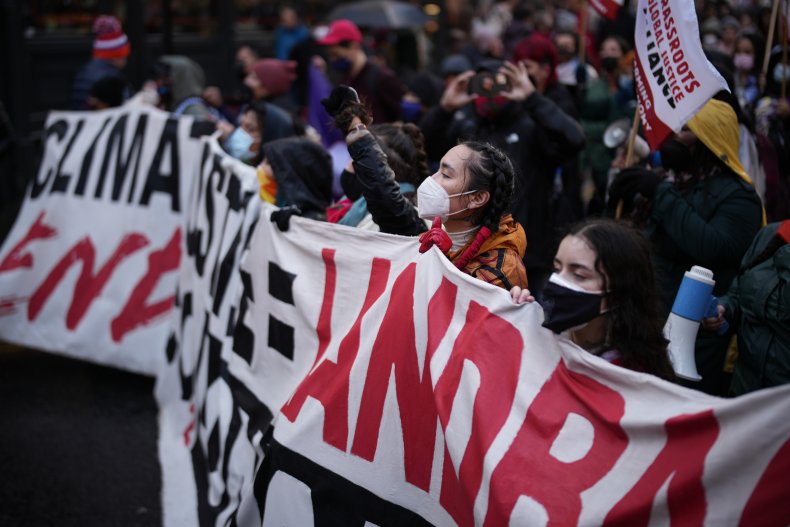 Regardless of what their elders think or do, young adults are already factoring climate change into their decision-making. Many of my students tell me climate change motivates them to act, drives their diet, determines their purchases, shapes where they want to work and how they think about having kids themselves someday. Climate change is planted in the psyche of today's youth, and it's sapping their optimism.
British researchers surveyed 10,000 young people, aged 16-25, about their thoughts on climate change. Nearly 60 percent of them said they were extremely or very worried about climate change. Three-quarters of them said the future was frightening. More than half said they felt sad, anxious, angry, powerless, helpless and guilty—an extraordinary barometer of generational distress. Fifty-six percent said they believe humanity is "doomed."
A Panetta Institute poll measuring the sentiments of college students in the U.S. found that 88 percent consider climate change a serious problem. And while there remains a sizable split between Democrats and Republicans, the poll found "a sharp deviation" between college Republicans and their like-minded elders. Three-quarters of the Republican students surveyed consider climate change a "serious problem."
Climate action is this generation's profound burden—and calling.
This is where the intergenerational bridge gets built. Just as young consumers are driving corporations to be more sustainable and universities to divest their fossil fuel holdings, youth narratives will mobilize others, disrupt governments and force change.
As Villaseñor explained to me, the first thing she tells young people is to find their climate story. She knows her generation's power is in making the struggle personal and public. People must see and hear the stories of those who will be most affected by the crisis in order to build inclusive and equitable solutions.
The story is compelling. The climate future has arrived.
Frank Sesno is a professor of Media and Public Affairs at George Washington University, where he directs the Planet Forward student reporting project. He previously was White House correspondent, anchor, and Washington Bureau Chief at CNN.
The views expressed in this article are the writer's own.