'Young Rock' Cast: How the Young Cast Compare to the Real Thing
Young Rock, which airs on Tuesdays at 8 p.m. ET / 7 p.m. CT on NBC, brings to life the childhood of the WWE wrestler-turned-actor Dwayne "The Rock" Johnson. For the sitcom, three young actors play the character at 10 years old, 15 years old and 18 to 20 years old as he goes from being a child living in Hawaii to becoming a college football player in Miami.
As The Rock loves a throwback picture to his awkward adolescence, viewers are able to directly compare each of the actors playing the rock to the real thing.
Who plays the young Dwayne Johnsons in Young Rock?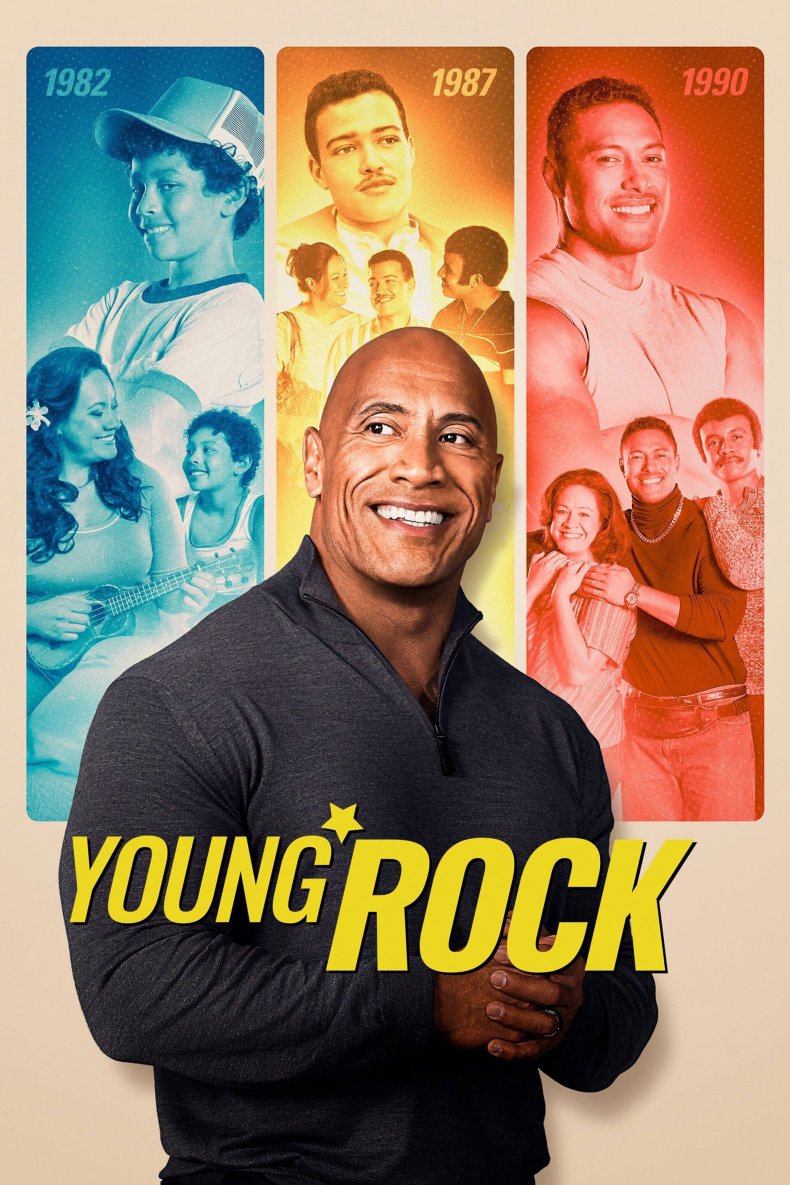 10-year-old Dwayne Johnson - Adrian Groulx
Groulx may be only 11 years old, but he already has a number of TV credits under his belt. The actor made his U.S. TV debut in the Hallmark movie The Christmas Cure, Facebook show The Adventures of Napkin Man and as a voice on the animation Mighty Express.
In October 2020, the real Rock posted an image of himself at the age of seven in which he has some resemblance to the young actor playing him. Johnson captioned this post: "Throwback to 7 years old in Hawaii, and just drippin' cool with my buck teeth, aloha shirt and WTF is going on with my afro matted down on one side!? No way this stud doesn't grow up to become Sexiest Man Alive."
In a promo image for his new NBC comedy, meanwhile, The Rock said: "A little bucked tooth, afro'd 10-year-old 'Dewey' played by the lovable @AdrianGroulx. Taking Hawaii by storm and trying to sneak a nip of tequila at the dinner table whenever I could."
15-year-old Dwayne Johnson - Bradley Constant
Young Rock is Constant's breakout role after first appearing in the indie movie Following Phil in 2018. Though playing The Rock at 15, the actor is actually 22.
The casting of a 20-something as teen Rock may be a joke about the major growth spurt the future wrestler had at this time. The real Johnson joked about this time in a throwback Instagram photo.
"#flashbackfriday to that special time when I was a 15yr old punk kid, 6'4," Johnson wrote. "Barely 200lbs, creepy mustache and forced to leave Hawai'i to live in Nashville, TN—where I just enrolled in a new high school—and EVERYONE (students and teachers) treated me like I had the plague and stayed away because they were all convinced I was an undercover cop. True story. I had a WILD and unbelievable life and journey as a kid and teenager. Kickin' puberty's ass from day 1."
In another post, Johnson called himself the "world's first 15yr old who looks 48."
18 to 20-year-old Dwayne Johnson - Uli Latukefu
Rock's college years are brought to life by 36-year-old Australian actor Uli Latukefu. A former Australian Idol contestant, Latufeku has been working in TV and film since 2014, with Marco Polo his most notable show to date.
Promos for Young Rock have the actor in one of Johnson's most famous looks, the turtleneck and fanny pack combo The Rock called his "buff lesbian" look.
Johnson described him during his college athlete years as, "the 18yr old University of MIAMI freshman who played with intense 'upper body violence' and had the honor of winning the National Championship with players who would go on to become the greatest of all time in college and the @NFL."
Young Rock airs Tuesdays at 8 p.m. ET / 7 p.m. CT on NBC.