Young Thug's 'Torturous' Jail Condition Complaints Dismissed by Officials
Law enforcement officials in Georgia say a famous inmate is not being treated poorly while in their custody, in a response to charges from his lawyers.
Jeffrey Lamar Williams, better known as the rapper Young Thug, and his lawyers have alleged that the conditions he is enduring in the Cobb County jail are "torturous" and inhumane, according to local station WSB-TV.
In a motion seeking bail that was filed last week, Williams' lawyers contend that his predicament is deplorable. However, the Cobb County Sheriff's Office disagrees with that assessment, saying that to expect luxurious conditions in jail is preparation for disappointment.
"This is a jail, it is a detention center. It's not the Ritz-Carlton, so you have to recognize that," a jail official told WSB.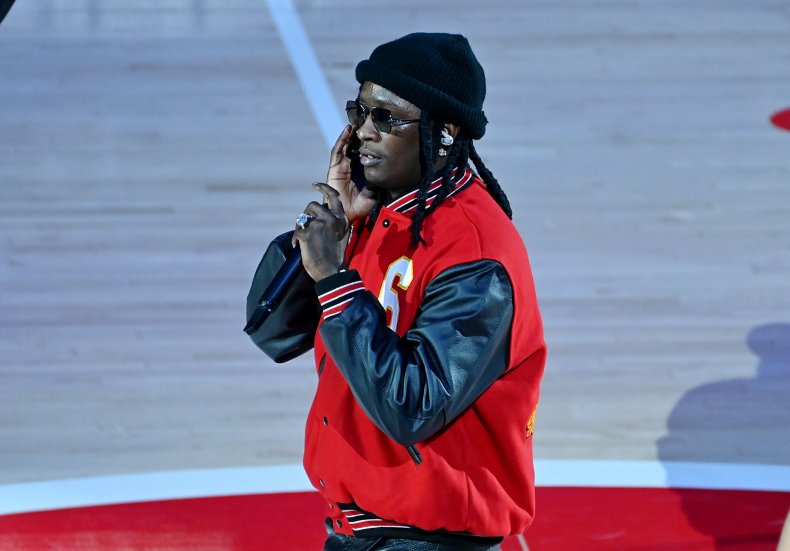 The complaints from the rapper and his attorneys come after his arrest last week. The "Go Crazy" rapper was taken into custody at his Atlanta-area home for his alleged connection to a gang. He is one of 28 people accused of conspiracy to violate Georgia's Racketeer Influenced and Corrupt Organizations Act for activities that allegedly took place over a decade, The Atlanta Journal-Constitution said. He is also charged with involvement in gang violence.
The rapper allegedly helped found the Young Slime Life gang, which is reportedly responsible for nearly 85 percent of the criminal gang activity in the area, according to WSB.
His lawyers said Young Thug is being kept from bathing, is not allowed to exercise and has no access to radio, TV or other media.
Earlier this week, following the complaints from the rapper's lawyers, jail officials allowed a reporter into the facility to view the conditions. One jail official said the facility has nothing to hide. "The purpose of today is to let the community know that we're not doing anything that we don't want them to see. We run an aboveboard jail, and we want anybody and everybody to know that," Temetris Atkins told WSB.
Regarding the charges against his client, Young Thug lawyer Brian Steel told WSB-TV that the rapper is innocent and vowed to fight the charges vigorously.
"I'll tell you the response to any allegation: Mr. Williams committed no crime whatsoever, and we will fight to my last drop of blood to clear him," Steel said.
Young Thug is expected to appear in court early next week for a bond hearing, WSB reported.
In a statement to Newsweek, the Cobb County Sheriff's Office said it invited WSB and community organizations to tour the jail's Adult Detention Center (ADC). "TV cameras and civic leaders walked the floor where Mr. Jeffery Lamar Williams, also known as Young Thug, is being held.... We treat every detainee who comes through our doors with dignity, no matter their status in life," the statement said.
It added, "When Sheriff Craig Owens took office in January 2021, he hired an outside external auditor to review ADC operations and conditions, the findings of which were positive. The ADC is also undergoing a multimillion-dollar renovation, including a new roof, new showers, and more."
Owens has implemented a 24/7 mental health program, the first of its kind in the state, to help detainees "experiencing suicidal thoughts, trauma, and withdrawals," the statement said.
Newsweek reached out to a lawyer for Young Thug for comment.
Update 5/19/22, 9:30 a.m. ET: This story has been updated with a statement from the Cobb County Sheriff's Office.