Youngkin Beats McAuliffe in Virginia Parents Poll as Education Fight Defines Campaign
New polling results released Monday showed Republican Glenn Youngkin leading Democrat Terry McAuliffe among parents of children enrolled in K-12 schools with just over one week remaining until Virginia's gubernatorial election on November 2.
The poll, conducted by Cygnal among 816 likely voters from October 19 through 21 with a 3.43 percent margin of error, found McAuliffe and Youngkin tied in the race for governor. The election is one of two regularly scheduled gubernatorial races taking place this fall and has grown close in recent weeks, with other polls similarly indicating a competitive toss-up.
Cygnal pollsters broke down the results of their voter survey by age, gender, education level, ideology and several other variables. The stated voting intentions of parents who have children as young as those in kindergarten through those who are high school-aged—a group that represented about 26.5 percent of the poll's respondents—stood out to the pollsters as they assessed the results, according to a Monday press release.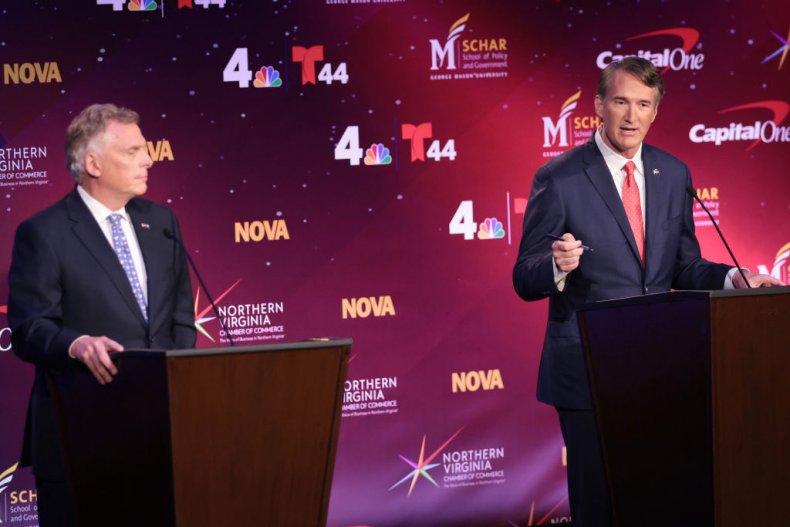 When those parents were asked which of the candidates they intended to vote for, 39 percent said they would vote for McAuliffe while an estimated 56.3 percent said they would vote for Youngkin, according to the poll's results.
"Independent voters and parents of K-12 students are stampeding to support Republicans Glenn Youngkin, Winsome Sears, Jason Miyares and GOP statehouse candidates," Cygnal CEO Brent Buchanan said in the release.
The poll's findings came in the wake of education emerging as a major topic within the state's gubernatorial race. According to a Monmouth University poll released last week, education and schools ranked as the second most important issue for a majority of voters in deciding which gubernatorial candidate to support, behind the economy and ahead of the ongoing coronavirus pandemic. That poll similarly found McAuliffe and Youngkin tied ahead of Election Day.
This fall, parents with children in K-12 schools are continuing to navigate precautions put in place due to the ongoing coronavirus pandemic. Since the start of this school year, fights have broken out on school campuses and in school board meetings across the country as parents, school officials and community members debate mask mandates, vaccination requirements and other measures aimed at reducing the risk of the virus' spread.
In Virginia, McAuliffe has said he plans to encourage all schools in the state to require employees to get vaccinated against COVID-19 if he is elected governor. Youngkin has said that, although he is vaccinated against the virus and encourages Virginians to get the vaccination, he "has repeatedly expressed his objection to vaccine passports and vaccine mandates."
On the issue of mask use in Virginia schools, sitting Governor Ralph Northam, a Democrat, introduced a public health order in August that required "universal masking" in indoor settings at K-12 schools, another issue on which McAuliffe and Youngkin disagree. McAuliffe's campaign released a statement saying McAuliffe believed the recommendations from the U.S. Center for Disease Control and Prevention (CDC) on wearing masks in schools should be followed. According to the CDC, the agency "recommends universal indoor masking for all teachers, staff, students, and visitors to K-12 schools, regardless of vaccination status."
Youngkin's campaign released its own statement in response to McAuliffe's, identifying Northam and McAuliffe as "Richmond liberals" who "made clear that they will stop at nothing to impose their will and take away parents' ability to decide what's best for our kids."
"We must respect parents' right to decide what is best for their own children," Youngkin said. "If parents, teachers, and children want to wear a mask, they absolutely should do that, but there should not be a statewide school mask mandate."
The race between McAuliffe and Youngkin has grown increasingly close as the clock ticks down to the election, with polling averages compiled by FiveThirtyEight estimating McAuliffe to be holding a lead of about 2 points as of Monday. The state reported more than 5.9 million registered voters as of October 1, at least 665,739 of whom already cast their ballots by Monday, according to state ballot return data reviewed by Virginia Public Access Project, a nonpartisan and nonprofit organization.
In addition to finding comparatively low support for McAuliffe among parents of K-12 children, Cygnal pollsters said a majority of independent voters indicated they are not enthusiastic about McAuliffe's campaign.
"Seventy-one percent of Independents view McAuliffe negatively, and more Democrats than Republicans are defecting to support the candidate of the other party," Buchanan said in the release.
Voters in Virginia will pick their next governor during the November 2 election. Virginia is one of only two states holding a regularly scheduled gubernatorial election this fall.