Youngkin Is Showing the Way for 2022 Republicans | Opinion
Republican Glenn Youngkin is locked in a tight battle to become the next governor of Virginia. The last GOP candidate for governor in the commonwealth lost by nearly nine points, a year after Hillary Clinton won by five. Last year, Joe Biden carried Virginia by 10 points, while the Democratic candidate for the Senate won by 12. Tomorrow, we will find out whether Youngkin can be the first Republican to mount a successful statewide campaign for office since 2009.
He stands a good chance. Over the past few weeks, the polls have consistently shown the race well within the margin of error. As of this writing, the RealClearPolitics polling average shows Democrat Terry McAuliffe leading by a mere 1.2 points. Should the polling prove correct, or even close to correct, it would be astonishing. Whatever Youngkin has done to close a 10-point gap is worthy of attention.
Youngkin was down by a significant margin until very recently. The gap only started closing about a month ago after McAuliffe committed a political gaffe. What was the gaffe? He accidentally told the truth. Pressed by Youngkin in a debate over recent controversies in Virginia public schools, McAuliffe admitted, "I don't think parents should be telling schools what they should teach." This made the stakes of the election crystal-clear.
McAuliffe's remark came as parents across Virginia were beginning to fight back against the imposition of draconian COVID mandates and radical ideologies upon the commonwealth's public-school students. For example, just days before the debate, a Fairfax County mother went viral after taking her school board to task over literally obscene, sexually explicit material available in her child's public school library.
Not long after, an even more explosive story broke in nearby Loudoun County. It came to light that a female high school student was sexually assaulted in a school girls' restroom in May—allegedly by a biological boy wearing a skirt. The attacker has since been convicted and awaits sentencing. But in the days and weeks following his assault, school officials tried to cover up the entire incident, even transferring the attacker to a different high school—where the transgender student allegedly assaulted another girl. Trial for that attack is pending.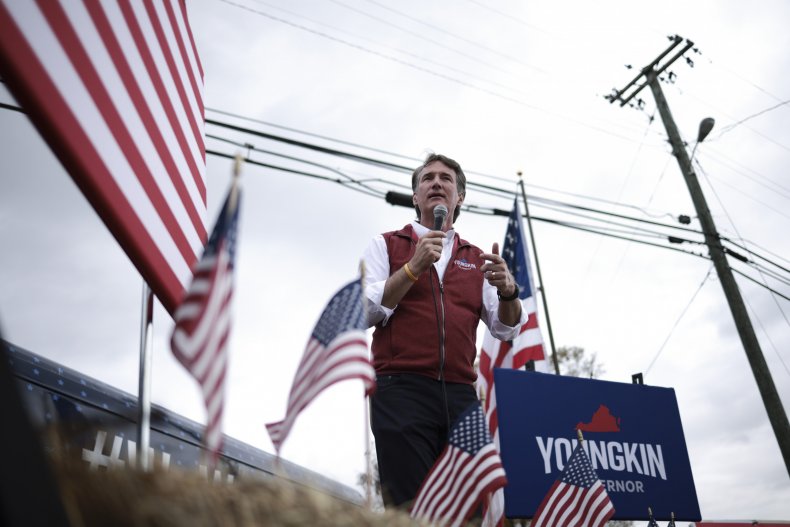 Shockingly, while trying to push through a highly contentious transgender policy (supported by Democrats), officials denied knowledge of these assaults at a school board meeting. It took until October for all these details to surface, resulting in a national firestorm that has further raised the education issue to the forefront.
Youngkin has wisely zeroed in on these issues in the final weeks. So far, it appears to be working. A recent Cygnal poll showed him and McAuliffe tied, with Youngkin's support bolstered by an unusually strong 17-point advantage among parents and guardians of K-12 students. Moreover, another recent poll, one from Monmouth, found Youngkin overtaking McAuliffe as the candidate most trusted to handle education issues. Remarkably, a Fox News poll last week showed Youngkin surging to an eight-point lead.
My organization has long argued that the Republican Party needs to treat families as its main constituency, and that cultural issues are winning issues. The Left's woke agenda is deeply unpopular among the majority of Americans. Fighting back against that agenda is appealing to every single group that Youngkin needs to win. It's firing up the base, and it's tapping directly into the concerns of much-discussed suburban voters. (Suburban Loudoun County, before becoming the epicenter of the school controversy, voted for Biden in 2020 by a 25-point margin.) It's also appealing to working-class voters across all demographics.
Recent polling from the National Republican Senatorial Committee provides additional evidence. By huge margins, voters oppose ideological manipulation that tries to convince children they are inherently racist because of the color of their skin, or that biological males should be allowed to compete against biological females in athletic competition. Polling from my own organization in 10 swing states last year found similarly lopsided results on these issues.
Yet, despite the obviousness of cultural conservatism's electoral potency, very few high-profile Republicans have been willing to stake their campaign on it—until now. Glenn Youngkin deserves credit for emerging as an advocate for the American family and, in turn, finally requiring the Democrats to stand in the spotlight and defend their radical agenda to rip apart education, the economy and the family alike.
Whether Youngkin wins or loses tomorrow, his success in putting ever-bluer Virginia in play this fall must be a clear sign to his fellow Republicans. Starting with next year's midterms, the GOP must embrace its new identity as the party of the family by aggressively confronting cultural wokeism. This is an opportunity Republicans cannot afford to waste. A Tea Party for families is brewing.
Terry Schilling is the president of American Principles Project. Follow him on Twitter: @Schilling1776.
The views expressed in this article are the writer's own.