Youth Vaping Spiked Again in 2019 While Fed Played Regulatory Catch Up: FDA Report
More than 5 million young people reported using e-cigarettes in 2019, according to the annual National Youth Tobacco Survey released Wednesday by the Food and Drug Administration (FDA) and Centers for Disease Control and Prevention (CDC).
That's up from 3.6 million in 2018. Nearly 1 million youth reported vaping daily, while 1.6 million said they vaped "frequently" on 20 or more days per month.
The increase comes despite ongoing efforts to limit e-cigarette use and get to the bottom of more than 1,800 vaping-related lung injuries across the U.S., according to the CDC. Various federal agencies are expected to issue new vaping regulations this week, but officials have sent mixed messages on what they entail.
More than 27 percent of high school students and 10.5 percent of middle school students used e-cigarettes in 2019—placing them at risk for inhibited brain development and future cigarette smoking, according to the joint report.
In earlier surveys by the FDA, many young e-cigarette users said they vaped because their friend or family members did the same (39 percent) or because of the availability of "flavors such as mint, candy, fruit, or chocolate" (31 percent).
The U.S. Department of Health and Human Services (HHS) and FDA are expected to provide new rules for vaping and flavored e-cigarette cartridges any day now, but Kellyanne Conway suggested Wednesday that these offices don't have the authority to regulate vape shops, according to reporting by Bloomberg News.
They do, and have, but Conway's remarks can be read as a bit of a walk-back from President Donald Trump's original plan to ban flavored e-cigarettes entirely if the final guidance from health agencies limits flavored nicotine products but also provides some degree of leeway to shops that don't sell e-cigarette products to minors, according to Bloomberg and other reports.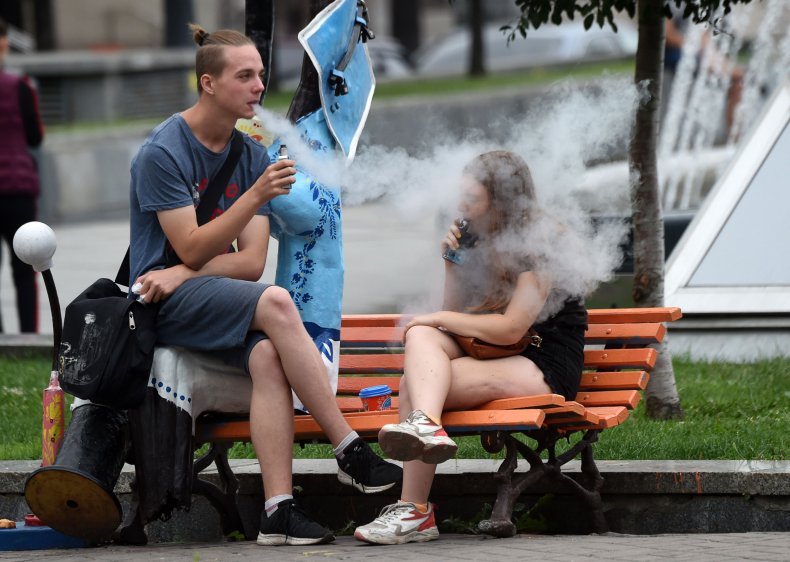 When it became clear that kids were vaping at an "epidemic proportion," the FDA issued more than 1,300 warning letters and civil fines to retailers who illegally sold JUUL and other products to minors in the summer of 2018, according to a press release issued at the time.
The administration also began more retail inspections, thus limiting sales to minors, and ramped up its awareness campaigns in schools and surveillance of e-liquid marketing, according to the FDA.
Last fall, then-Commissioner Scott Gottlieb said he feared vaping could serve as a gateway to nicotine addiction or future tobacco use rather than as an off-ramp for people trying to quit traditional cigarettes. However, this year's survey noted an all-time low in tobacco smoking among high school students coinciding with the increase in vaping among that demographic.
The number of vaping-related deaths and injuries continue to increase by the month, according to the CDC. Doctors and researchers still have no idea what ingredient, in particular, is causing the lung injuries, which doctors have said resemble chemical burns.