YouTube Stars Spend $100K to Light Up World's Tallest Building in Gender Reveal Stunt
It's safe to say some gender reveal parties can go a bit overboard. The trend of announcing whether or not a couple is expecting a boy or a girl has grown in popularity the fast few years. Typically, there are balloons, a piñata or a cake that is blue or pink on the inside, plus social media announcements exhausted with emojis and hashtags.
This one, however, may be the biggest and most extravagant one yet.
YouTube influencers Anas and Asala Marwah, known as the "Anasala Family" on the YouTube channel, paid roughly $95K to light Dubai's Burj Khalifa up in revealing the gender of their second baby. They have over seven million subscribers for their channel, and the gender reveal video has garnered 16 million views as of Friday.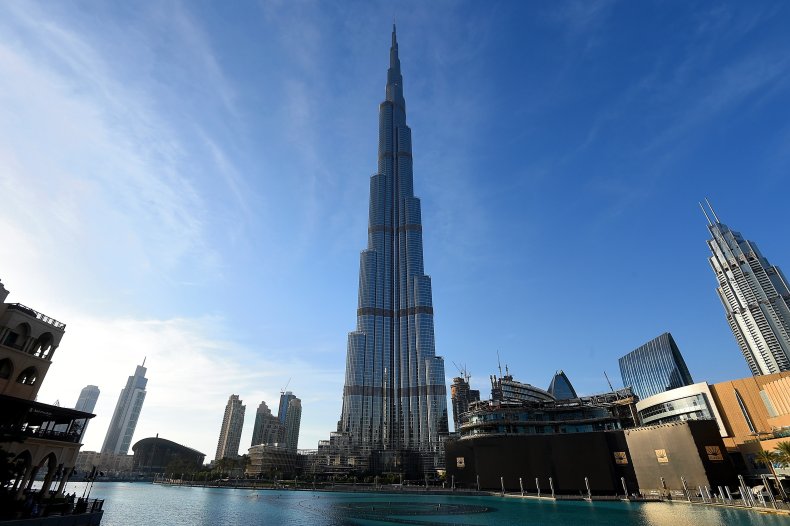 Anas shared the clip of the exciting moment, surrounded by family and friends, as they watched the world's tallest tower light up blue to reveal that they are having a boy. They stood on the grand balcony next to the 2,722-foot-tall structure.
Everyone is overcome with emotion, and excited to watch the building light up to read, "It's A Boy!"
They also shared a 15-minute long YouTube video of preparations leading up to the night to remember, titled "the biggest gender reveal party in the world."
"My heart is beating, I feel it is going to pop out of my chest and I feel much more excited than my wedding day," Asala gushed on her way to a viewing spot for the big event in the video. "Regardless if it is a boy or a girl, I love you so much and I hope you watch this video in the future and know how much the Anasala family love you," Anas said in the clip.
Anas and Asala had no idea what gender their baby was going to be, and asked their doctor to give the information to a friend coordinating the building's light show.
As per The Daily Mail, a spokesperson for the family said: "This was more than just a gender reveal, Anasala were attempting to create content that has never been seen before worldwide! Which was accomplished."
"We wanted to do something unique and memorable so that we can all look at it in the future and remember what we built as a family," Asala also told his viewers in the YouTube clip — mission accomplished, Anasala family!
The couple married in 2017, and is also parents to a daughter, Mila.