Owner of Vehicle Hit by Tesla in Viral Stunt Shows Aftermath: 'Car is Done'
A man whose car was hit in a dangerous viral Tesla jump stunt has spoken out about just how bad the damage was.
This past weekend, a shocking stunt took place in Los Angeles that saw a Tesla driver jump a rented 2018 Tesla S-BLM in the air over a hill. The airborne car was captured on video from various angles, and the footage has since gone viral.
Two cars were hit by the Tesla, which was then abandoned by the driver.
The stunt took place after a Tesla meetup hosted by popular YouTuber Alex Choi, who also posted the stunt in his own YouTube video. According to Choi's video, the stunt occurred because a "random dude wanted to show me the place David Dobrik jumped his Tesla."
Vlogger David Dobrik performed a similar stunt in a YouTube video in 2020. Choi claimed the driver performed this stunt with no forewarning, and added that there were multiple people and a stray cat inside the car.
Neighbor Jordan Hook took aim at that exact YouTuber culture in his video response to the event. Hook, who has lived on Baxter Street for three and a half years, said he spent over $4,500 on his car just last month.
The video has been made private since the publication of this article.
'Loud Crash'
"I was awakened last night by a pretty loud crash," he said. "You might know me as the owner of the blue Subaru that the Tesla jumped into last night after they plowed through some trash cans and [inaudable] off one of my neighbor's cars.
"They came down here and hit my car pretty badly and despite what they say online, the back isn't messed up, but they jacked up my front tires and my steering column is all messed up, my suspensions all blown, so the car is done."
In Choi's YouTube video, they revisited the scene and filmed Hook's car from the back, claiming the damage wasn't so bad, considering it faced the brunt of the crash.
With the LAPD without a named driver, Hook is unsure if or when insurance will be able to cover the damages. Now, he's set up a GoFundMe for the ordeal and is asking those who "think it's not cool that YouTubers go to your street and jump their Teslas and wreck into people's cars in the middle of the night" to help out.
"It's the whole attitude," Hook told Vice. "If you've watched [Choi's] video, the fact that they come in, they do this stunt, they take no responsibility, they leave, they don't talk to the neighbors, the cops, and then come back later and try and act like it's no big deal."
Hook's first video was removed by YouTube after Choi reported the video, claimed Hook in the latest's description.
Choi told Newsweek: "I placed a defamation report on Jordan Hook's video. His lies regarding the false statement claiming that I "coordinated and orchestrated" the stunt is seriously affecting my business. I did not coordinate the stunt, or peer pressure anyone to make such reckless behavior."
Newsweek was unable to source Hook's removed video and so was unable to verify these claims.
The highest donation so far comes from Choi himself, who gave $2,000, writing: "Hope you get your Justice serviced. Here is probably all the ad revenue I'll get from my video."
Hook told the Los Angeles Times that an LAPD officer initially explained to him that there wouldn't be much they could do as the crash only caused property damage. This changed once the video went viral, claimed Hook.
The LAPD is offering a $1,000 reward for anyone who provides information on the identity of the Tesla driver. The driver is set to face a misdemeanor for the hit and run.
Police however have received over 50 tips on controversial social media influencer "Durte Dom," a former member of David Dobrik's "Vlog Squad."
He claimed in a series of TikTok videos that he was behind the Tesla wheel, but many have said they believe the claims are for social media clout and attention, with influencers reportedly saying he was not present at the event.
Newsweek has contacted the LAPD and Jordan Hook for comment.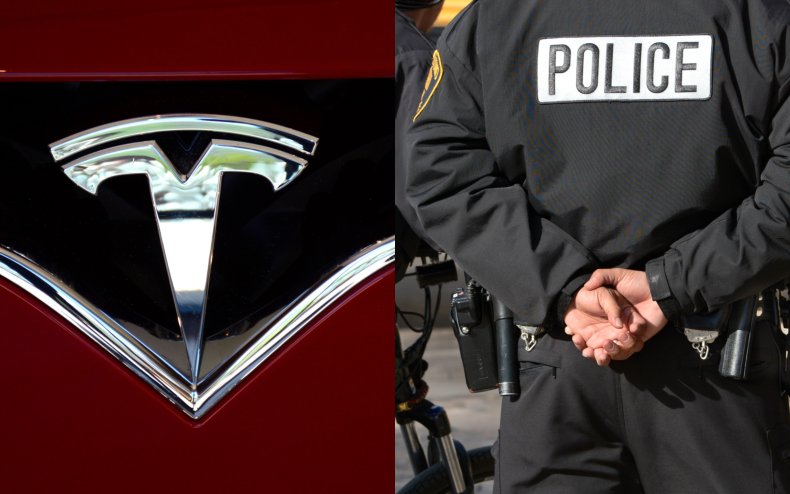 Update 03/24/22 at 4:52 a.m. ET: This article was updated to add comments from Alex Choi.