YouTuber ContraPoints Slams Politician for Wanting Trans Allies Executed
Popular YouTuber Natalie Wynn, the woman behind ContraPoints, has called out former Mississippi State Representative Robert Foster over comments he made calling for the execution of those who support transgender rights.
Last week, Foster tweeted, "Some of y'all still want to try and find political compromise with those that want to groom our school aged children and pretend men are women, etc."
"I think they need to be lined up against wall before a firing squad to be sent to an early judgement," Foster concluded his tweet, which was removed by Twitter. Foster's account is now deleted.
He then doubled-down in an statement sent to the Mississippi Free Press explaining why he was declining an interview request.
"I said what I said," he told the outlet. "The law should be changed so that anyone trying to sexually groom children and/or advocating to put men pretending to be women in locker rooms and bathrooms with young women should receive the death penalty by firing squad."
Before his account was deleted, he said that transgender people were trans because they had been "groomed."
"Transgendered people are merely victims, it's their pedo groomers that are consumed by evil," he said in a tweet, according to Vice.
In a wordless tweet, Wynn slammed the politician. She shared two images—one a screenshot of Vice's coverage of the story, the second, a "Reverse" card from the game Uno.
Wynn's tweet, at the time of writing, has received over 18,000 likes, 1,100 retweets and 200 replies.
Wynn elaborated in a statement to Newsweek.
"The accusation that queer people are 'recruiting' children has been used to justify discrimination for decades. The current moral panic about LGBT 'grooming' is vilification rhetoric that would be perfectly at home in any 1970s anti-gay smear campaign," Wynn said.
"Robert Forster's call for transgender people to be executed by firing squad speaks for itself. I fear for the safety of queer people in this country," she added.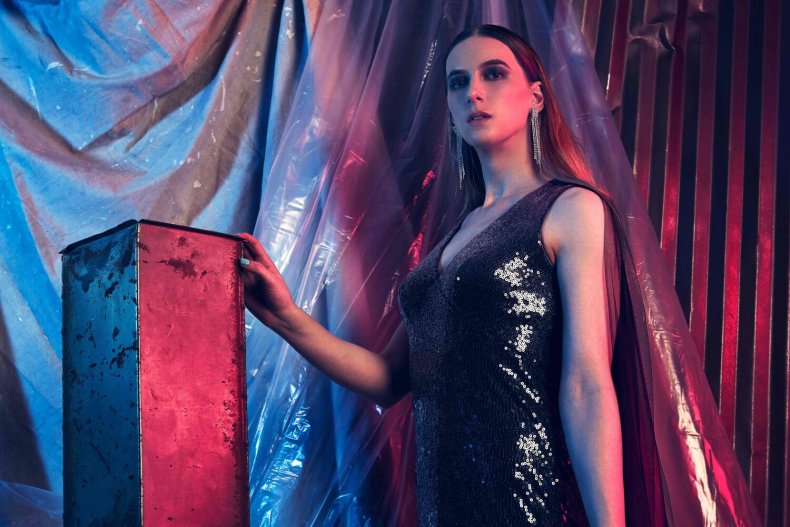 Wynn is a YouTuber with over 1.5 million subscribers. She describes herself as a "YouTuber, ex-philosopher." She is also transgender, having transitioned while continuing to make YouTube videos—though some of her earlier work has been delisted—and has talked extensively about transgender issues in her videos.
She has been called a member of "BreadTube," a loosely-affiliated collection of left-leaning YouTubers—though the term was not coined by her, and most people called "BreadTubers" reject the label. Wynn has even called on her audience to drop the label entirely in a tweet.
As mentioned in Wynn's statement, it has been a common trope to accuse LGBTQ people of hurting children. The word "grooming" generally refers to a sex offender's process of normalizing sexual contact with children, with a goal of not just being able to molest the child but keep the child from reporting their abuse.
"Grooming" has also become a buzzword for those against LGBTQ rights, according to the Associated Press. The phrase "OK, Groomer" this week trended on Twitter, as users slammed critics of Florida's recently passed law banning discussion of sexual orientation and gender identity in classrooms from kindergarten to third grade.
Critics have called this the "Don't Say Gay" law, arguing that such discussions are to provide students with additional, non-explicit, information. They also argue that laws like this will further stigmatize LGBTQ children by making the topic taboo.
While the bill doesn't use the word "groom," nor has proponent Gov. Ron DeSantis said the word, according to the AP, Christina Pushaw, DeSantis' press secretary said the law should be called an "Anti-Grooming Bill."
This is not Foster's first controversy. During his 2019 gubernatorial campaign, Foster denied an interview with a female journalist because he refused to be alone with a woman who wasn't his wife. In 2020, he called for Mississippi to secede from the United States should now-President Joe Biden win the election.