Count Dankula Sentence: Youtuber Avoids Jail After Conviction for Teaching Pet Pug Nazi Salute
A Scottish YouTuber, convicted of a hate crime after uploading a video of him teaching his girlfriend's dog to give a Nazi salute, has avoided a prison sentence.
Mark Meechan, 30, from North Lanarkshire, Scotland, was fined £800 ($1117) after he was found guilty following a trial in March in connection to the video, which he uploaded in 2016.
In the clip, Meechan, better known as Count Dankula, told viewers how he wanted to annoy his girlfriend as a joke so decided to turn her pet pug, Buddha, into the "least cute thing I could think of."
The video, which went on to be viewed more than three million times, shows the dog reacting excitedly whenever Meechan asks "you want to gas the Jews?" and raising its paw when he calls "Sieg Heil."
The video also sees Meechan playing speeches by Adolf Hitler to the dog.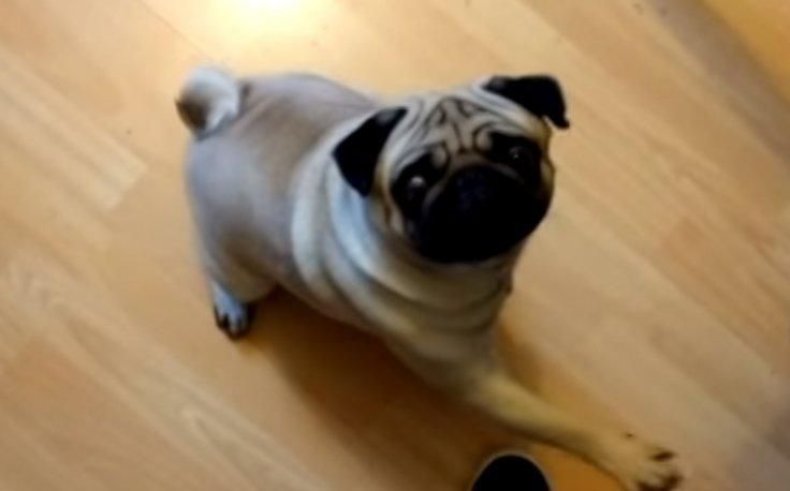 In his sentencing remarks, Sheriff Derek O'Carroll told Meechan: "The evidence before this court was that the video was viewed as grossly offensive within Jewish communities in Scotland and that such material tended to normalize anti-Semitic attitudes and provoke further unpleasant anti-Semitic messages and as such, this video using menacing language, led to great concern.
"I also found it proved that the video contained anti-Semitic, and racist material, in that it explicitly and exclusively referred to Jews, the Holocaust and the role of the Nazis in the death of six million Jews in a grossly offensive manner. You knew or must have known that.
"As a matter of law, the test is not whether the video was offensive but whether it was grossly offensive. I concluded….that your video was not just offensive but grossly so, as well as menacing, and that you knew that or at least recognized that risk."
During the trial, Meechan denied he was anti-Semitic and reiterated that the video was nothing more than a joke to annoy his girlfriend and should not be considered a hate crime.
Speaking outside the Airdrie Sheriff Court following his conviction in March, Meechan said the guilty verdict raises serious questions of freedom of speech.
He said: "I think there's been a huge miscarriage of justice, it's a very dark day with regards to freedom of speech and freedom of expression. What is most worrying is that one of the primary things to be considered in any action is context and intent and today context and content was completely disregarded.
"For the system to disregard things like that means your actions no longer matter, they decide what your context and intent is."
Following his conviction, Meechan received support from British far-right figureheads, as well as comedians including Ricky Gervais.
"A man has been convicted in a UK court of making a joke that was deemed 'grossly offensive,'" Gervais tweeted to his 13 million followers.
"If you don't believe in a person's right to say things that you might find 'grossly offensive', then you don't believe in Freedom of Speech.
"I fucking hate religion. I've criticized and ridiculed it for 40 years," he added. "Yet if my government tried to ban it or criminalize it, I would march alongside those poor fools and fight hard for their right to believe any fucking stupid nonsense they chose."
Meechan's conviction was welcomed by the Scottish Council of Jewish Communities, who also claimed they received hundreds of anti-Semitic messages online after their director, Ephraim Borowski, was called to give evidence at the trial.
"We are grateful to the court for recognizing that shouting 'Gas the Jews' over and over again is not a joke, and that claiming that something is a joke does not make it any less offensive," the group said in a statement.
"This case was not about whether the video was a 'joke' but about whether it was intended to give offense; Meechan himself made clear both in the video and in court that that was his intention, and far from apologizing or expressing regret, is now presenting himself as a martyr and has been embraced by the extreme right."