(Update: 2/4/2020 1:00 p.m. EST.) In a statement from the Toronto PD gave to Newsweek: On Monday, February 3, 2020, a warrant was issued for Jason Ethier. He was arrested and charged with Assault with a Weapon and Assault.
He is to appear in court at Old City Hall on Monday, March 16, 2020, at 2 pm
YouTuber Jason "ImJayStation" Ethier has claimed in his latest video that a warrant has been issued for his arrest by his ex-girlfriend for assault and assault with a weapon. With more than 5.4 million subscribers on his main channel, the 29-year-old has managed to pull in an audience through pranks and faked spectral occurrences targeted at a younger demographic.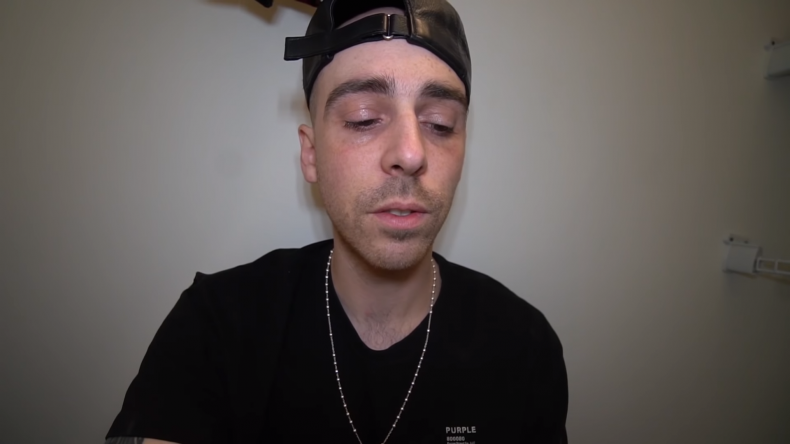 In the video called "ALEXIA MARANO *THE TRUTH ABOUT HER*" Ethier records a conversation with what he said are Canadian police officers announcing they are there to "arrest" Ethier, who then said he has to call his lawyer before he goes back into his apartment.
Ethier lives in an apartment building in Toronto that he moved into at the end of 2019. The Toronto Police Service told Newsweek in a statement "at this time, there is no Toronto Police warrant on file for a Jason Ethier." The Ottawa Central Police said they could not comment over the phone. It is not clear whether a warrant was issued in another area or province.
(Update: 1/28/2019 12:30 p.m. EST.)- The Ottawa Police have confirmed in a tweet that the officers are not with their precinct due.
On January 22, Ethier uploaded a video claiming that Marano had been killed in a drunk driving accident. Over the next week, he posted one video in which he attempts to contact her through the use of a Ouija board, and then another in which he visits what he said is her memorial on the side of a road. Fans were skeptical, however, because a video featuring Morano was posted a day later on their "Dream Team" channel, although Ethier claimed that they had recorded those videos before her disappearance.
During Sunday night's video, Ethier claimed that Morano's death had in fact been faked for his channel. "I expected all of this to stay on YouTube and it didn't," Ethier said. The pair had started dating "four or five months ago" and then they had started making videos together. He claimed that the Dream Team channel made $50,000, but it still wasn't gaining enough traction. Ethier came up with the idea of "pranking and saying she died."
Ethier said in the newest video that Marano's parents "didn't like" the Ouija board or memorial videos and were receiving comments from the YouTuber's fans. In a phone call with Marano, the parents said that they were willing to go to the media and say that the prank was faked if the videos weren't taken down, which Ethier declined to do. The day after the call, Marano had moved her stuff out of Ethier's apartment and he deleted all of the videos related to her faked death. Hours later, he said, the police "knocked on my door and they say 'there's a warrant out for your arrest..for assault with a weapon and assault.'"
"I never hit a woman in my life," Ethier said in the video. "I tried to help her make a career herself, make hundreds of thousands of dollars if not millions....I feel like I've been wronged by this so much and don't deserve to get thrown in jail."
Marano has deleted all of her social media accounts. Ethier has made his Instagram private.
The "ImJayStation" channel has been around 2016, though Ethier started uploading content on a channel in 2015 that is now banned. He quickly gained an audience with outlandish thumbnails and by following trends that the algorithm promoted. He received massive backlash for his "3 AM" video series, where he attempted to contact dead celebrities such as XXXTENTACION, Mac Miller and Etika with a Ouija board. In 2018, Ethier was arrested at Disney's Magic Kingdom for trying to live stream inside the park after security asked him not to.
Newsweek has reached out to Ethier through email, Instagram and Twitter. He has not yet responded.