Drama YouTubers are the inevitable evolution of the tabloid journalist. Framing stories from influencers about break-ups, subscriber scandals and controversial opinions, they advertise their videos with flashy photoshopped thumbnails with catchy slogans. Elated faces with dilated pupils express surprise or fear as they tempt you to watch whatever mischief Jake Paul, Tana Mongeau or a member of the Hype House get up to.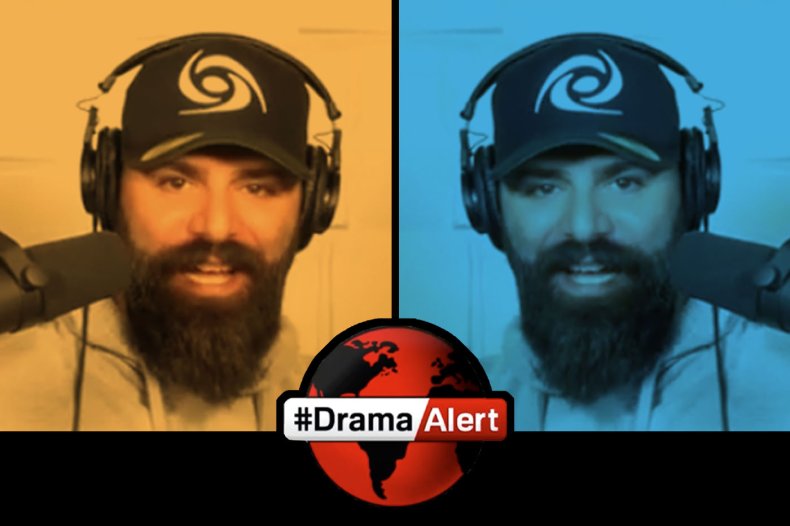 Daniel "Keemstar" Keem is a pioneer of this genre, with his DramaAlert channel one of the longest running and most successful on YouTube. The controversial and opinionated content creator with nearly three million Twitter followers (and 5.5 million subscribers on YouTube) has never been afraid to share his point of view. Whether it's angering an army of K-Pop stans by getting #bankpopaccounts trending or arguing that "social anxiety 100% is a fake invented illness," he will speak what's on his mind.
"Back in the day, there really wasn't an outlet that was treating YouTubers like celebrities," Keem told Newsweek. "I feel like I was one of the first to come on and treat some of the interactions of online entertainers as news."
Keem Start
Keem's start on YouTube sprouted out of random drunken chance. "In 2009, I was working at an attorney's office doing legal collections and took a bunch of people out for drinks with my bonus check," Keem recalls. "When I came home fairly intoxicated, I went on Halo 3 on Xbox Live talking all kinds of crazy, horrible things like trash talk. The next day I wake up and see my inbox full of messages saying that I'm on YouTube but I never uploaded."
Early YouTuber Deranker had uploaded the clip and asked Keem if he would like to make more videos, banding together as the "Federation of Asshole Gamers." These "pranks and trolling" videos/live streams started to do extremely well, pulling in an audience, leading to an eventual partnership with the now defunct Multi-Channel Network Machinima. While experimenting with the YouTube news format, Keem invested in Fortresscraft, a video game that capitalized on the Minecraft boom by bringing over the building gameplay to consoles, making millions in the process.
The DramaAlert channel was created in 2014 and it's been a part of YouTube culture since.
Keem still considers himself a troll, saying "it's hard not to. It was a big part of my identity and the launch of my career so it's hard not to." That troll mentality has created a brand that Keem feels makes him "half-loved and half-hated by design. There's people always talking about me and that's a great marketing strategy." Handling that hate isn't an issue for Keem, it fuels his content creation practices even more.
The Duality of Keemstar
Playwright David Mamet wrote in his collection of essays Theatre "the job of the dramatist is to... keep the asses in the seats. That is what pays the rent. Whatever an individual may have to say, it will not be heard unless the audience is (a) there, and (b) paying attention."
Glengarry Glenross and a 10-minute video about James Charles' thirsty tweets were both created with the same goal in mind: to entertain and be watched.
"Entertainment trumps all," Keem said. "At the end of the day, the viewership is what matters because it doesn't matter what you report if nobody's listening to you, no one's reading you. No one's watching you. Doesn't really matter. You're talking to the wall."
DramaAlert has a massive reach; pulling in millions of views a week across multiple new uploads. Keem says that his average viewer base is high schoolers, though "college kids are (his) main target audience and people that watch." With that impressionable viewer base comes a certain level of responsibility, which to Keem means "being entertaining and getting news accurate." The host considers himself neither a reporter nor a journalist, though he does claim that he has to "pretend" to fill those roles and that "labels aren't important."
A DramaAlert takes an average of four hours to produce, with at least two hours going into the edit. Picking what stories go into a video takes work and Keem has a team of individuals that help him research and curate. On a given day, they may share 20 stories with him of which he only picks six.
"There's a good five minutes before I turn on the camera and hit the record button where I freak out," Keem said. "Knowing that within 15 minutes, an NFL stadium-sized crowd packed with people will be viewing whatever I say."
Stories covered on DramaAlert can vary in intensity; ranging from feel good pieces about Mr. Beast planting 20 million trees to accusing tattoo artist Romeo Lacoste of grooming underage girls (Lacoste recently sued Keem for $3.5 million for tarnishing his image). With Keem's constant need for views for validation, he's constantly working.
"Work is the only thing that keeps me sane," Keem said.
Being Keemstar
Keemstar, DramaAlert and his Twitter have been the center of many controversies, though he has apologized or backtracked on most. In 2016, Keem confused the 62-year-old Runescape streamer Tony "RSGloryandGold" Ray with a convicted pedophile that was still in jail. Keem later apologized for the mistake and Ray forgave him.
In April 2019, Keem interviewed Desmond "Etika" Amofah who had been posting suicidal and cryptic messages to social media. "If you really think about it, then why live? Just jump off a cliff," Keem said in the interview. In June, Amofah passed away after jumping off the Brooklyn Bridge. Amofah's mother responded to the hate Keem was receiving in a text saying that "Keemstar is not responsible for Etika's passing."
On top of DramaAlert, maintaining Keemstar's Twitter account is a full-time job. He's downloaded an app that tracks his Twitter usage but has been "too afraid to check it."
"Twitter is my life," Keem said. "I don't know what I'd do without it."
Keem's Twitter has also been the center of controversies. He has tweeted that the best way to stop panic attacks is to drink, has called CNN "fake news" and consistently endorses Donald Trump. Combine that with the fact that Keem has no problem retweeting and responding to smaller accounts in his replies and you have a recipe for contention. This has led to a few argumentative moments with other content creators, including a spat with Twitch streamer Pokimane where the two tweeted back and forth.
Even with these controversies, Keem is thriving. His podcast with Faze Clan founder Banks and YouTuber ColossalisCrazy is exclusively streaming on Spotify. His video game tournaments like Fortnite Friday, Minecraft Monday and the most recent Warzone Wednesdays (a part of KeemPark) are massive cultural moments that overtake streaming platforms like Twitch when they are on.
On top of all of his work, Keem still manages to find time to take care of and spend time with his 10-year-old daughter.
But even with all of that going on, Keem shows no signs of stopping. Attempts at finding a DramaAlert replacement host are difficult, since Keem claims "It's really hard to find someone else that is entertaining but also has the work ethic that goes behind actually putting this stuff together."
"I can't imagine doing anything else, I could retire right now I just don't want to," Keem said. "I love what I do and I love keeping busy."