Turkish YouTuber Trapped Under Earthquake Rubble Pleas for Help in Video
A Turkish YouTuber hit by the 7.8-magnitude earthquake on February 6 has made a video begging for help for his mother, who he says remains trapped under the rubble of her home.
Firat Yayla, who goes by the name CharmQuell on his social-media channels, shared the footage online desperately begging for rescue and news of his mother. The clip, which was filmed in darkness, shows Yayla sobbing as he addresses the camera.
It was posted after the devastating quake rocked the region in the early hours of Monday, near the Syrian border—killing hundreds of people in both countries, with the death toll expected to grow far higher.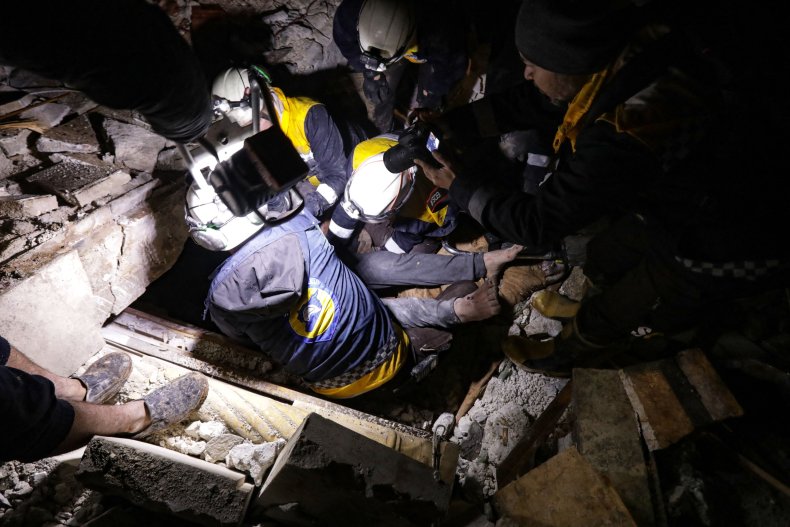 Yayla is a gaming YouTuber, who usually posts videos about computer games to his channel's 569,000 subscribers.
A translation of his YouTube bio reads: "I'm just an ordinary person walking past you on the pavement. My name is Fırat and I started to produce content on social media when I was a child in the 2010s.
"I managed Turkey's biggest game page on Instagram for 6 years. Now here I am doing what I always wanted to do. I tell stories on the Internet and put what's on my mind into videos. I hope you like it. Love to you all :)"
His clip was retweeted hundreds of times, and although it's unclear exactly when and where he was during his filming, some of the people sharing it wrote that Yayla was also trapped when he shot the footage.
In the shaky clip, he gives the address of his mother's destroyed house and said that he was anxiously waiting to hear from her. According to a translated account of an article on the Turkish news website Mynet, Yayla said: "Mom, are you okay? Mom, please say 'I hid under the bed.' Please help. We have a destroyed building."
This is a developing story. Newsweek has reached out to Yayla and the Turkish authorities for further information.
Thousands are feared dead after the earthquake struck near the Turkish-Syrian border overnight. The huge 7.8-magnitude tremor was felt as far away as Lebanon, Egypt, and Cyprus.
The quake hit at 4:17 a.m. local time, when most people were asleep in bed. The ground shook so violently that windows were blown out and hundreds of buildings collapsed. A huge rescue effort is now underway to rescue the hundreds of victims still trapped in the rubble of their homes.
More than 500 people have been officially confirmed dead so far, but it is feared the total will continue to climb as rescue and recovery efforts get underway. Data from the United States Geological Survey said the true number of fatalities is likely to be in the thousands, with a death toll of between 1,000 and 10,000 most likely.