YouTuber's Videos Dragging Amber Heard May Make Him Up to $64,000 a Month
An avid YouTuber and Twitter user has been called out for continuing to profit from the Johnny Depp and Amber Heard "drama" even after their trial is over.
Matthew Lewis, or as he's better known across social media, That Umbrella Guy, has posted dozens of videos in the past few months, usually with a disparaging view of Heard. They have amassed millions of views earning him thousands of dollars in the process.
Lewis was called out by Bot Sentinel CEO Christopher Bouzy who claimed he "has a financial incentive to keep the Depp v. Heard drama going as long as possible."
Bouzy claimed that Lewis had earned almost $80k a month, or "$1 million a year," for his coverage of the trial, as suggested by the YouTube revenue calculator socialblade.com.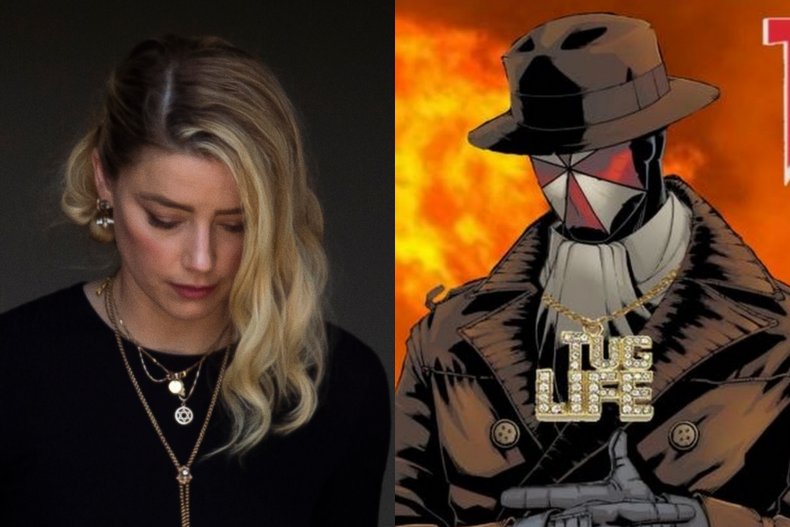 Newsweek has clarified that the current estimated figure is up to $64,600 a month.
He claimed that YouTube were incentivizing a "malicious individual" to publish content that breaks its own policies on content it can publish.
Eve Barlow, who has posted her public support for her friend Heard several times, backed up Bouzy's assessment. She called That Umbrella Guy a "so-called YouTube journo" and claimed he was "obsessively posting videos about Amber, her family and friends, including me."
The Umbrella Guy posted several videos over the duration of the trial. The click-bait style text featured on the thumbnails of the videos include "Busted! Heard admits hoax!" "Makeup artist betrays Heard!" and "Amber Heard Loses Aquaman!"
Overall his channel has amassed 95 million views, a large proportion of which have been in the past year.
Newsweek reached out to Matthew Lewis, aka, That Umbrella Guy for further comment via an email address listed on his YouTube account.
Bouzy told Newsweek that his company Bot Sentinel is one of the few "dedicated to creating public awareness" and its mission statement is to "help fight disinformation and targeted harassment" online. Though this often involves targeting bots on Twitter, Bouzy said, "A significant portion of our research is on human-controlled accounts like The Umbrella Guy."
Bouzy and The Umbrella Guy have sparred online, throwing multiple accusations at each other.
After being accused of benefiting from monetization, That Umbrella Guy doubled down saying, "I monetize the salt of Heard simps." He continued, "These morons are gonna pay for my home before this is done. And maybe buy me a platinum grill."
He also pointed out that Bouzy and Bot Sentinel were hired by Amber Heard's legal team.
"Hope Heard didn't "pledge" to pay him like she did with those sick and dying kids with cancer," he wrote.
Bouzy pointed out that he's always been open about his previous work with Heard's lawyers at Kaplan Hecker & Fink, but he no longer works for them, and has never worked for Heard's PR team.
"In 2020, Amber's lawyers hired us to look at the social media activity, and even then it was obvious a lot of the activity was inauthentic," he said in a tweet.
Update 6/23/22, 6:32 a.m. EDT: This article has been updated to say Newsweek reached out to Matthew Lewis, aka, That Umbrella Guy for further comment via an email address listed on his YouTube account.