Amber Heard Pal Eve Barlow Slams Media Storm Around Johnny Depp Trial
Amber Heard's friend who was thrown out of court at the beginning of the trial three weeks ago has condemned the media circus around the Johnny Depp defamation trial.
Eve Barlow, a music journalist and friend of the Aquaman star, is a self-described Zionist who is known for being involved in Twitter controversies. A former deputy editor of music magazine NME, Barlow is now a freelance journalist based in the United States and is a close friend of Heard's.
Pirates of the Caribbean star Depp is suing his ex for defamation in the multi-million dollar trial that has whipped up a social media frenzy over the past weeks.
Heard, who is countersuing for $100 million for nuisance, took to the stand this week and has been delivering her testimony detailing allegations of horrific abuse against her ex-husband.
The court proceedings are being broadcast live worldwide from the Fairfax, Virginia courtroom, which has facilitated endless discussion of the trial, with both parties' every move being constantly scrutinized by fans and critics alike.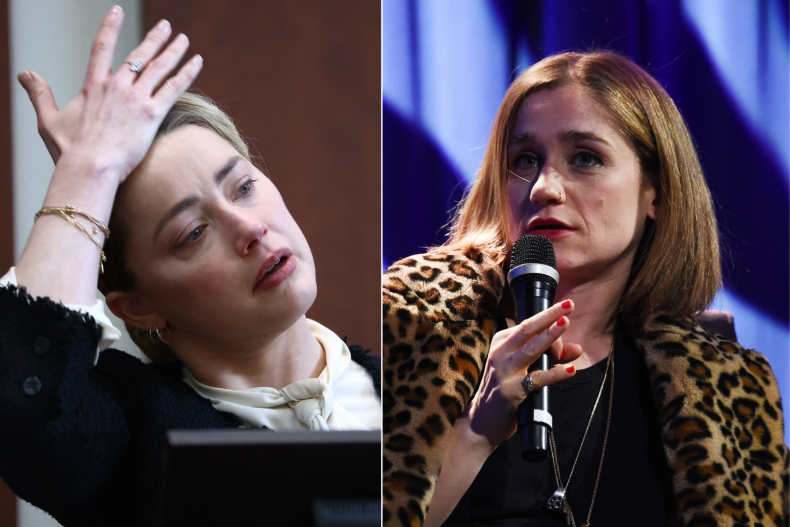 This week in particular has seen Heard's tearful testimony widely discussed online, with the 36-year-old being accused of acting for the jury.
Barlow has labeled the discourse and scrutiny around Heard as "surreal" and condemned those who are criticizing her friend as she recounts times of alleged abuse.
"It is surreal to imagine that in 2022, a woman has to stand in a courtroom in front of two cameras and the world and re-live physical trauma, including sexual trauma, for profit and entertainment, without any protection, exposed to the bigotry, ridicule and jibes of strangers," Barlow tweeted.
"It is sick to contemplate that there are children watching on and being taught that it's OK to be a voyeur to this kind of trial by fire; children who have no understanding of power dynamics in relationships, or addiction cycles, never mind abusive partnerships."
She went on to say it is "heartbreaking" that the MeToo movement has "all but abandoned one of the most public witch-hunts in modern history, because the victim is imperfect."
At the beginning of the trial, Barlow was removed from court for tweeting and texting from the front row.
"She was tweeting live from my courtroom...and I know the deputies took her out because she was texting," Judge Penney S. Azcarate said at the time, per Page Six. That's against the court order. Ms. Barlow is not coming back into the courtroom during this trial."
Both Heard and Depp's representatives issued statements on Thursday after the actress detailed the alleged abuse she experienced at the hands of her ex.
"While Ms. Heard's stories have continued to grow new and convenient details, Mr. Depp's recollections have remained exactly the same throughout the six painful years since her first allegations were made," Depp's spokesperson said in a statement to People. "His truth—the truth—is the same no matter the environment in which it has been presented."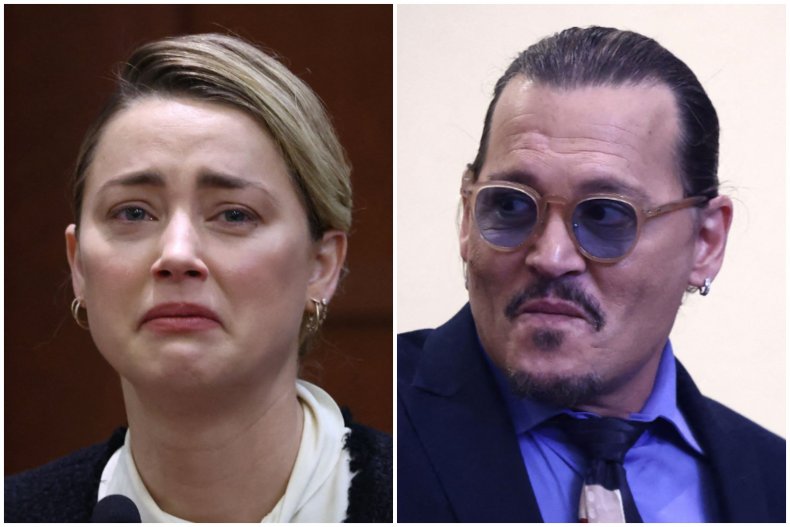 Meanwhile, Heard's team told Newsweek: "One of Ms. Heard's disappointments is Mr. Depp's inability to distinguish fact from fiction—a malady which appears to have spread to his legal team.
"That same team is so panicked they are fighting tooth and nail to prevent compelling evidence and photos from being introduced. Small wonder Mr. Depp does not have the fortitude or courage to even look at Ms. Heard at all throughout the proceedings—as he could not in the U.K. trial—and, instead he doodles and snickers."