Amber Heard's 5 Most Notable Moments From Day 2 of Trial Testimony
Amber Heard took the witness stand on Thursday for the second day in her defense in the defamation lawsuit filed by Johnny Depp, her ex-husband.
Much of the testimony on Thursday was Heard's recollection of the couple's engagement, wedding and abuse that took place during the relationship.
Depp is suing Heard for $50 million for defamation involving a 2018 piece Heard wrote for The Washington Post, titled "I spoke up against sexual violence—and faced our culture's wrath. That has to change." While the article did not explicitly name Depp, she insinuated that she had suffered domestic abuse while married to him.
The high-profile trial, taking place in Fairfax, Virginia, has lasted four weeks so far, and closing arguments are expected to take place May 27.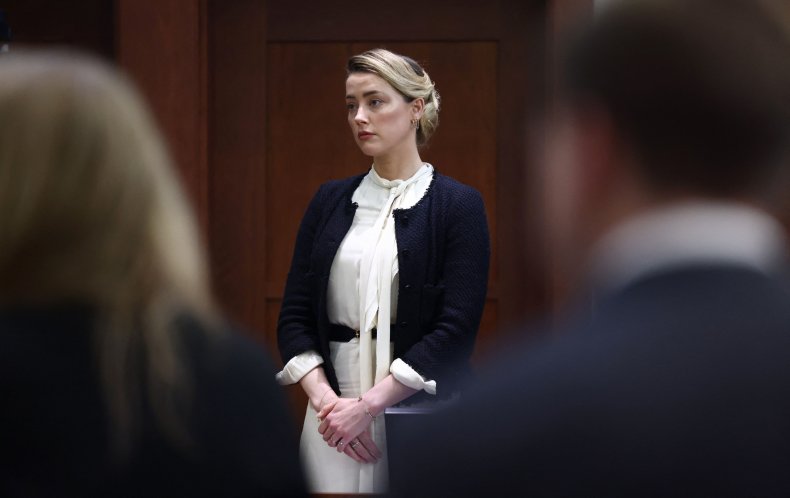 Here are five notable moments from day two of Heard's testimony:
Heard Says Her Father Did Drugs With Depp at Pair's Engagement Party
Heard walked through the moments of Depp's marriage proposal to her, recalling how he got down on one knee when they were at a hotel in London and said, "I want you to be my girl forever, my woman, my girl. Say yes to me."
She then recalled her and Depp's large engagement party with their friends and family in 2014.
She said that they walked into the party together, "we took some pictures and said a few hellos, and then Johnny disappeared upstairs."
Heard testified that he was upstairs for nearly the entire party, and "he only came down at the end when we were leaving, and came down once because he was at the time sharing drugs with my dad."
Depp's lawyers called an objection of speculation, but Heard quickly said, "I was there. I watched it. My dad at the same time was addicted to the same thing Johnny was."
The actor added, "My dad actually left with Johnny's security," claiming that her father and Depp's security went out and came back with drugs, "and everything was OK."
"Shortly after that," Heard said, "I tried to get Johnny to come downstairs, and he just snapped at me, just verbally told me to shut the f*** up."
Heard Testified Depp Was 'Mad' at Her for Working With James Franco
Heard recalled one of the larger fights that she and Depp had, stating that it was because of a film she was going to be in with co-star James Franco.
In May 2014, she was filming "The Adderall Diaries" in New York while Depp filmed "Black Mass" in Boston. They met up on a plane in Boston, in which she relayed that Depp "was mad at me for taking the job with James Franco."
"He hated James Franco and was already accusing me of kind of secretly having a thing with him in the past since we had done Pineapple Express together," she said.
While flying together from Boston to Los Angeles, Heard said, Depp was asking her questions before getting more aggressive with her. She said she knew he was drunk because "his breath reeked of weed and alcohol and smelled so bad."
"He went from asking me about how my kissing or sex scene went to what James Franco had done in the scene to being explicit about my body, saying disgusting things about my body and that I liked it," she testified.
Heard said Depp slapped her in the face and threw utensils and ice cubes at her. When she got up to walk away, she stated that she felt Depp kick her in the back, knocking her to the ground.
"I felt this boot and I thought, 'did he just kick me?'" she testified. "No one said anything, no one did anything. You could hear a pin drop."
Heard Claims Depp Sexually Violated Her With Glass Bottle
Heard was extremely emotional on the witness stand while recalling a particularly physical altercation between her and Depp while in Australia during Depp's filming of the fifth Pirates of the Caribbean movie.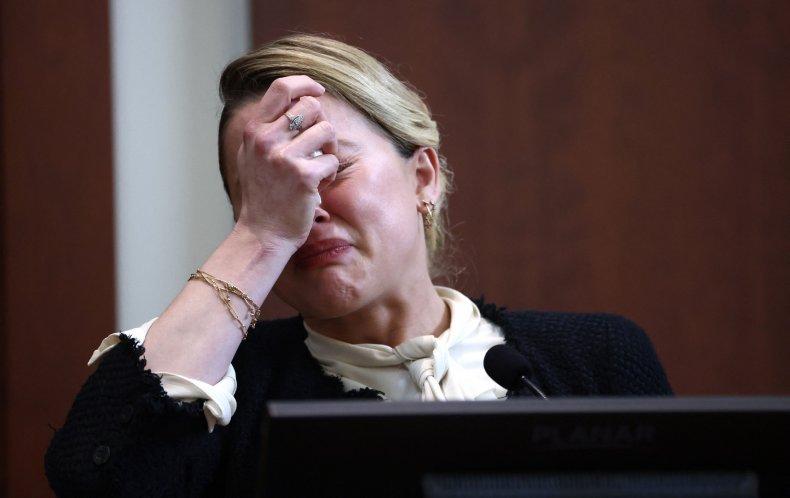 Heard recalled Depp drinking and taking the psychoactive drug MDMA, commonly known as esctasy or molly, before accusing her of having affairs with several of her co-stars, calling her names and putting a broken bottle to her neck.
She said that he held her by the neck against a wall and ripped her nightgown off, and then remembered being held down on the bar. When retelling the incident, Heard began to hyperventilate.
Through tears, Heard said, "My back was on the countertop and I thought he was punching me."
"I remember looking at all the broken bottles and broken glass and I remember just not wanting to move because I didn't know if it was broken, and I didn't know if the bottle that he had inside me was broken. I didn't feel it, I didn't feel pain, I didn't do anything," she testified.
Later on, she said, "I realized that I could be hurt because I was bleeding but I convinced myself it wasn't broken and the bottle wasn't broken or else it would be a lot worse. And the discomfort I was feeling afterwards just paled in comparison to how scared and shocked I was. I was scared, I just married this man."
Depp Laughs Again When Heard Describes Him Peeing on the Floor
Depp seemed to chuckle when Heard described the morning after the incident in Australia, particularly the accusation that the actor took his penis out and urinated on the floor.
Heard claimed that in the aftermath of the altercation with the glass bottle, security was called to the house.
"Johnny took his penis out of his pants and started trying to pee or peeing outside of the house," she said.
"This is in front of security, and they kind of just like looked at each other and looked at him and kind of, not laughed, but kind of half, you know, played it off and corralled him," Heard testified. "It was how it looked. It looked like corralling a wild animal back into the house with, you know, with his penis out of his pants."
At the mention of that story, Depp appeared to snicker with his lawyer.
In April, Depp's personal bodyguard testified in the trial and was asked about the same incident.
The bodyguard, Malcolm Connolly, said "no" when asked if Depp had been trying to urinate on the floor. Heard's lawyer asked again, "Mr. Depp had his penis out of his pants, didn't he?"
Connolly responded, "I think I would remember if I'd seen Mr. Depp's penis."
Depp dropped his head then and began laughing, and the moment went viral on social media.
Heard Admits Punching Depp in Defense of Her Sister
Toward the end of her defense Thursday, Heard testified that she recalled an incident in a penthouse with her sister, Whitney.
She recalled finding Depp's iPad and seeing text messages between him and a woman he used to see. Heard stated she confronted him, and they began screaming at one another.
Heard said that Depp was drinking a Red Bull and screaming at her, and then he threw the can at her while she stood on the mezzanine level.
She said that she called Depp a "p**sy," which angered him. Depp allegedly ran up the stairs to where Heard was with her sister, and Heard testified that they had a struggle in which Depp pulled at her hair.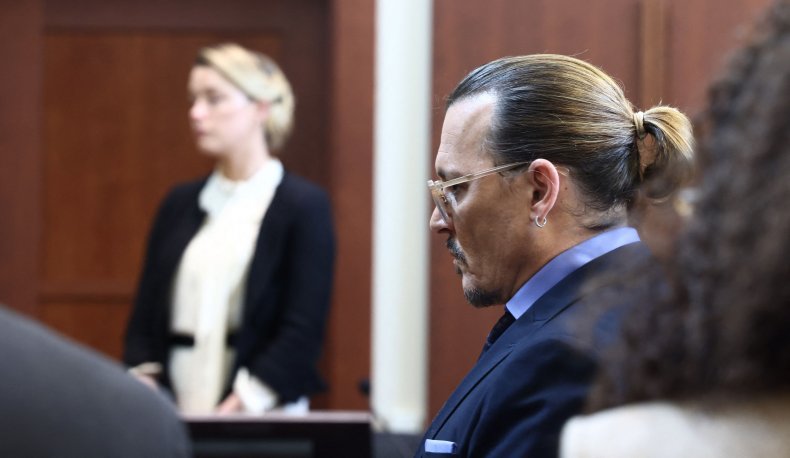 She then said that her sister Whitney attempted to get in between them. "Johnny swings at her and I just see my little sister with her back to the staircase, and Johnny swings at her and I don't even wait," she testified.
"I swung at him. In all of my relationship to date with Johnny, I hadn't landed a blow and I, for the first time, actually hit him square in the face. He didn't push my sister down the stairs," she said. Heard added that she and her sister went and locked themselves away afterward.
The testimony raised questions, however, as Heard's telling of the can of Red Bull seemed to contradict what Travis McGivern, one of Depp's security guards, said when he recalled the incident, as he claimed it was Heard who threw the Red Bull can at Depp.
The trial is adjourned until May 16.