Johnny Depp Laughs Again As Amber Heard Describes Him Peeing On The Floor
Actor Johnny Depp appeared to start laughing again in court on Thursday as Amber Heard described an incident when Depp allegedly peed on the floor.
During her defense testimony on Thursday in the $50 million defamation trial between Heard and her ex-husband Depp, Heard testified about a series of events that took place in 2015 while the couple was in Australia.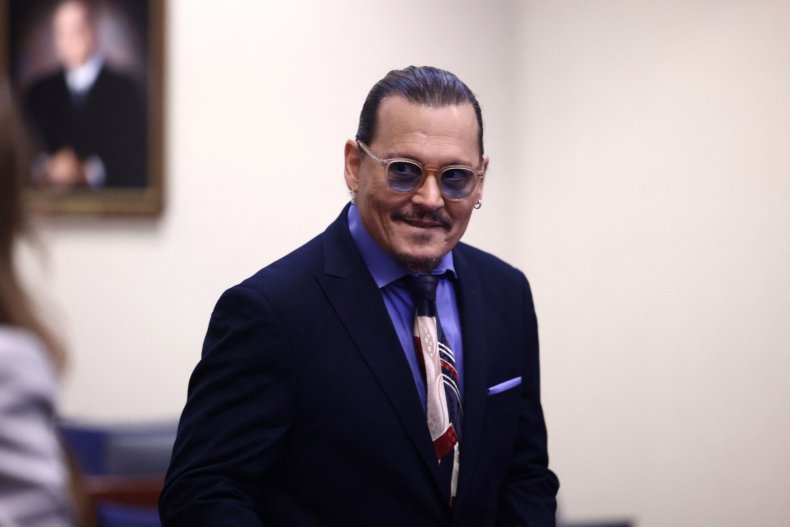 The actress alleged on Thursday that after a large fight between the two, Depp took his penis out in front of Heard and security and peed on the floor.
When the incident was first brought up in a court hearing in April, Depp began laughing along with his lawyers, and again on Thursday, the Pirates of the Caribbean actor appeared to chuckle.
Heard was not amused. She emotionally described a violent altercation that took place the night before with Depp, and in the aftermath, security arrived, and Depp attempted to urinate on the floor.
"This is in front of security," Heard testified, "and they kind of just like looked at each other and looked at him and kind of, not laughed, but kind of half, you know, played it off and corralled him. It was how it looked. It looked like corralling a wild animal back into the house with, you know, with his penis out of his pants."
In April, Depp's bodyguard, Malcolm Connolly, was asked about the incident.
Heard's defense lawyer said, "Mr. Depp was trying to urinate in the foyer, wasn't he?"
The bodyguard answered "No," prompting Heard's lawyer to ask, "Mr. Depp had his penis out of his pants, didn't he?"
Connolly responded, "I think I would remember if I'd seen Mr. Depp's penis."
Depp dropped his head then and began laughing, and the moment went viral on social media.
In Thursday's testimony, Heard also recalled discovering that same day that Depp had severed his finger, but claimed that she had not been present when it happened.
"I figured out he was missing a finger," she testified. "He kind of held it up and I said, 'what did you do, when like, what did you do?'"
She added, "I realized in my head that there have been many hours since it's probably happened."
However, Depp's testimony claimed that Heard had thrown a large bottle of vodka at him during the fight, which sliced off his fingertip.
"She threw the large bottle and it made contact [with the bar] and shattered everywhere. I honestly didn't feel the pain at first," Depp testified two weeks ago. "I felt heat, and I felt as if something were dripping down my hand and then I looked down and realized the tip of my finger had been severed and I was looking directly at my bone sticking out."
Depp is suing Heard for $50 million for an op-ed she wrote in 2018 with the Washington Post which insinuated she was a victim of domestic abuse. Heard is counter-suing Depp for $100 million.