Johnny Depp Laughs in Court as Bodyguard Is Asked About Seeing Him Urinate
In the Johnny Depp-Amber Heard trial, which has played out partly on social media, another moment from the courtroom is causing a stir online.
On Thursday, Depp burst out laughing after his bodyguard was asked if he had seen the actor's penis.
The $50 million defamation trial between the Pirates of the Caribbean actor and his ex-wife kicked off on April 11 in Fairfax, Virginia.
Depp, 58, is suing Heard, 35, for defamation over a Washington Post op-ed she wrote about domestic violence. Attorneys for Depp argue that the piece damaged his career and prevent him from getting future acting roles.
Meanwhile, Heard is countersuing for $100 million for nuisance.
On Thursday afternoon, a new witness was called to the stand, Depp's personal bodyguard Malcolm Connolly.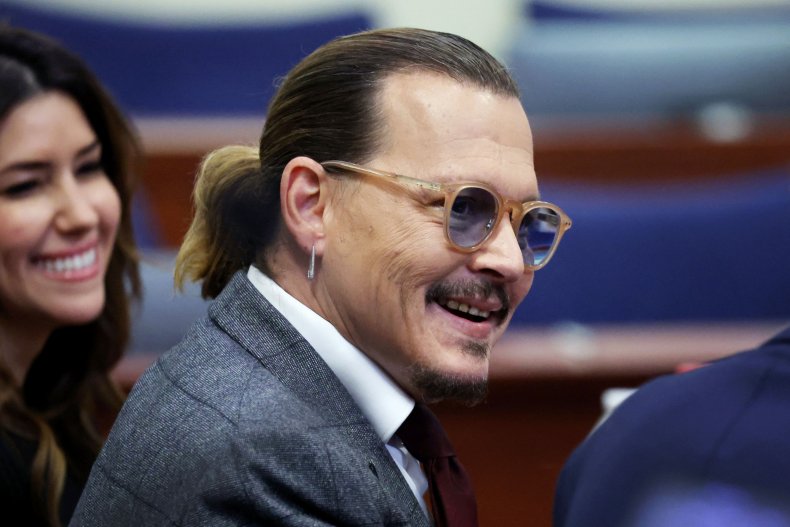 One key aspect of the trial has been the couple's volatile time in Australia in 2015 when Depp detailed a gory severed finger injury he claims Heard caused by throwing a glass vodka bottle at him.
Connolly in his testimony confirmed that he accompanied the couple to Australia in 2015.
During questioning from the defense, Heard's lawyer said Depp was trying to urinate "in the foyer" and "had his penis out."
"When you arrived at the house, you could hear a ruckus. Correct?" he was asked.
Connolly confirmed a "ruckus" was happening but that he could only hear shouting.
"You went inside the house and saw Mr. Depp in the foyer. Correct?"
Connolly confirmed this to be true before he was asked: "Mr. Depp was trying to urinate in the foyer, wasn't he?"
The bodyguard answered "no", prompting Heard's lawyer to ask: "Mr. Depp had his penis out of his pants, didn't he?"
Then in a moment that is going viral, Connolly bluntly answered in a thick Scottish accent: "I think I would remember if I'd seen Mr. Depp's penis."
Connolly's answer prompted Depp to burst out laughing and then seemingly bury his head in embarrassment.
The moment is being widely discussed on social media with one clip posted to Twitter amassing almost 200,000 views.
Meanwhile, one edited version of the clip on TikTok has racked up 3.7 million views.
Depp also appeared to laugh after his bodyguard compared the actor's use of alcohol and other substances such as marijuana, to the fictional Pirates of the Caribbean character Jack Sparrow.
"He's got a very high tolerance for any substance," Connolly said. "I think Jack Sparrow is more drunk than Johnny Depp."