Johnny Depp Trial Witness Vaping During Testimony Goes Viral
The Johnny Depp-Amber Heard trial being televised has produced several viral moments thus far and another bizarre exchange has caused a huge stir on social media this week.
The multi-million dollar defamation trial is continuing in Fairfax, Virginia as ugly details of the former couple's marriage are aired and scrutinized with the world watching.
The Pirates of the Caribbean actor, 58, is suing his ex-wife for $50 million over an op-ed she wrote in 2018 about domestic violence, claiming it damaged his career. Meanwhile Heard, 35, is countersuing for $100 million for nuisance.
On Wednesday, a number of new witnesses were called to the stand and one doorman's unusual testimony has since gone viral.
Alejandro Romero gave testimony remotely and appeared to be driving a car throughout and made it very clear he did not want to be bothered in relation to this trial.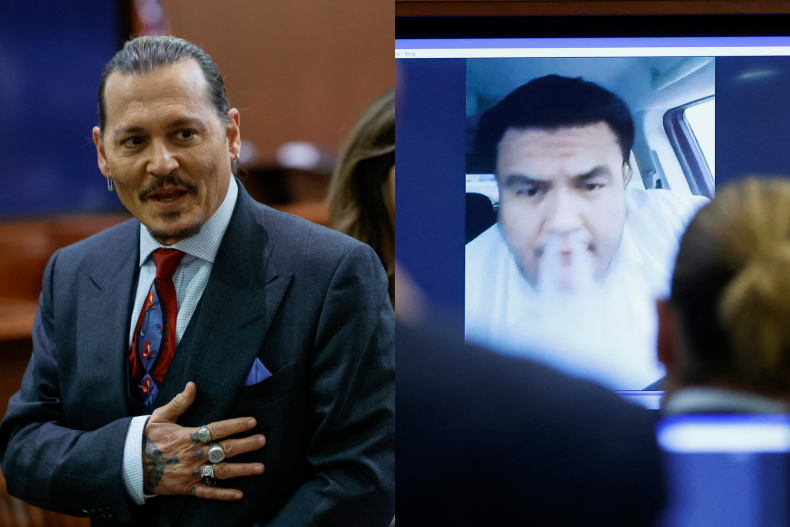 Bluntly spoken ​​Romero was an employee from the Los Angeles penthouse Depp and Heard previously shared and said he couldn't remember much about the couple's time together—nor did he care to.
"You sent me the papers to review, and I didn't even want to review it because it's been so long. It's like I just don't want to deal with this any more," Romero said in a pre-recorded video deposition.
In the video, Romero drinks soda, vapes and then drives off for lunch.
"I'm so stressed out because of this, I just don't want to deal with this anymore. I'm tired, I don't want to deal with this court case, everybody's got problems and I don't want to deal with this any more," he said.
This drew laughter from the courtroom, and in particular from Depp who could be seen chuckling and smirking at Romero's candid approach to his testimony.
Romero was asked a number of times if he ever saw any visible injuries on Heard's face or if he noticed her covering bruises or cuts with makeup.
He confirmed that he never saw any signs of physical abuse but would have spoken up if he did.
"You would cover any bruise, but you cannot cover the swelling," Romero said.
Becoming frustrated, he continued: "I'm not agreeing to testify against anyone of domestic violence because I was not there, I didn't see anything. I didn't hear anything. I was not there, I was never there, I was probably hundreds of miles away and got no idea what happened. That's it."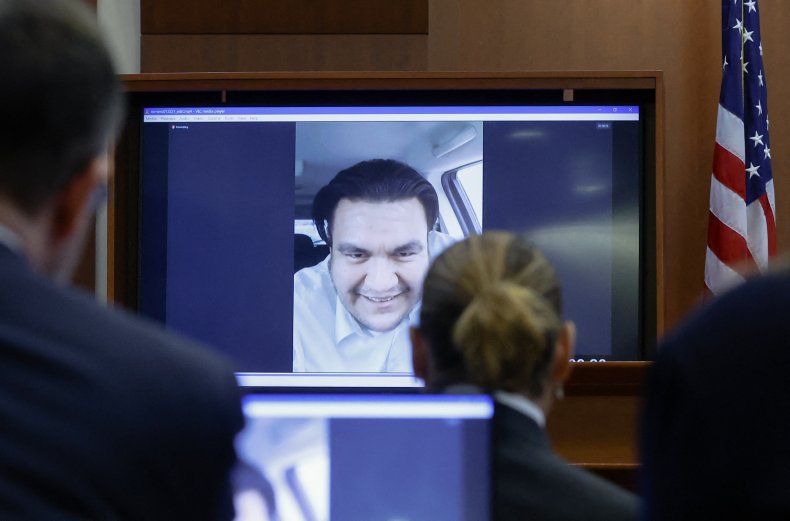 The footage of Romero in court has since racked up millions of views on social media.
On TikTok, one clip of the exchange has been viewed more than 800,000 times while another creator's recapping has been viewed 1.8 million times at the time of writing.
Meanwhile, on Twitter, Depp fans have been enjoying the actor's reaction to Romero with one popular tweet reading: "Alejandro Romero just won at life for evoking this reaction from Johnny Depp."
This viral moment follows a similarly bizarre exchange from earlier this week in which an expert witness urged Heard's lawyers to "stop talking about muffins" during her testimony.