'Muffin Man': Johnny Depp Trial Moment Sparks Comparisons to 'Shrek' Scene
A bizarre exchange about muffins during the Johnny Depp Amber Heard trial is sparking a conversation on social media.
Dr. Shannon Curry, a psychologist hired by Depp's legal team to evaluate Heard took to the stand as an expert witness on Tuesday as the $50 million dollar defamation trial continues in Fairfax, Virginia.
A licensed clinical and forensic psychologist in California and Hawaii, Dr. Curry was called as an expert witness by Depp's legal team to provide expert testimony on any potential intimate partner violence in the former couple's relationship.
However, while on the stand Dr. Curry said she wanted to "stop talking about muffins" after Heard's lawyer Elaine Bredehoft questioned her about her husband buying baked goods for the Aquaman actress.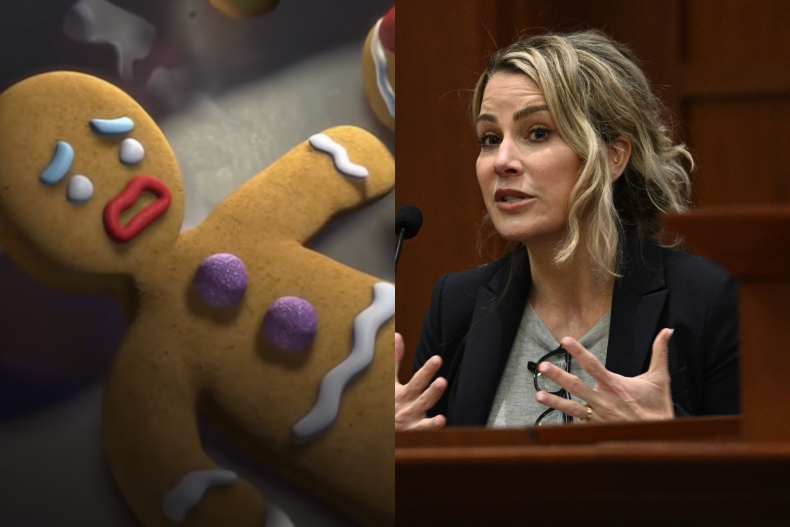 Heard's attorney suggested that Dr. Curry was "so excited" to be involved in the high-profile case she told her husband about it.
Bredehoft said that Dr. Curry provided Heard with muffins while she was evaluating her, and that she told Heard the muffins were from her husband
"You said you brought muffins from your husband, and you gave those to Ms. Heard, correct?" Bredehoft asked.
"May I clarify what occurred so that we can stop talking about the muffins?" Dr Curry said on the stand. "What happened was that I was getting ready that morning, I frequently bring muffins to the office."
"My husband did happen to know that there was going to be a celebrity client coming in because on the morning that that occurs, which often occurs, we have to actually clear the office and move the staff to the other office."
"So yes, on the one hand, he was aware of that. I was getting ready, I asked him to go to the bakery near our house and pick up the muffins for me because I was running late—he often has to do that because I often do run late," Dr. Curry said.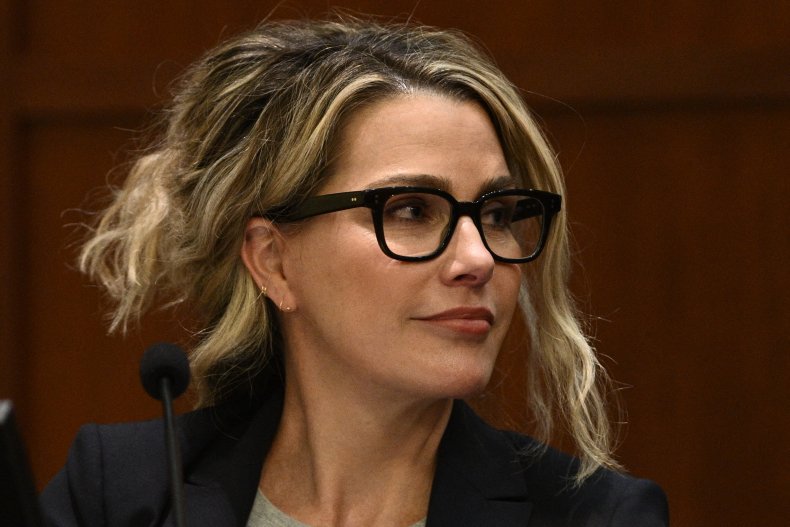 "He brought the muffins back to the house, I brought them into the office, Ms. Heard and I enjoyed the muffins together."
"I think I made a comment to her along the lines of 'my husband got these for us today,' meaning he purchased the muffins we are now enjoying them because of him," she added.
Bredehoft later asked: "Why did your husband get the muffins for Amber Heard?"
"He did not get the muffins for Amber Heard," Dr. Curry responded laughing.
Bredehoft asked: "He knew you had a high-profile client and you were preparing for a very long time and you asked him to pick up the muffins, correct?"
"I asked him to pick up the muffins for me, yes," Dr. Curry responded.
Dr. Curry in her testimony concluded that Amber Heard met the criteria for histrionic personality disorder.
However, the bizarre exchange about muffins has gotten a lot of people talking, sparking absurdist comparisons to the famous "Muffin Man" scene from the movie Shrek.
One TikTok, with more than 150,000 views shows a clip of Dr. Curry speaking with audio from the animated movie played over her.
Another TikTok with almost 90,000 views labeled the exchange "muffingate."
On Twitter, a tweet with more than 5,000 likes features a still from Shrek mocking the exchange.
While another tweet reads: "You don't need to watch the Johnny Depp and Amber Heard case, you just need to know that there's been a 15-minute debate on why the forensic psychologist brought muffins to Amber Heard's evaluation meeting. Her lawyer is unbelievable."
Another shows a picture of Heard's attorney with the caption: "Do you know the muffin man?"
While another joked that Dr. Curry is in fact married to the Muffin Man.