What Is Histrionic Personality Disorder? Amber Heard Court Diagnosis Explained
A psychologist called to testify by actor Johnny Depp's attorneys said on Tuesday that ex-wife Amber Heard could have a personality disorder.
Dr. Shannon Curry, a licensed clinical and forensic psychologist in California and Hawaii, was called by Depp's legal team to provide expert testimony on any potential intimate partner violence in Depp and Heard's relationship.
Under oath, Curry said she carried out a psychological evaluation of Heard, using case documents, medical records, mental health treatments, and audio and video records, eventually concluding that she met the criteria for histrionic personality disorder. Curry testified that she met with Heard on December 10 and 17 for a total of 12 hours.
"The results of Ms. Heard's evaluation supported two diagnoses...borderline personality disorder and histrionic personality disorder," Curry testified.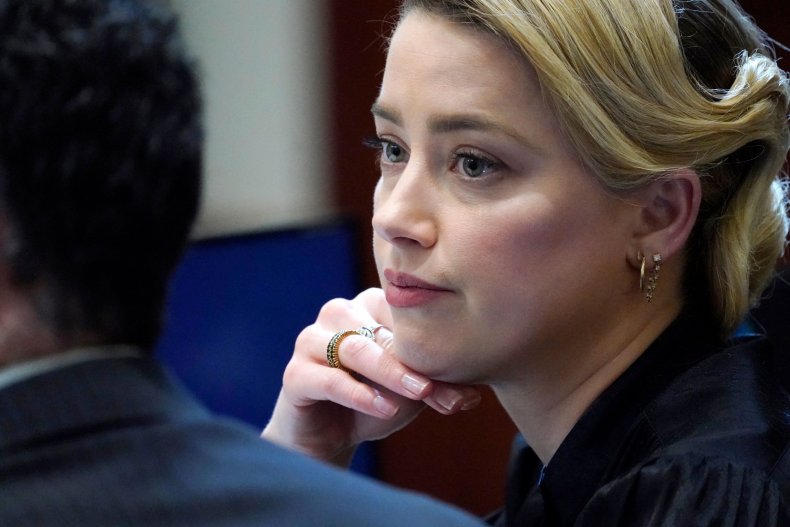 Based on the exam results, Curry labeled Heard as a "3-6" code type. That, she explained, means Heard is heavily concerned with image, prone to treating others with cruelty, unable to admit responsibility for wrongdoing, and prone to externalizing blame. People with similar scores also tended to be "passive-aggressive, self-indulgent, self-centered, [and] needy for approval and attention," Newsweek reported.
Curry is the director of the Curry Psychology Group. The group's website claims that it is "a leading multi-specialty counseling center in Orange County, CA." The site also boasts that Curry "has 15 years of experience conducting research, therapy, and psychological evaluations pertaining to trauma, violence, and relationships."
During questioning, Curry verified that she is not board-certified. Board certification is not required for a doctor to practice in their field but is an extra step many take to demonstrate an advanced level of knowledge and skill in their field.
Falling under the umbrella of "dramatic personality disorders," the Cleveland Clinic says that sufferers of histrionic personality disorder have a strong need to command attention, and often use well-developed social skills to manipulate others to that end.
"People with these disorders have intense, unstable emotions and distorted self-images," the clinic's page says. "For people with histrionic personality disorder, their self-esteem depends on the approval of others and does not arise from a true feeling of self-worth. They have an overwhelming desire to be noticed, and often behave dramatically or inappropriately to get attention."
The clinic lists numerous potential symptoms of histrionic personality disorder, including discomfort with not being the center of attention, a tendency to act rashly or to not think before acting, being overly concerned with physical appearance, difficulty maintaining relationships, and sometimes threatening or attempting suicide for attention.
Depp is suing Heard for defamation in relation to an opinion piece she wrote that was published by the Washington Post in December 2018. In it, Heard seemed to indirectly accuse Depp of domestic abuse during their marriage, which lasted from 2015 to 2017. Depp is seeking $50 million in damages, claiming that the allegations are untrue and have had a negative impact on his Hollywood career and reputation. The actor has also claimed that Heard had been abusive toward him.
Newsweek reached out to Heard's legal team for comment.
Heard's allegations against Depp ultimately led to him exiting his role as Gellert Grindelwald in the Warner Bros. Fantastic Beasts franchise. Heard is scheduled to return as the sidekick/love interest Mera in WB's 2023 superhero sequel, Aquaman and the Lost Kingdom. Supporters of Depp have attempted to launch a petition calling for Heard's removal from the series.
Update 4/26/22, 2:45 p.m. ET: This story has been updated with additional information.