Johnny Depp, Amber Heard Trial Day 15: How to Watch Live Stream
With the fourth week of Johnny Depp and his ex-wife Amber Heard's court battle nearing its conclusion, viewers have been been tuning in in droves for several days to catch all of the testimonies.
The high-profile defamation trial, which is taking place in Fairfax, Virginia, can be watched on the Law & Crime Network and Court TV via both their YouTube channels and websites.
It can also be viewed live on the U.K.-based Sky News through its YouTube channel. The case is also being streamed online by numerous other news outlets, with many providing live updates.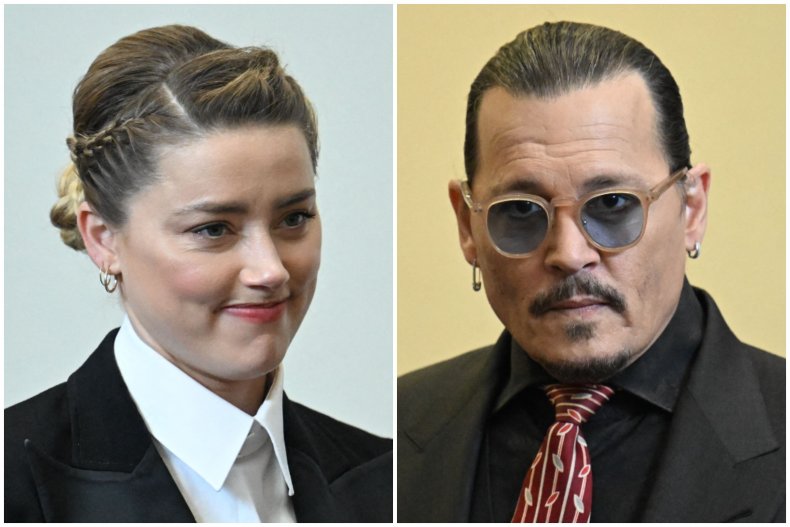 Pirates of the Caribbean star Depp, 58, filed a $50 million lawsuit against Heard, 36, accusing her of defaming him when she wrote a 2018 op-ed for The Washington Post, in which she said she was a "public figure representing domestic abuse."
While Heard did not directly name Depp in the article, his lawyers have argued that it was obvious the she was referring to the actor. Heard is countersuing for $100 million for nuisance, with her lawyers arguing that the op-ed was a matter of public interest.
Depp and Heard, who were married between 2015 and 2017, have accused one another of physical violence during their relationship, though each denies the other's claims.
The trial, which runs Monday through Thursday in Fairfax, Virginia, is expected to last approximately six weeks, with the exception of a pause on May 9-12 due to a previously scheduled engagement for Judge Penney Azcarate.
This week's courtroom procedures have been filled with testimonies from psychologists and physicians, as well as both actors' assistants and entertainment agents who worked for them during Heard and Depp's relationship.
Also this week, Heard took the stand for the first time during the trial to testify, as she emotionally shared allegations of domestic abuse at the hands of Depp.
On the witness stand, the Aquaman actress recalled the first time Depp allegedly hit her, saying that she "will never forget it. It changed my life."
She recalled that she was sitting on the couch with Depp in 2012, where the two were having a normal conversation. She stated that Depp had been drinking, and believes he may have also used cocaine, as she remembered "a jar of cocaine out on the table."
Heard said she asked him about a tattoo on his arm that looked like black marks. When Depp replied that the tattoo said "wino" she laughed, believing it was a joke. Heard said that he slapped her "across the face."
Once again, she recalled laughing, saying, "I laughed. Because I didn't know what else to do. I thought, 'This must be a joke.'" She testified that Depp hit her twice more, the third time hitting her "hard."
"We're sitting next to each other on the edge of the couch, or I was on the edge of the couch. And I'm all of a sudden realizing that the worst thing just happened to me," she said.
Throughout Heard's testimony on Wednesday, Hollywood actor Depp refused to look up and make eye contact with his former wife.
Heard also alleged that Depp once subjected her to a cavity search as he purportedly looked for cocaine that he is said to have accused her of hiding.
Depp's testimony took place late last month. During his time on the stand, he also accused Heard of violence, while also claiming that she once deliberately defecated on his bed as their relationship deteriorated.
Heard accused Depp of domestic abuse during their divorce proceedings in 2016. The stars, who wed in 2015, had their union officially dissolved in January 2017, months after Heard filed for divorce from Depp.
Follow Newsweek's live blog for the latest updates of the trial.