'Yu-Gi-Oh! Legacy of the Duelist: Link Evolution' Update - Every Card From VRAINS Packs
A huge new update is available now for the Nintendo Switch version of Yu-Gi-Oh! Legacy of the Duelist: Link Evolution in conjunction with the PS4 and Xbox One release of the game.
With this new update comes new cards and the swap over to Master Rule 5, which completely changes the way the card game is played.
But this is about the new cards available in Link Evolution, and we've begun compiling a list of them. The new update completes the Yu-Gi-Oh! VRAINS story and offers more packs to open and cards to collect.
Here's a running list of cards found in the VRAINS packs in Legacy of the Duelist: Link Evolution: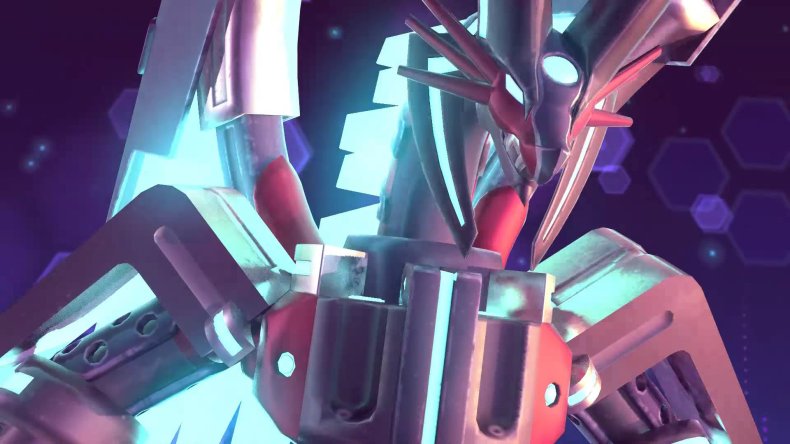 Playmaker
The cards found in Playmaker's pack are a great primer for Link summoning. You'll get cards for the Altergeist, Rokket and Trickstar but also have the Ritual summoning archetype in the Vendreads.
Cybverse monsters are also in full force in this pack. Here's every card in the Playmaker pack.
Altergeist Cards
Altergeist Pixiel

Altergeist Kunquery

Altergeist Hexstia (Link)

Altergeist Protocol

Personal Spoofing

Altergeist Camouflage
Vendread Cards
Vendread Striges

Vendread Battlelord

Vendread Nightmare

Vendread Reorigin

Vendread Reunion

Vendread Daybreak
World Legacy Cards
Crowned by the World Chalice

World Legacy - "World Chalice"

World Legacy - "World Lance"

World Legacy - "World Armor"

World Legacy - "World Crown"

Lee the World Chalice Fairy

Orcust Brass Bombard

World Legacy Clash

World Legacy Scars

World Legacy's Corruption

World Legacy Succession

World Legacy in Shadow

Orcustrated Return

Orcustrated Attack

World Legacy Trap Globe

World Legacy Landmark
Crusadia Cards
Crusadia Reclusia

Crusadia Draco

Crusadia Leonis

Crusadia Regulex (Link)

Crusadia Power
Rokket Cards
Autorokket Dragon

Anesthrokket Dragon

Magnarokket Dragon

Boot Sector Launch (Spell)
Krawler Cards
Krawler Glail

Krawler Ranvier
Gouki Cards
Gouki Bearhug

Gouki Ringtrainer

Gouki Suprex

Gouki Octostretch

Gouki Moonsault

Gouki The Giant Ogre (Link)
Subterror Cards
Subterror Behemoth Fiendess (Link)
Mekk-Knight Cards
Mekk-Knight Red Moon

World Legacy Whisper
Trickstar Cards
Trickstar Lilybell

Trickstar Lycons

Trickstar Lycoris

Trickstar Candina

Trickstar Black Catbat (Link)

Trickstar Bloom (Link)

Trickstar Delfiendium (Link)

Trickstar Bouquet
Knightmare Cards
Knightmare Unicorn (Link)

Knightmare Phoenix (Link)

Knightmare Cerberus (Link)
Salamangreat Cards
Salamangreat Meer

Salamangreat Emerald Eagle

Rise of the Salamangreat
Tindangle Cards
Tindangle Base Gardna

Euler's Circuit

Tindangle Delaunay
Monster Cards
Antialian

SIMM Tablir

Lady Debug

Backlinker

Background Dragon

Sniffer Dragon

Backup Operator

Dual Assembwum

Prompthorn

Hack Worm

Backup Secretary

Datacorn

ROM Cloudia

Texchanger

Cyberse Gadget

Segmental Dragon

Draconnet

Launcher Commander

Antialian

Bitrooper

Linkbelt Wall Dragon

Salvagent Driver
Extra Deck Monsters
Secure Gardna (Link)

Saryuja Skull Dread (Link)

Flame Administrator (Link)

Clock Spartoi (Link)

Link Spider (Link)

Encode Talker (Link)

Pentestag (Link)

Link Bumper (Link)

Tri-Gate Wizard (Link)

Vector Scare Archfiend (Link)

Space Insulator (Link)

Honeybot (Link)

Link Disciple (Link)

Binary Sorceress (Link)

Firewall Dragon (Link)
Spell Cards
Cynet Ritual

Cynet Fusion

Cynet Storm

Cynet Recovery

Air Cracking Storm
Trap Cards
Link Turret

Shield Handler

Red Reboot

Cynet Refresh

Pulse Mines

Packet Link

Limit Code
BLUE ANGEL
Blue Angel's deck contains many of her cards from the VRAINS anime. It also includes more support for the Trickstar archetype and brings Marincess cards into Link Evolution.
Fans of the Dark Magician should also open up these packs, as there is a lot of support for it and spellcasters.
Trickstar Cards
Trickstar Crimson Heart (Link)

Trickstar Magical Laurel
Marincess Cards
Marincess Pascalus

Marincess Blue Slug (Link)

Marincess Current

Marincess Snow

Marincess Wave
Dark Magician Cards
Magicians' Souls

Magician of Chaos

Soul Servant

Magician's Combination
Megalith Cards
Valkyrie Cards
Valkyrie Zweite

Valkyrie's Embrace

Pegasus Wing
Thunder Dragon Cards
Thunder Dragon Thunderstomech (Link)
Ninja Cards
Yellow Dragon Ninja

Ninjitsu Art of Mirage-Transformation
Ancient Gear Cards
Ancient Gear Ballista (Link)
Monster Cards
Vic Viper T301

Brinegir

Gizmek Orochi, the Serpentron Sky Slasher

Simorgh, Bird of Calamity

B.E.S. Blaster Cannon Core

Ranryu

Curse Necrofear

Grid Sweeper

Dark Spirit of Malice

Squirt Squid

Beatraptor
Extra Deck Cards
Quintet Magician

Berserker of the Tenyi (Link)
Spell Cards
Spell Power Mastery

Child's Play

Lightning Storm

Trap Cards

Peaceful Burial

Loss Time

Chain Hole

Fist of the Unrivaled Tnyi
Soulburner
Salamangreat Cards
Salamangreat Wolvie

Salamangreat Parro

Salamangreat Beat Bison

Salamangreat Fennec

Salamangreat Violet Chimera

Salamangreat Circle

Salamangreat Burning Shell

Salamangreat Transcendence

Fusion of Fire
Yosenju Cards
Gladiator Beast Cards
Gladiator Beast Vespasius

Gladiator Beast Domitianus
Reptilianne Cards
Gouki Cards
Dinowrestler Cards
Dinowrestler Coelasilat

Dinoswrestler Martial Anga

Dinowrestler Martial Ampelo

Dinowrestler Chimera T Wrextle
Performpal Cards
Performapal Celestial Magician

Performapal Odd-Eyes Metal Claw

Performapal Popperup
Neos Cards
Neo Space Connector

Neos Fusion

NEXT
Galaxy Eyes Cards
Galaxy Satellite Dragon

T

achyon Spiral Galaxy
Chronomaly Cards
Predaplant Cards
Predaplant Heliamphorhynchus

Predaplant Spider Orchid

Predaplant Verte Anaconda

Predaplant Triphyvorutum
Gimmick Puppet Cards
Gimmick Puppet Terror Baby

Condolence Puppet

Perform Puppet
Speedroid Cards
Hi-Speedroid Kitedrake (Synchro)

Speedlift
Machine Angel Cards
Frightfur Cards
Battlewasp Cards
Battlewasp - Pin the Bullseye

Battlewasp - Twinbow the Attacker

Battlewasp - Halberd the Charge (Synchro)

Battlewasp - Ballista the Armageddon (Synchro)
Hero Cards
Vision Hero Poisoner

Elemental Hero Grandmerge

Apparition
Destiny Hero Cards
Lunalight Cards
Cyber Dragon Cards
Cloudian Cards
Photon Cards
Superheavy Samurai Cards
Superheavy Samurai Swordmaster Musashi (Synchro)
D/D/D Cards
D/D/D Supersight King Zero Maxwell
Monster Cards
Gagaga Head

Cataclysmic Cryonic Coldo

Neo Flamvell Lady

Xyz Slidolphin

Psychic Tracker

Daruma Dropper

Dodododowarf Gogogoglove

Red Blossom from Underroot

Utopic Onomatopoeia

Primineral Kongreat
Extra Deck Cards
Gagagaga Magician (XYZ)
Number 93: Utopia Kaiser (XYZ)
Kikinagashi Fucho (XYZ)
Number 60: Dugares the Timeless (XYZ)

Clear Wing Fast Dragon (Synchro)
Spell Cards
Onomatopickup

Shining Draw
Trap Cards