Zelensky Says Airport Outside Kyiv Destroyed as 1.5M People Flee Ukraine
An airport outside Ukraine's capital has been completely destroyed by Russian strikes, according to Ukrainian President Volodymyr Zelensky, as the number of people who have fled the country toppled 1.5 million.
Russian rockets destroyed the civilian airport in Vinnytsia, a city about 150 miles southwest of Kyiv, Zelensky said in a video posted on Twitter.
"I've just heard the report on the missile strike at Vinnytsia, eight missiles," Zelensky said. "Against our city, against our peaceful Vinnytsia, which has never posed a threat to Russia in any way. A brutal, cynical missile strike has completely destroyed the airport.
"They continue total destruction of our infrastructure, our life built by us, our parents and grandparents, generations of Ukrainians."
It came as an attempt to evacuate residents from the besieged port city of Mariupol failed for a second day in a row—and as the UNHCR, the U.N. refugee agency, said more than 1.5 million people had fled Ukraine into neighboring countries.
High Commissioner for Refugees Filippo Grandi called it "the fastest growing refugee crisis in Europe since World War II" in a tweet on Sunday.
The United Nations has estimated the number of people looking for safe haven outside Ukraine's borders will likely top 4 million in the coming months.
In Mariupol, authorities had announced a temporary cease-fire for Sunday after days of shelling that has trapped people in without water, heat or electricity. But the plan collapsed, just as it did on Saturday, with both sides blaming the other for breaking the cease-fire.
In a post on Telegram, Mariupol City Council said Russian shelling has made the safe evacuation of civilians impossible.
In his video message on Sunday, Zelensky repeated his calls for a no-fly zone over Ukraine.
"We repeat every day: 'close the sky over Ukraine!' Close it for all Russian missiles, Russian combat aircraft, for all these terrorists," he said.
"Make a humanitarian air zone. Without rockets, without air bombs. We are people and it is your humanitarian duty to protect us, protect people.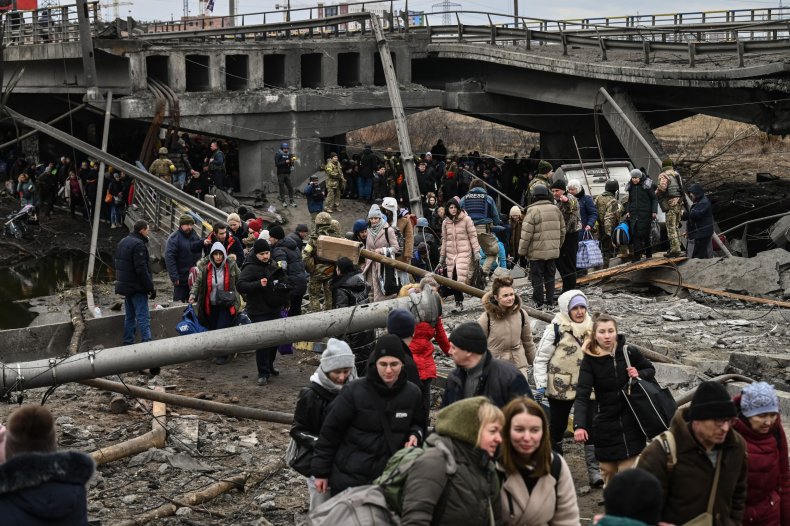 "And you can do it. If you do not do that, if you at least do not give us aircraft for us to be able to protect ourselves, there can only be one conclusion: You also want us to be slowly killed."
NATO countries have ruled out establishing a no-fly zone, saying it could risk escalating the conflict. Russian President Vladimir Putin on Saturday warned that Moscow would consider any third-party declaration of a no-fly zone over Ukraine as "participation in the armed conflict."
Secretary of State Antony Blinken on Sunday said the U.S. is "looking actively" at plans to send planes to Poland if Warsaw decides to send fighter jets to Ukraine.
"We are looking actively now at the question of airplanes that Poland may provide to Ukraine and looking at how we might be able to backfill should Poland decide to supply those planes," Blinken said during a visit to Moldova.