Zelensky Blames War in Ukraine on World Being Soft on Putin
Ukrainian President Volodymr Zelensky argued Thursday that if the world had punished Russia for its earlier actions in the region, the invasion of Ukraine wouldn't have happened. His comments came during a video appearance before the Australian Parliament.
The Ukrainian president told Australian lawmakers that more needs to be done to hold Russian leaders accountable, and referenced the shooting down of Malaysian Airlines flight MH17 in 2014. The plane was shot as Ukraine was fighting separatists backed by Russia, killing everyone onboard. The plane was hit by a missile system from a Russian military base, though Russia has denied involvement in the tragedy. Also in 2014, Russia annexed Crimea from Ukraine.
"Did we manage to hold accountable those who caused this tragedy? No. Because they're hiding in Russia," Zelensky said Thursday, according to news.com.au. "So the unpunished evil comes back. If the world had punished Russia in 2014 for what it did, there wouldn't be this invasion in Ukraine in 2022."
He also said that if Russia isn't punished for its actions, countries with "similar aspirations" will follow its lead.
"We can surely say that there is now only one way of bringing global security and bringing Russia to peace and silence," the president stated.
Newsweek reached out to the White House for comment on Zelensky's remarks, but did not receive a response in time for publication on Friday morning.
In response to the invasion of Ukraine, Western nations have leveled sanctions against Russia's economy and Russian President Vladimir Putin.
Ahead of Zelensky's remarks in front of the Australian parliament, Australian Prime Minister Scott Morrison praised the Ukrainian president.
"We stand with you Mr. President and we do not stand with the war criminal of Moscow," he said. "The people of Australia stand with Ukraine in your fight for survival...yes you have our prayers, but you also have our weapons."
The country has provided Ukraine with $116 million worth of military aid during the conflict so far, according to news.com.au.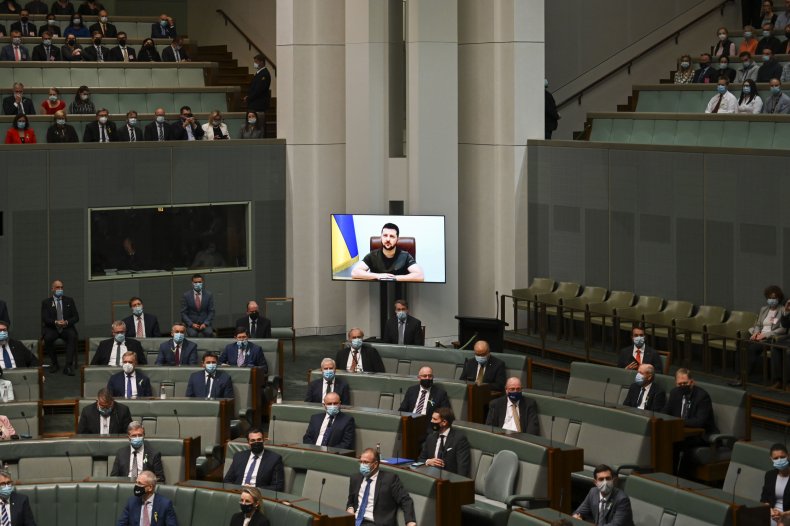 In a separate address on Friday, Zelensky said he was firing two of his top officials, calling them "traitors."
Those who were fired were Naumov Andriy Olehovych, the chief of Main Department of the Security Service of Ukraine (SBU), and the head of the SBU in Kherson, Kryvoruchko Serhiy Oleksandrovych.
"Those servicemen among senior officers who have not decided where their homeland is, who violate the military oath of allegiance to the Ukrainian people in regards to the protection of our state, to its freedom and independence, will inevitably be deprived of senior military ranks," Zelensky said.