Zelensky Calls for the Release of Mayor Abducted by Russians at Gunpoint
Ukrainian President Volodymyr Zelensky is calling for the immediate release of Melitopol's mayor who was whisked away from a government building Friday with a plastic bag over his head. The abduction was partially captured on video.
Zelensky equated the kidnapping and Russia's continued targeting of noncombatants with "the actions of ISIS terrorists." The Russian-backed Luhansk regional prosecutor accused Mayor Ivan Fedorov of "terrorism," a claim Russia has broadly levied against the entire Ukrainian government.
Approximately 10 armed Russian soldiers held Mayor Ivan Fedorov at gunpoint in a government office building. After refusing to cooperate with his captors, the abductors put a sack over his head and walked him out of the building in broad daylight, Ukraine's parliament reported via Twitter.
Melitopol has been under the control of Russian troops for over a week.
Video footage posted on Twitter by Ukrainian journalist Victor Kovalenko showed the rifle-carrying soldiers taking a hooded individual, clad in dark clothes, from the building. Kovalenko said the video footage came from Zelensky's office.
"The whole country saw that Melitopol did not surrender to the invaders, and this will not be changed by putting pressure on mayors or kidnapping mayors," Zelensky said in a Friday address on his Telegram channel.
"This can only get worse for the invaders," he continued. "The actions of Russian invaders will be equated with the actions of ISIS terrorists."
He then demanded Fedorov's immediate release and guaranteed to give community heads across the nation a full security detail to help keep them safe.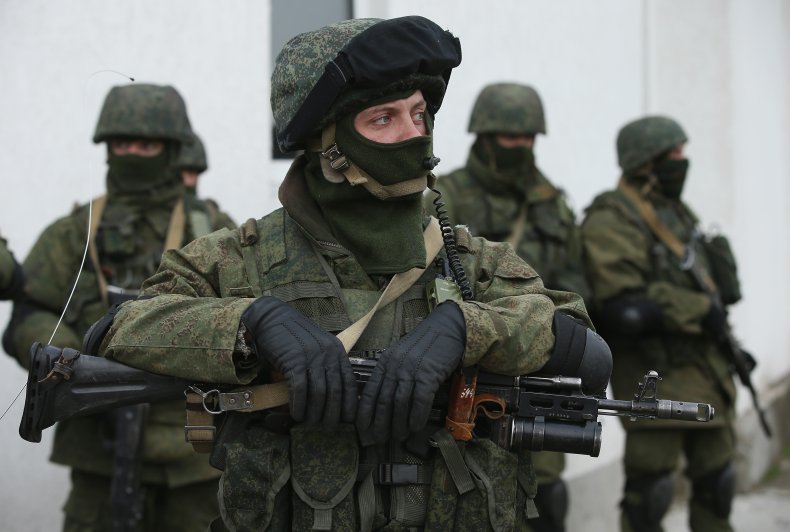 Ukraine's Ministry of Foreign Affairs called the abduction one of many "war crimes by Russian occupiers" violating the Geneva Conventions, the 1949 protocols that set the standards for humanitarian treatment during wartime and prohibit soldiers from taking civilian hostages.
"We call on the international community to respond immediately to the abduction of Ivan Fedorov and other civilians, and to increase pressure on Russia to end its barbaric war against the Ukrainian people," the ministry wrote on its verified Facebook page.
"The perpetrators of this and other crimes will be brought to the strictest responsibility," the ministry added.
Zelensky and other Ukrainian officials have repeatedly accused Russia of war crimes as Russian missiles—including cluster munitions and vacuum bombs (weapons denounced by over 100 countries)—have killed hundreds of civilians.
Russian forces have attacked a kindergarten and orphanage in northeastern Ukraine and a hospital in the southeast, according to Human Rights Watch. The attacks reportedly resulted in the deaths of children.
On Friday, Ukrainian media broadcasted a video of a Russian pilot admitting he had been ordered to bomb a civilian target. The broadcast of Russian prisoners of war (POWs) may violate other parts of the Geneva Conventions, particularly its section forbidding POWs from being made into a "public curiosity."
Russian President Vladimir Putin has said that the entire Ukrainian government is made up of "junkies and neo-Nazis" who "took the entire Ukrainian people hostage." By casting them as fascist criminals, Putin seeks to label Ukrainian resistance fighters as terrorists to justify his "peacekeeping forces" in the region.
However, Zelensky challenged Putin's claim at the end of his Telegram broadcast, directly addressing Russian citizens and would-be soldiers.
"I want to say it again for Russian mothers," Zelensky said. "Especially for mothers of conscripts. Do not send your children to war in a foreign land. Do not believe the promises they will be sent just somewhere for exercises, or just somewhere in noncombat conditions. Check where your son is."
"Do not give your son to death or captivity," he continued. "Ukraine never wanted this dreadful war, and Ukraine doesn't want it, but it will defend as much as necessary."
Newsweek contacted the Ukrainian embassy in Washington, D.C., for comment.