Zelensky Speculates Why Trump Kept Praising Putin
Volodymyr Zelensky said he was "surprised" that Donald Trump continued to praise Vladimir Putin as Russia was gearing up to invade Ukraine, while claiming he did so to promote his domestic policy.
Speaking to CNN, the Ukrainian president said that Trump had "plenty of time" to know the type of person Putin is, and that he shouldn't have continued to speak highly of the Russian leader amid the February invasion.
"He [Trump] was sitting at such a high position where it's not even possible not to recognize that he [Putin] is the opponent in terms of values, your own people," Zelensky said. "He has all the might of this country — intelligence, data — to create a psychological profile.
"Probably he needed this to promote his domestic policy to show that he's ready to find understanding with the president of Russia," Zelensky added.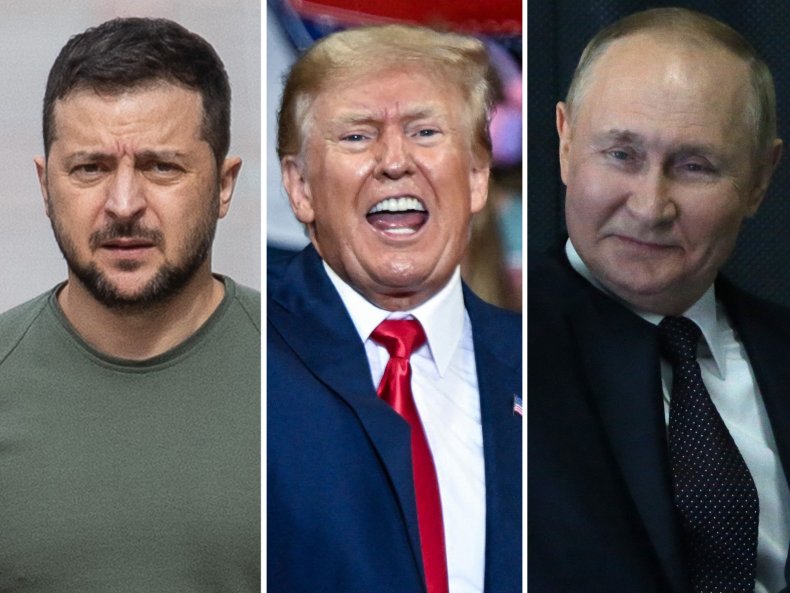 Trump was previously criticized, including by his own party, for comments he made about Putin ahead of Russia's invasion of Ukraine.
Speaking on the Clay Travis & Buck Sexton Show, Trump described Putin's tactic of recognizing two self-proclaimed republics in eastern Ukraine and sending Russian troops to the regions under the guise of "peacekeeping operations" as "genius" and "very savvy."
Trump doubled down on his praise of the Russian president, telling a crowd at his Mar-a-Lago resort in Florida that Putin was "pretty smart" as he had "taken over a country for $2 worth of sanctions" just as the fully fledged invasion was underway.
Trump again described Putin as "smart," while also praising Chinese President Xi Jinping during a rally in Wilkes-Barre, Pennsylvania, on September 3.
Discussing the praise, Zelensky told CNN that Trump should have looked at Putin's planning to invade the country "not only from the standpoint that this is a threat to Ukraine," but also at the wider implications.
"Ukraine in his eyes is too far away," Zelensky said. "But this war has no distances it could not cover, so I believe he needs to look at the situation without, as we say, pink glasses on."
Trump has frequently suggested that Russia would never have invaded Ukraine if he were still president as he and Putin had an understanding.
In a recent interview with Indian broadcaster NDTV, Trump claimed "we wouldn't have had to do anything" when asked how he would have handled the Russia-Ukraine war.
"That was never going to happen," Trump said. "And by the way, for four years, it didn't happen. Okay [...] But with President Putin, he would have never gotten in if I was President. Never. Not even a chance."
Newsweek has contacted Trump for further comment.