Trump Repeats Praise of 'Smart' Putin, Touts Xi's 'Iron Fist' Rule of China
Former President Donald Trump renewed praise for Chinese President Xi Jinping and Russian President Vladimir Putin during a rally in Wilkes-Barre, Pennsylvania, on Saturday.
"I got to know a lot of the foreign leaders and unlike our leader, they're at the top of their game. These are like central casting. There's nobody that could play the role in Hollywood—all of Hollywood, nobody could play the role of President Xi of China...He's a fierce person," the ex-president said.
"Putin, fierce—they're smart. You know a lot of times I'll say somebody's smart and the fake news will go 'He called President Xi smart.' He rules with an iron fist 1.5 billion people, yeah I'd say he's smart," Trump then added.
Trump's Past Praise for Xi and Putin
Trump has previously praised both leaders. In February, Trump called the Russian leader "very smart" for the steps he had taken leading up to the invasion of Ukraine. Trump also called Putin's strategy "genius," which resulted in backlash.
When Fox News host Sean Hannity pressed Trump to say whether or not he agrees Putin is "evil" during an interview in March, the former president avoided condemning the Russian president.
Meanwhile during a rally in 2020, Trump praised the intelligence of Putin and Xi while criticizing Joe Biden, who was campaigning against him for the presidency.
"One thing I've learnt, President XI of China's one hundred percent. Putin of Russia, 100 percent," Trump said at the time. "These people are sharp and they are smart. Joe has lost it, in his best day he wasn't not a smart man, everybody knows that."
During a Fox News interview last December, host Maria Bartiromo confronted Trump after he praised Xi, touting their relationship.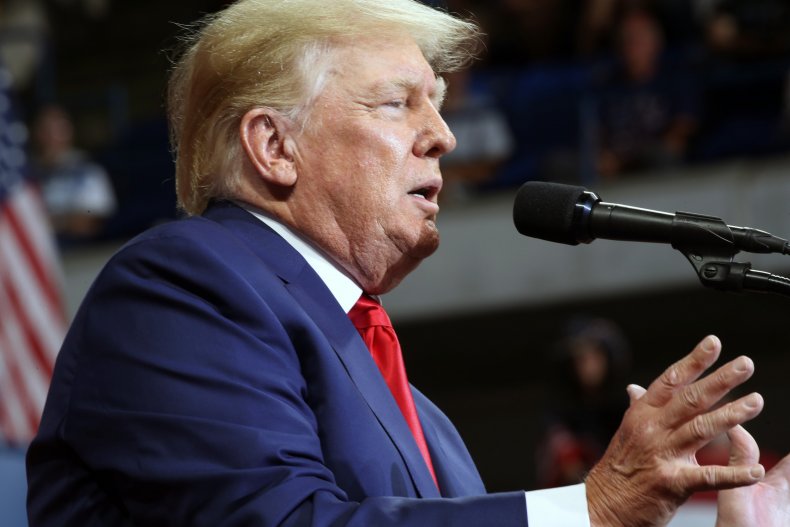 During a recent appearance on the The Clay Travis & Buck Sexton Show podcast, Trump said that Russia's invasion of Ukraine wouldn't have occurred if he was president.
"He [Putin] wouldn't have done it with me. He wouldn't have done it. At a minimum, they should have made a deal," Trump said. "They could have given up Crimea. They could have done something with NATO, 'Okay, we're not gonna join NATO,' and you'd have a country, because I believe Putin wanted to make a deal."
In an interview with Fox in March, Trump claimed that foreign leaders including Putin, Xi, and North Korean leader Kim Jong-un lost respect for the United States following its withdrawal from Afghanistan last year.
"But the way they got out of Afghanistan looked like a complete surrender," the ex-president said. "I'll tell you Vladimir Putin was watching and Xi Jinping and the leaders of Iran were watching and Kim Jong-un was watching, North Korea, they were all watching. Bad things started to happen, they no longer respected our country and this is how it all came about."
Newsweek has reached out to Trump's press office for comment.