Donald Trump Praises Vladimir Putin, Xi Jinping and Kim Jong-Un Over Joe Biden: 'These People Are Sharp'
President Donald Trump has acclaimed the smarts of the leaders of China, Russia and North Korea as he took a swipe at the sharpness of his Democratic rival, Joe Biden.
During a rally in Des Moines, Iowa, Trump followed his well-worn script in casting doubt on Biden's mental agility, telling his supporters that a decline with age was inevitable for everyone.
"Joe is shot, OK, whether you like it or not. We can all be nice, it's going to be my turn some day. It's even going to be your turn some day, my friends," Trump said on Wednesday, "but you know when it is your turn, you can't be president."
"One thing I've learnt, President XI of China's one hundred percent. Putin of Russia, 100 percent," he said, pointing to his head as he praised the mental acuity of the strongman leaders.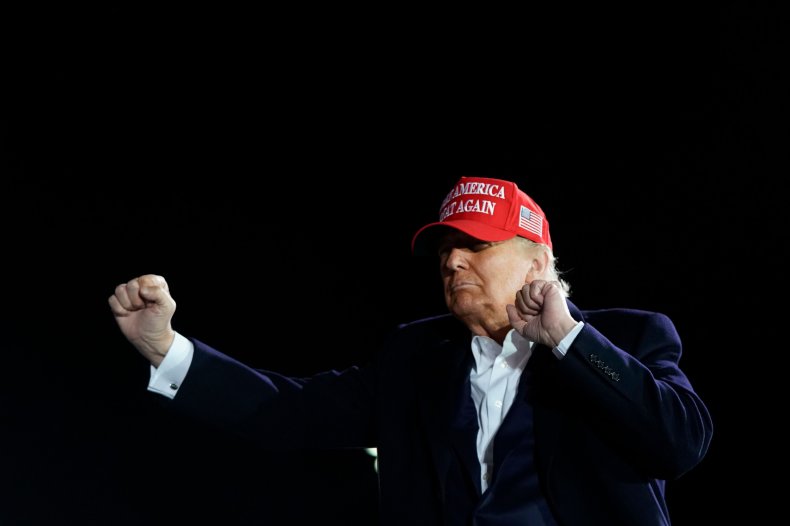 He continued: "Kim Jong Un—by the way what happened to that war we were supposed to be in? Kim Jong Un of North Korea—100 percent," he said, referring to the leader who last week shed tears during a military parade speech, lamenting how he had not created a better economy.
Trump continued: "These people are sharp and they are smart. Joe has lost it, in his best day he wasn't not a smart man, everybody knows that.
"Joe is gone, if he wins, the radical left, we will be running the country, they are addicted to power and God help us if they get it. We'll never be the same country, we will never be able to recover," Trump said to cheers. Newsweek has contacted the Biden campaign for comment.
Trump has repeatedly mocked Biden's mental state, calling him "sleepy Joe," on the campaign trail and even accusing him of having "dementia."
This week, Trump tweeted a joke campaign poster which depicted the former vice president in a care home in a photoshopped image of him surrounded by elderly people in wheelchairs, with the words "Biden for Resident."
While Trump, 74, mocks the age of his 77-year-old rival, a Wall Street Journal-NBC News poll last week showed that voters 65 and above in fact prefer the former vice president over the current president by 27 points.
Meanwhile, addressing older voters in Miami, Florida, this week Biden said according to The Hill: "You deserve respect and peace of mind, but you're not getting it because to Donald Trump, you're expendable."
Trump's stop in Iowa on Wednesday comes as he faces a tough battle in the state he won by nine points in 2016. Polling by CBS News shows Trump and Biden tied on 49 percent each.