Fox News Host Confronts Trump on Praise for China's Xi Jinping: 'He's a Killer'
Fox News anchor Maria Bartiromo confronted former President Donald Trump during an interview broadcast on Sunday morning after he praised China's President Xi Jinping—with the television host asserting that the powerful East Asian leader is "a killer."
Bartiromo generally is seen as supportive of Trump, having promoted the former president's claims about the 2020 election. But during her most recent interview with Trump on Sunday Morning Futures, she appeared briefly exacerbated by his positive remarks about China's president.
"You know, I had a great relationship with President Xi. I really believe he liked me and I liked him. I had a great relationship—," Trump said before Bartiromo cut him off to interject.
"He's a killer," the Fox News host said, waving her hand in apparent exasperation.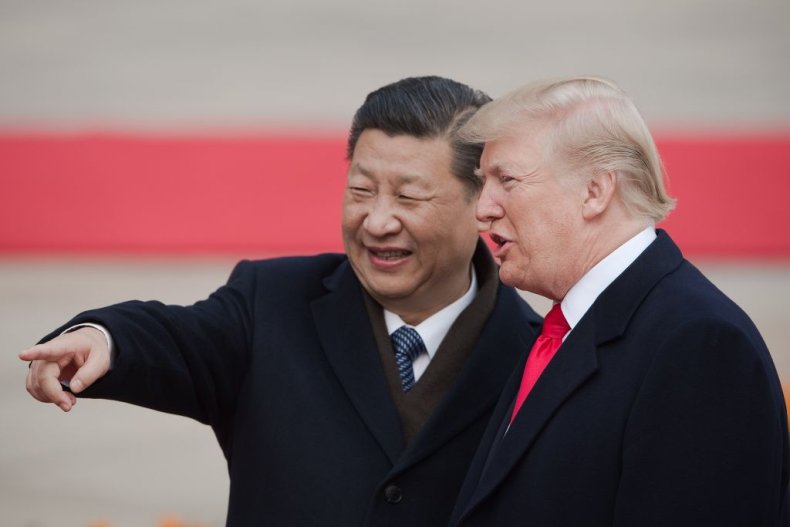 Trump admitted that Xi "is a killer" but went on to again tout his "great relationship" with the Chinese leader. However, he also asserted that once the COVID-19 pandemic began, "it was a different story." Trump argued that China has "destroyed the world"—blaming the East Asian nation for the global pandemic.
While Bartiromo generally appears to align with Trump on most issues, she previously expressed frustration after he announced a trade deal with China while he was still president. In October 2019, Trump said his administration had reached a "very substantial phase one deal" with China amid trade negotiations.
Bartiromo criticized the agreement at the time.
"Most of the big issues have not been resolved by this. We still have the open question of whether or not the Chinese are going to steal intellectual property. The forced transfer of technology is nowhere. Basically, to me it looks like the Chinese got what they want," she said.
Trump has repeatedly touted his positive relationships with prominent U.S. adversaries, including Xi, Russia's President Vladimir Putin and North Korea's leader Kim Jong Un. His upbeat remarks about them have drawn concern and criticism from Democrats—as well as some Republicans—in the past.
Trump repeatedly spoke favorably of Putin—resulting in Democratic critics claiming he was under the Russian leader's influence.
"I had a great and very productive [2018] meeting in Helsinki, Finland, with President Putin of Russia. Despite the belated Fake News portrayal of the meeting, the United States won much, including the respect of President Putin and Russia," Trump said in June statement ahead of President Joe Biden's talks with the Russian leader.
When it comes to Kim, Trump said in September 2018 that he and the North Korean dictator "fell in love." Trump met directly three times with Kim during his White House tenure and also became the first sitting U.S. president to enter North Korea. Despite the photo-ops and negotiations, Trump's efforts resulted in little substantive change when it came to North Korea's nuclear program and its tense relationship with the U.S. and South Korea.