Ukraine is urging its Western partners to tighten the economic screws on Russia at Thursday's extraordinary NATO, European Union, and G7 summits in Brussels, warning Kyiv has no backup plan if its supporters do not choke Moscow's vital energy exports.
NATO and the EU have mobilized to support Ukraine with weapons, intelligence sharing, and unprecedented sanctions on Russia. But Russian energy exports—especially its oil and natural gas—have so far been exempted, offering Moscow a financial lifeline and continued funding for its brutal invasion of Ukraine.
Oleg Ustenko, an economic adviser to President Volodymyr Zelensky, told Newsweek that oil and gas exports—which together account for some 40 percent of Russia's federal budget—is Moscow's Achilles heel.
"They desperately need money," Ustenko said of the invading Russians. "They are using this money to kill our people, to destroy our country, to kill innocent children, civilians."
Those who continue business with Russia, Ustenko said, are funding the war crimes inflicted on the Ukrainian people.
"If you are able to cut off Russia from 40 percent of its budget revenues—which are spent on buying missiles and financing the military machine—then you're going to change the rules of the game," Ustenko said.
"That's why we are so aggressive in this, and that's why we are so angry."
For all their public support of Ukraine, key European powers are pushing back against proposed energy sanctions. Germany, the Netherlands, and Hungary are the most resistant, prompting deep frustration in Kyiv.
President Joe Biden headed to Brussels on Thursday having already banned U.S. imports of all Russian energy. The president will be hoping to convince his European allies to follow suit, though may have to settle for a compromise; for example, a medium- to long-term commitment from EU powers to end Russian energy imports.
But this takes time the Ukrainians say they do not have. Oil, in particular, should be embargoed immediately, Ustenko said: "This is definitely not acceptable.
"We want it to be stopped immediately. We do not support the idea that we will continue discussions...It should be done right away during this visit of President Biden."
There appears little prospect that an EU-wide ban on Russian oil will be agreed on Thursday. Ustenko said Kyiv expects success regardless, given the existential consequences for Ukraine.
"We do think they are going to agree on that, this is our expectation," he said. "We don't have a plan B. This is our plan. And we hope we are going to be heard."
Weaning Europe off of Russian gas will take longer, Ustenko acknowledged, but he added this should be done faster than nations like Germany have proposed.
German Chancellor Olaf Scholz warned this week that immediate energy sanctions would plunge Germany into recession at the costs of hundreds of thousands of jobs. Dutch Prime Minister Mark Rutte suggested that immediate action is simply not realistic given European reliance on Russian exports.
There is little sympathy for this outlook in war-torn Ukraine, where tens of thousands are already believed dead and multiple cities have been razed by Russian artillery. The Russian advance is stalled across all axes of invasion, but deaths and suspected war crimes continue.
"I personally don't like the position of Germany," Ustenko said.
"They're talking about some possible hit for the economy—plus or minus 1 percent in GDP, or 0.5 percent in GDP—and the fact that it's going to be a little bit cold," he added, referring to concerns that a coming cold snap will increase German demand for Russian energy.
"My people have already been underground for almost one month. The weather in Kyiv and Kharkiv is much colder."
These measures will undermine European economies, but Ustenko argued they would also revitalize long-held ambitions to move away from Russian imports and accelerate the shift to green energy.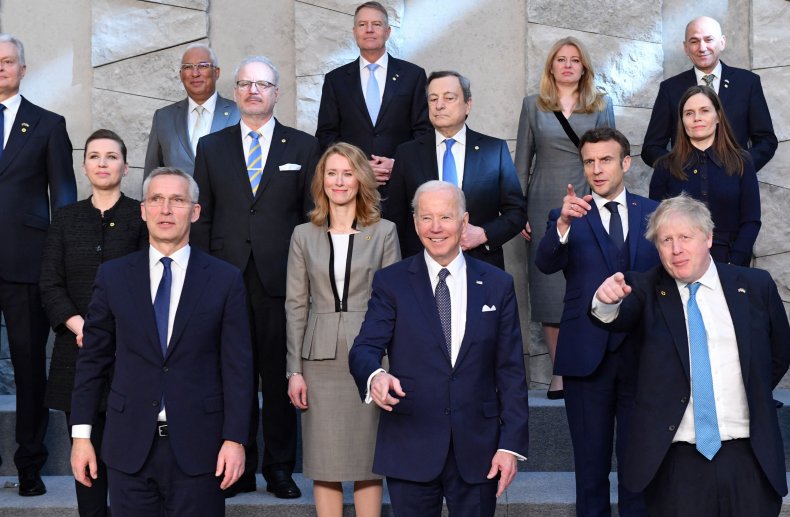 "In the long run, it's going to have only positive effects," he said. "And these positive effects are going to come out of a more stable, more predictable environment."
In the meantime, Ustenko said he believed other oil producers in the Middle East, Africa, and South America would help take up the slack.
The economic offensive against Russia must adapt to Moscow's efforts to skirt new sanctions. The Kremlin is well versed in avoiding such measures, given it has been operating under Western restrictions since it annexed Crimea and fomented revolution in eastern Ukraine in 2014.
Kyiv wants its Western partners to block Russian shipping from their ports, further undermining Moscow's commercial reach. Ustenko said such a move would limit Russia's ability to circumvent sanctions.
"We have suspicions that some of the tankers which are carrying Kazakh oil are not really," he said. "In fact, they're not carrying just Kazakh oil. Our suspicion is that they also carry at least 10 percent Russian oil."
With oil and gas prices at record highs, Moscow is doing all it can to maintain lucrative exports. "They are increasing their supply of oil throughout the world," Ustenko said.
Ukraine does appear to be reversing some Russian advances, most importantly in the south near the city of Mykolayiv, in the east around Kharkiv, and to the northwest of Kyiv, where Russian troops may soon find themselves encircled.
But Russia is still devastating Ukraine's infrastructure and manufacturing base, while brutalizing and killing hundreds of civilians. Ukraine's resistance has been more potent that most international observers expected—not least the Russians—but the country could still be overwhelmed, or at least razed, by the invaders.
"We really have two fronts," Ustenko explained. "The first front is on the ground where our brave soldiers and our brave militants are fighting against Russian fascists."
"But on the other side, we have an economic front. And on this economic front, we cannot fight alone. We are relying on our allies—the EU countries and the U.S. We are relying on their support. That's why these sanctions are extremely necessary."
"We are also appealing to the European public, normal citizens. They are on our side. They understand what's going on in our country. They understand the risks which are also coming to Europe if we are not able to fight."
"Let's do this together, the demilitarization of Russia. We have to make sure that our measures we are implementing will completely cut them off from financing the military machine and stop them from killing innocent Ukrainians. Without your help, we are not able to do so."
"Whoever is in this business with Russia is part of this," Ustenko said, promising future consequences for those not willing to cut ties with Moscow.
"We are going to win this war, sooner or later. We are going to search for each individual company who is doing business now with Russia, and sending this money which is used for the killing of our people."