Zelensky Reveals Why He Didn't Warn His Citizens of Russian Invasion
Ukrainian President Volodymyr Zelensky says he strategically downplayed the impending Russian invasion to prevent a financial panic that he says would have resulted in his country swiftly falling to the Kremlin.
Zelensky described the delicate balancing act he faced leading up to the invasion in an interview with The Washington Post published Tuesday. The remarks by the Ukrainian leader sheds light on why Zelensky publicly contradicted statements of U.S. officials who accurately predicted Russia's invasion of Ukraine.
As Russian President Vladimir Putin amassed more than 100,000 troops along its border with Ukraine in January, President Joe Biden and other U.S. officials increasingly sounded the alarm that Russia would launch an invasion.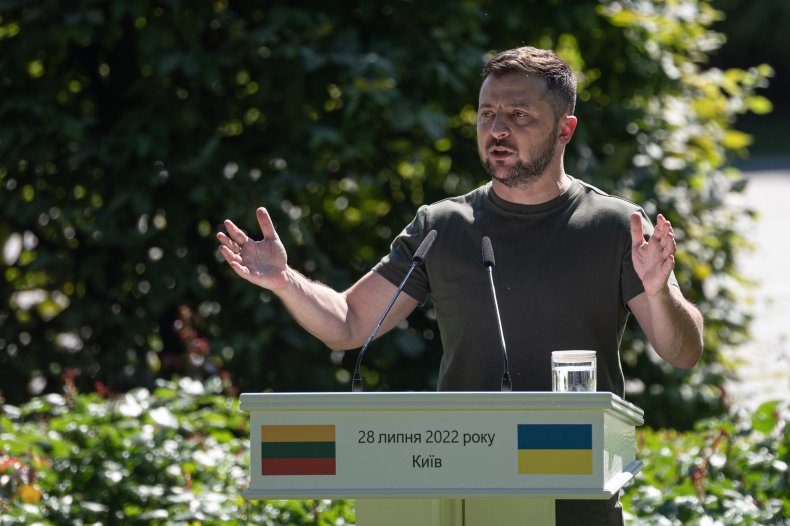 Heavily dependent on Western military aid, Zelensky sought to maintain relations with the U.S. while also criticizing America's warnings of a Russian incursion as an "exaggeration."
"I'm the president of Ukraine," he said at a press conference in February, "and I'm based here and I think I know the details better here."
Zelensky added that threats of war meant "panic in the market, panic in the financial sector. How much does it cost our country?"
At the time, the Kremlin seized on the rift, saying Biden's remarks were destabilizing Ukraine.
Speaking to the Post, Zelensky explained that telling the Ukrainian public to store food and money in preparation for war would have paradoxically meant a swift victory for Russia.
"You can't simply say to me, 'Listen, you should start to prepare people now and tell them they need to put away money, they need to store up food,'" Zelensky told the paper. "If we had communicated that—and that is what some people wanted, who I will not name—then I would have been losing $7 billion a month since last October, and at the moment when the Russians did attack, they would have taken us in three days."
Zelensky had been provided detailed U.S. intelligence early on about Russia's planned invasion. CIA Director William Burns secretly visited Zelensky in mid-January, sharing intelligence that Russia planned to move quickly from ally Belarus to Ukraine's capital city Kyiv, The Wall Street Journal reported in April.
Burns reportedly told Zelensky that Russian forces planned to take control of Antonov Airport in Hostomel, outside of Kyiv, and use it to fly in troops who would be used to topple Ukraine's government.
When asked about Burns' warning, Zelensky told the Post that Ukraine had intelligence that Russian troops were gathering in Belarus in preparation for a strike that would target the country's president.
But Zelensky explained to the Post that the Ukrainian economy began losing $5 billion to $7 billion a month. Zelensky said he needed the money but couldn't spend it on military salaries, calling the situation "some kind of global paradox."
"I don't have time for reasoning, warnings, commitments—I just have a task to do," he said. "I must not allow them to occupy our land, and I have to pay people who die. That's exactly what it sounds like. There are no sentiments. You have to do this every month."
Newsweek has reached out to the White House for comment.