A senior lawmaker in the self-declared Donetsk People's Republic said on Wednesday that the Russia-backed region intends to try Ukraine's President Volodymyr Zelensky as a war criminal.
Speaking to Russia's state news agency Tass, Yelena Shishkina said the DPR would bring charges against the lawmakers who had led Ukraine since 2014, when Russia's President Vladimir Putin annexed Crimea. These include Zelensky, former acting president Oleksandr Turchynov and former president Petro Poroshenko, she said.
"Perpetrators of military crimes are not just those who hold weapons in their hands and pull the trigger. Those are also generals, who issue orders, and presidents, too," said Shishkina, who chairs the DPR parliament's committee on criminal and administrative legislation.
She accused the three of putting their signatures "under orders to send neo-Nazis to Donbas to kill civilians here."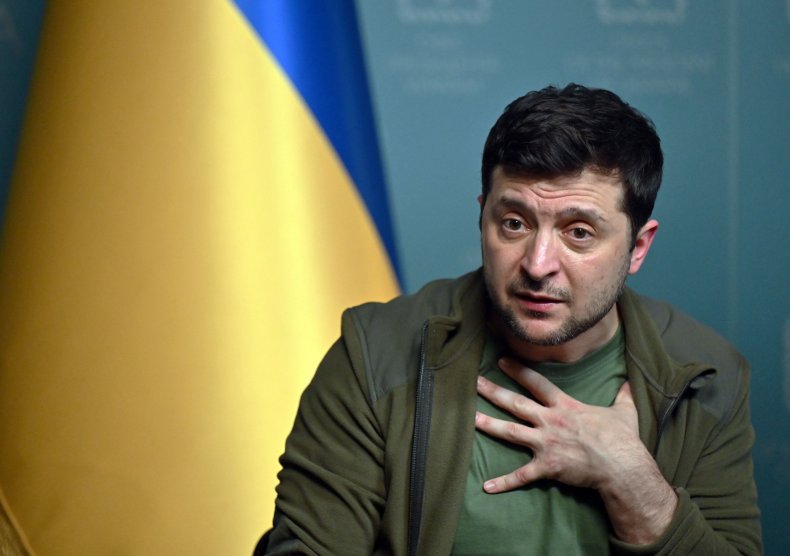 The Kremlin has pushed the narrative that Putin's so-called "special military operation" seeks to rescue residents of the self-proclaimed Donetsk and Luhansk republics from a "genocide."
Shishkina said laws in the self-declared republic stipulated criminal responsibility for war crimes, as well as for supporting and financing terrorism.
"Ukraine has put in place conditions that allowed neo-Nazi organizations to function on its territory, including amnesty for their members, failures to bring them to criminal responsibility, and legislative endorsement of crimes committed against Russians," she added.
"When sufficient evidence is presented by law-enforcement agencies … then, of course, those guilty will be punished."
Newsweek has contacted Ukraine's foreign ministry for comment.
Shishkina's comments came after the International Criminal Court said it would investigate possible war crimes committed during Russia's invasion of Ukraine.
The court's chief prosecutor, Karim Khan, announced on March 2 that his office would be looking into possible war crimes committed in the country, after nearly 40 ICC member states put in a request for an investigation.
A growing number of officials and world leaders have called for Putin to be held accountable as the civilian death toll rises in Ukraine.
Kyiv lawmakers have drafted their own resolution that labels the Russian president a war criminal, according to Radio Free Europe.
The resolution states that it aims to "publicly confirm the crimes committed by the president of the Russian Federation, Vladimir Putin, against mankind's security and international law, and call on international institutions to investigate mentioned illegal acts and bringing Putin to account."
It states that Putin is responsible for actions "in which millions of Ukrainians suffered damage to their health, in many cases death, lost movable and immovable property, and were forced to abandon their homes."
Newsweek contacted the Russian Foreign Ministry for comment.