Aides to Ukrainian President Volodymyr Zelensky have responded to Joe Biden's comment that the Ukrainian president "didn't want to hear" American warnings before Russia's invasion.
Speaking at a Democratic Party fundraiser in Los Angeles on Friday, the president said that the U.S. knew before the start of the war on February 24 that Vladimir Putin was going "to go in, off the border."
"Nothing like this has happened since World War II," Biden said, according to the Associated Press. "But I knew we had data" that showed Putin's intent.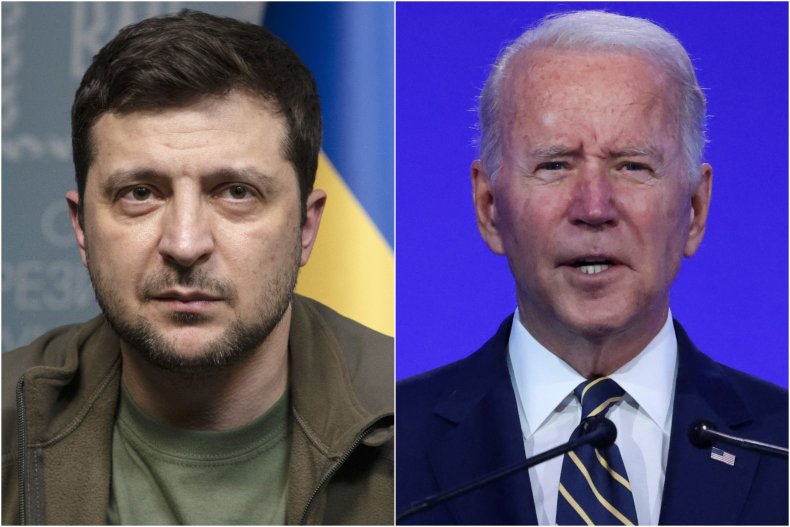 "I know a lot of people thought I was maybe exaggerating and Zelensky didn't want to hear it," Biden added.
Zelensky's spokesman Sergei Nikiforov said the Ukrainian leader had "three or four telephone conversations" with Biden before the war started, during which they discussed assessments of the situation in detail.
"Therefore, the phrase 'didn't want to hear' probably needs to be clarified," Nikiforov told Russian-language Ukrainian news outlet LIGA.net.
"In addition, if you remember, the president of Ukraine called on partners to introduce a package of preventive sanctions in order to encourage Russia to withdraw troops and de-escalate the situation.
"Here we can already say that our partners 'did not want to hear us,'" Nikiforov said.
Meanwhile, Zelensky's adviser Mikhail Podolyak told the same news outlet that Biden's comments were "not entirely true" and that Kyiv had been "well aware that Russia was developing various expansion scenarios."
"[Volodymyr] Zelensky always had relevant analytics on his desk, based on high-quality intelligence," he said. "The president also carefully reacted to all the words and warnings of our partners."
Podolyak said that Ukraine understood that Russia was planning an invasion and was preparing for it. The question, he said, was over its scale.
"It is absurd to blame a country that has been resisting a superior aggressor for more than 100 days when key countries were unable to prevent the Russian Federation [from invading]," he added.
In a statement to Newsweek, a U.S. State Department spokesperson said there was no rift between the U.S. and Ukraine over the war and that, "President Biden greatly respects President Zelensky and the leadership he has demonstrated throughout this crisis."
"President Zelensky and the people of Ukraine have inspired the world with their bravery and resilience, showing the world that Ukraine will never be subjugated to Russia," the statement said, adding that the U.S. had provided $5.3 billion in security assistance, including $4.6 billion since February.
"Vladimir Putin is trying to obliterate the Ukrainian nation and its culture, and the United States will not stand by and let that happen."
Although Zelensky has been hailed around the world for his wartime leadership, there are question marks over his preparation for the war, the AP reported.
Weeks before Putin invaded, Zelensky took exception to warnings by the Biden administration about a possible Russian invasion, fearing it would harm Ukraine's economy.
On Saturday, Zelensky told the Shangri-La Dialogue Asian security summit in Singapore that the war had consequences for the global order. "It is on the battlefields of Ukraine that the future rules of this world are being decided," he said via video link.
He also said that his country's forces are facing fierce Russian attacks in the country's east, particularly around the city of Severodonetsk.
Update 06/12/22, 3.35 a.m. ET: This article has been updated with comment from the U.S. State Department.