Zelensky U.S. Visit Underscores Risk of Americans Souring on War
Ukrainian President Volodymyr Zelensky's visit to Washington, D.C. is being perceived as a strategic move to garner additional moral, financial and weapons-based support as the American public's support of additional aid sours.
A Chicago Council survey conducted from November 18 to 20 found that while the majority of Americans continue to support economic and military aid to Ukraine, a minority believes Washington should support Ukraine "as long as it takes."
An endless stream of support no matter what polled at 48 percent, down from 58 percent in July. Those polled said the perception of who is winning the war has great importance on the bearing of support for Kyiv.
"The visit will underscore the United States' steadfast commitment to supporting Ukraine for as long as it takes, including through the provision of economic, humanitarian, and military assistance," White House Press Secretary Karine Jean-Pierre said Wednesday in a statement.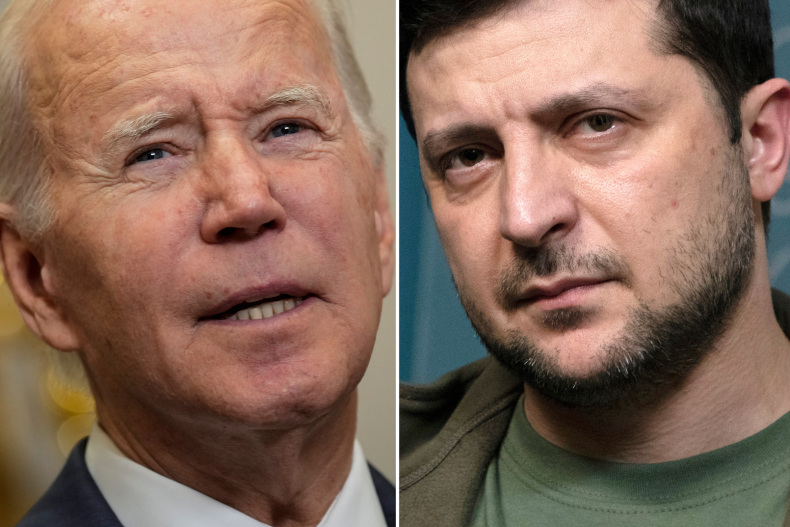 President Joe Biden is expected to announce a $2 billion aid package for Ukraine during his afternoon sit-down with the Ukrainian president, hours before Zelensky will address Congress on Wednesday evening.
The Russian Federation said that Zelensky's visit, coupled with additional weapons, will lead to a "deepening" of the ongoing war while reducing any possibility for peaceful negotiations.
Russian President Vladimir Putin reportedly told his country's Ministry of Defense that it can expect an unlimited funding stream in order to fight Ukraine and complete strategic objectives.
Jen Psaki, former White House press secretary, tweeted Wednesday that Zelensky is likely to receive multiple standing ovations during his address to Congress.
"He would not be making this trip if support in US wasn't decreasing while Russians take out energy sources and bombard cities," Psaki wrote. "This is a sales pitch to congress and public. Stick w/ Ukraine."
Brian Taylor, a political science professor at Syracuse University, told Newsweek that Zelensky's visit is "well-timed" and intends to signal that U.S. support remains strong, despite the Republican Party soon taking control of the House.
"President Zelensky wants to use his address to Congress to remind Americans, and indeed the world, that Russia has shown no willingness to stop its imperial war of conquest and withdraw its forces, and that Ukraine's fight for freedom, independence, and territorial integrity is worth continued support," Taylor said.
Mikhail Troitsky, a political analyst in Moscow, agreed with Taylor.
Troitsky told Newsweek that despite likely attempts by Zelensky to acquire additional, more powerful weapons than just the Patriot system, Biden will likely not comply with such requests.
Arkady Moshes, program director for the EU Eastern Neighborhood and Russia research program at the Finnish Institute of International Affairs, told Newsweek that Zelensky would not have made the trip if he didn't feel confident in U.S. support.
"Zelensky should be both fairly confident after Ukraine's successes on the battlefield in the autumn, and that is why he believes he can afford to leave the country" amid new concerns of escalation due to just announced Russian military buildup, Moshes said.
Erik Herron, a professor of political science at West Virginia University, told Newsweek that "President Biden wants to emphasize how Ukraine's struggle is also America's struggle—and that helping Ukraine enhances US security."
It can be viewed as unequivocal support and a show of visual support to not just Zelensky but also the Ukrainian people, Herron said, even as questions remain regarding GOP positions on future security aid.
"The visit sends a message to the world community that American support is unwavering," Herron said. "Having President Biden greet President Zelensky at the White House demonstrates to Russia how important Ukraine's struggle is to this administration.
"Putin likely believes that American and European interest in Ukraine will decline over time, and that all he has to do is be patient," he added. "This visit sends the message that U.S. support will continue."
Newsweek reached out to the Ukrainian and Russian governments for comment.