Holding a referendum on compromises with Russia in war-torn Ukraine would be next to impossible without a ceasefire, so Ukrainian President Volodymyr Zelensky will have to get Russian President Vladimir Putin on board with the idea, first.
Days-long negotiations between the two sides have resulted in seemingly little progress and fears are mounting about the potential for a stalemate. While Zelensky accepts NATO membership may have to be relinquished, making that compromise would require some sort of a vote, as it's enshrined in Ukraine's constitution, and a legitimate referendum will take time to arrange.
"Holding a national referendum is virtually impossible when a quarter of Ukraine's population is displaced," Yuri Zhukov, an associate professor at the University of Michigan, told Newsweek. "Organizing it takes months, even in peacetime."
Zhukov noted that a "hastily thrown-together" plebiscite would be "dead on arrival" and he rejected the possibility people would accept a Crimea-style vote. In 2014, 97 percent of Crimea voters opted to declare themselves independent and join Russia. Kremlin officials championed the vote as proof that people in Crimea were on their side, but the United States, European Union and Ukraine's government didn't recognize it as legitimate.
Michael Kimmage, a professor of history at Catholic University and fellow at the German Marshall Fund, also cast doubts on the ability for Ukraine to hold a referendum on terms of the compromise in its current state of unrest. However, he said Zelensky understands he needs the country's backing and will be in "real trouble" politically if he's perceived as being weak or going over the heads of the Ukrainian people. But, relying on a vote to dictate the terms of the compromise could complicate a deal.
"I don't think people are in the mood to compromise, especially with Russia brutalizing Ukrainian populations," Kimmage said. "It's a hail mary and people could vote against some kind of extreme compromise [that would end the war], but it's the only way it could be done."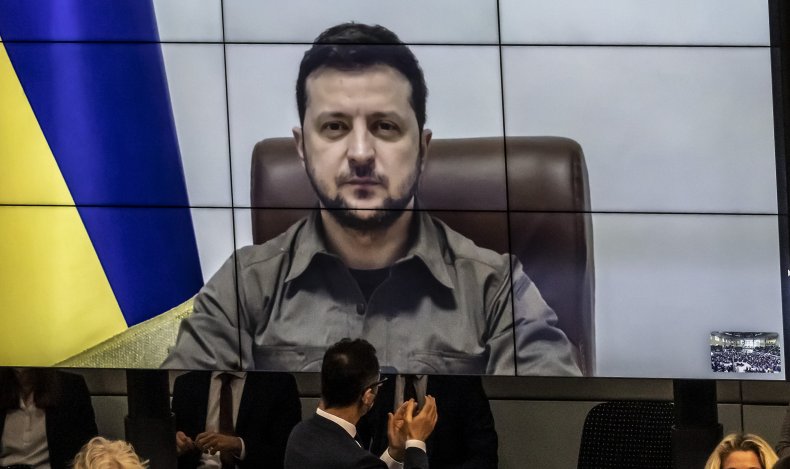 Since Ukraine put its NATO aspirations in its constitution, making a change to that goal would require a political mandate, according to Zhukov, or it could be perceived as "politically illegitimate."
Holding a legitimate referendum on the terms of a compromise would require a lengthy ceasefire that gives Ukrainians a chance to return home and for officials to institute all of the necessary procedures.
Whether Russia would allow for a ceasefire depends on how "desperate" their military situation is, according to Zhukov. He noted that they likely understand a national referendum won't go in their favor, but Putin could be amenable to a ceasefire if they need an "operational pause."
Russia's been dealt significant losses in the war in Ukraine and the resistance has stalled Putin's ground game in the country. An official acknowledged that things are progressing slower than expected and Putin's acquiesced that the war is taking an economic toll on Russians.
Bruce Jentleson, a professor at Duke University and a fellow at the Wilson Center, acknowledged that Ukraine's democracy dictates that Zelensky needs some sort of approval for aspects of the compromise. Ultimately, though, he thinks Zelensky's using the vote to establish a position rather than a hard line.
"I take the Zelensky statement at this point as threefold: speaking to his people that for all the international stature he's gained he hasn't forgotten them, staking out a negotiating position with Russia, and also with U.S.-NATO about any effort to strike a deal without him," Jentleson said.
Several rounds of negotiations have failed to produce a deal and a NATO official told NBC News they're worried talks are headed to a stalemate. Russia's been accusing Ukraine of being less willing to reach an agreement and on Monday, Zelensky said he was ready to meet with Putin directly if it'll help negotiations move toward a deal.
Much of Russia's demands are nonstarters for Ukraine, as it could leave them at such a significant deficit in the future. However, raising the topic of a national referendum could buy Zelensky time in the negotiations, according to Zhukov.
"Zelensky's counter-offer is, 'I can't give you X, but I can put X up for a vote,'" Zhukov said. "It's not a yes, but it's also not a no. It is an attempt to continue the conversation and avoid a dead-end, at least for now."