Zelensky's 'Normal' Compromise on NATO Unlikely to Satisfy Russia
Ukrainian President Volodymyr Zelensky is only willing to give up his country's potential for NATO membership in official terms, while continued military assistance from NATO member states could be a deal-breaker for Russian President Vladimir Putin.
Russia has used Ukraine's pursuit of NATO membership as a justification for the ongoing invasion and Zelensky has publicly accepted that Ukraine won't become a member. While Zelensky's admission opens the door to compromise, Russia's demands go beyond NATO membership to Ukraine's militarization as a whole. Recent comments from Zelensky indicate the two sides may be far from agreement.
In an interview with Suspilne on Monday, Zelensky once again acknowledged NATO is not going to accept Ukraine. However, he said the country needs "other security guarantees" and that Ukraine could have the benefits of NATO membership even without officially joining.
"There are NATO countries, who want to be security guarantors, who, unfortunately, cannot give us 100 percent membership in the Alliance, but are ready to do everything that the Alliance would have to do if we were members of the Alliance. And I think this is a normal compromise," Zelensky told Suspilne.
Experts previously told Newsweek that Ukraine could give up NATO membership as long as it retains the military assistance it receives from NATO countries. It would be a "perfectly survivable arrangement," according to an associate professor at American University's School of International Service. However, giving up that assistance is a nonstarter, according to experts, because it would put Ukraine at a significant disadvantage should Russia launch another attack.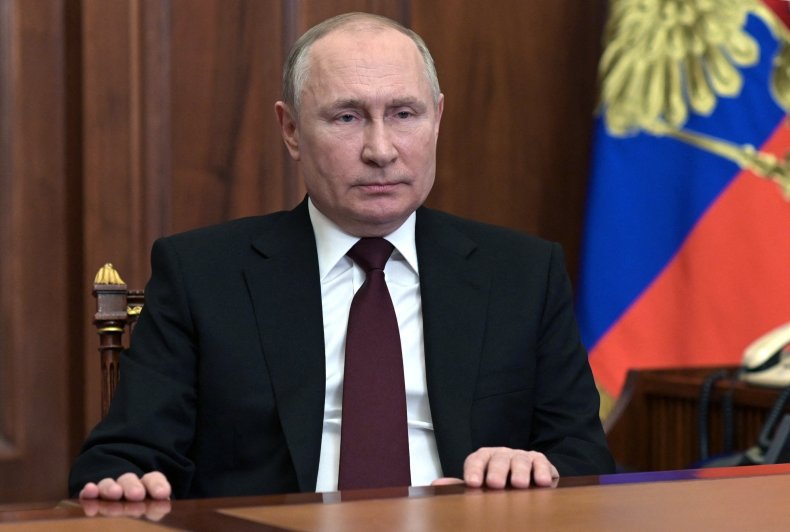 If Western countries want peace established soon, Russian State Duma Speaker Vyacheslav Volodin said on Telegram on Friday the U.S. and NATO must "stop sending weapons" to Ukraine. Russia's foreign ministry also called for countries to "stop pumping weapons" to Ukraine and warned that weapons convoys are "legitimate" targets for Russia's military.
Putin also opposes NATO's military presence in the Baltic states, which have called for the establishment of a no-fly zone over Ukraine. Coupled with recent remarks about the need for the demilitarization of Ukraine, experts are not confident Russia would be open to allowing Ukraine to continue to receive military assistance.
"There's a very robust military relationship between Kyiv and the U.S. and European partners," Michael Kimmage, a professor of history at Catholic University and fellow at the German Marshall Fund, previously told Newsweek. "Would that be acceptable to Russia? I'm curious to see how that would be worked through. I would love to see the war end, but I'm skeptical negotiations can be used."
Now in its fourth week, nearly 1,000 Ukrainian civilians have been killed, according to the United Nations (U.N.) High Commissioner for Human Rights. Another 1,400 civilians have been wounded and the U.N. warned the actual number of deaths and injuries is likely to be "considerably higher."
Russia suffered significant losses in the war and a Russian official acknowledged the country has faced some setbacks in its attack on Ukraine. Despite the economic and physical toll the war is taking on the Russian people, Putin is showing no signs of backing down and some have warned that threats from Russia will increase as the president grows more frustrated.
So far, negotiations have been conducted between Ukrainian and Russian officials and not the leaders of the two countries. However, as the war drags on and more lives are lost, Zelensky opened the door to meet with Putin directly. He told CNN's Fareed Zakaria GPS that he is willing to negotiate with Putin if there is even just a "1 percent chance for us to stop this war."