Zelensky Vows Justice as Ukraine's Corruption Crackdown Continues
Ukrainian President Volodymyr Zelensky promised that "justice will be ensured" as law enforcement continues to clamp down on corruption among prominent Ukrainian officials.
The Security Service of Ukraine (SBU) posted on its Facebook account Wednesday that its units had raided multiple properties connected to high-profile Ukrainian officials in its investigation of a "large-scale appropriation scheme." SBU alleged that former management of the state-run energy companies Ukrnafta and Ukrtatnafta had been linked to "embezzling large batches of petroleum products" and evading tax payments.
According to multiple Ukrainian media reports, one of the properties searched was owned by Ihor Kolomoisky, a Ukrainian businessman who, according to The Kyiv Independent, has been stripped of Ukrainian citizenship and was previously sanctioned by the U.S.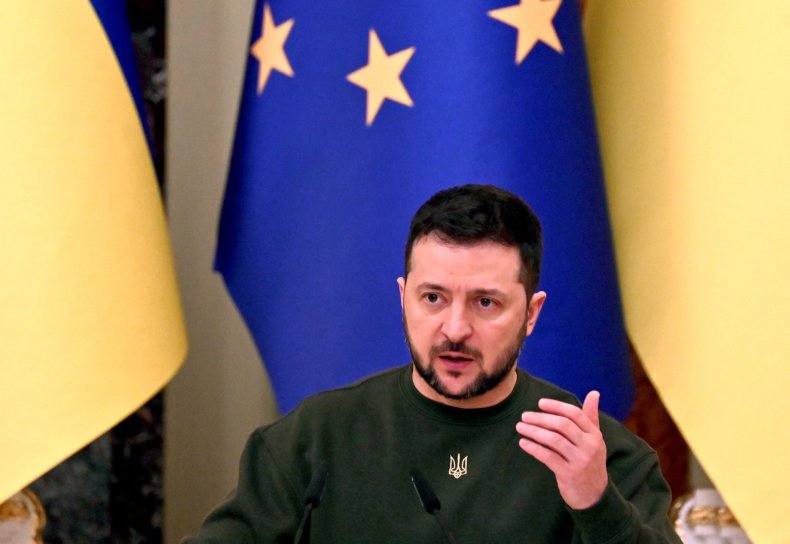 Other high-profile Ukrainians involved in the raid include Arsen Avakov, former interior minister, who the Kyiv Post reported was searched in connection to a helicopter crash in January that killed 14 people in a suburb of Kyiv, including Avakov's successor, Denys Monastyrsky.
The Independent added in its report that Avakov resigned in 2021 after "a long, scandal-ridden tenure," including being charged in 2017 in an embezzlement scheme.
Ukraine's Cabinet of Ministers also dismissed the head of the State Customs Service, Vyacheslav Demchenko, on Wednesday, a day after the SBU reported on its Telegram account that it had exposed a corruption scheme at the customs office in the city of Zhytomyr.
In his nightly address Wednesday, Zelensky acknowledged Demchenko's dismissal, and thanked the Ukrainian government "for its prompt personnel response."
"Unfortunately, in some spheres, the only way to guarantee legitimacy is to change leaders along with institutional changes implementation," Zelensky stated.
The Ukrainian president also mentioned the "dozens of searches" conducted by law enforcement earlier in the day, adding that he has seen "from the reaction in society that people approve the actions of law enforcers."
"Hence, the movement towards justice is tangible," he added. "And justice will be ensured."
The series of probes, deemed by the Independent as the "largest anti-corruption raid" since the start of the Russia-Ukraine war, came a week after several high-profile Ukrainian officials resigned, including the deputy defense minister, Vyacheslav Shapovalov, who was "asked to be released in order not to create threats to the stable support of the Armed Forces of Ukraine as a result of the campaign of accusations related to the procurement of food services."
Other officials dismissed last week included the deputy head of Ukraine's presidential office, Kyrylo Tymoshenko, deputy prosecutor Oleksiy Symonenko and several prominent governors.
Ukraine has long struggled with a reputation for corruption, and in 2021 was ranked 122nd out of 180 countries by the Transparency International's Corruption Perception Index.
As Newsweek previously reported, Zelensky's current push to thwart corruption among its top ranks may be largely driven by Ukraine's reliance on its Western allies in its defense against Russia's invasion.
Newsweek has reached out to Zelensky's office for comment.