Zelensky's Translator Chokes Up During Emotional Speech to EU Parliament
Ukrainian President Volodymyr Zelensky has taken the world by storm in recent days, fighting alongside his fellow countrymen while simultaneously making a plea for the rest of Europe to aid his country's efforts as it is continually bombarded by Russian forces.
His words have struck a chord not only across the world, but also among those closest to him. A speech he delivered to the European Parliament, one of the legislative branches of the European Union, caused even his translator to become emotional.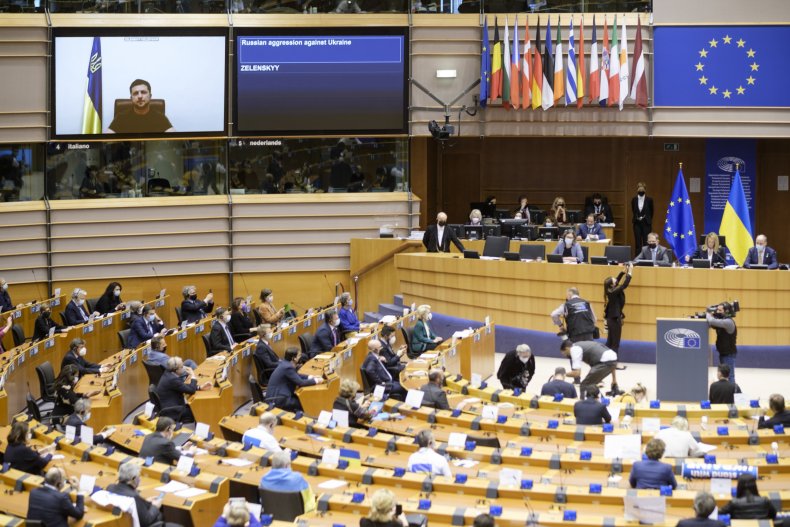 In a video posted by Zach Basu of Axios, Zelensky is seen on a video screen as European representatives from all member countries look on.
"This morning was a tragic one for us," Zelensky said per the translator. "Two cruise missiles hit Kharkiv—the city which is located to the borders of the Russian Federation. There were always many Russians there, and they're always friendly and there were always warm relations there. More than 20 universities are there. It's the city that has the largest number of universities in our country. The youth is bright, smart there."
He went on to discuss Freedom Square, the largest public gathering place in the country and the largest in Europe.
"Can you imagine this morning two cruise missiles hit this Freedom Square? Dozens of killed ones," the translator repeated Zelensky, becoming audibly emotional. "This is the price of freedom we are fighting just for our land and for our freedom, despite the fact that all cities in our country are now blocked."
"Nobody is going to break us," Zelensky continued. "We are strong. We are Ukrainians. We have a desire to see our children alive. I think it's a fair one."
Dan Rivers, a news correspondent for ITV, reported from the attacked Freedom Square that Zelensky referenced. He cited "complete devastation" while surrounded by rubble.
"It seems like Russia has switched tactics from trying to hit military targets at the beginning of this war to now trying to take out symbols of the Ukrainian state. At the moment, though, the response of the Ukrainians has been one of complete defiance."
Kharkiv is devoid of any normality, Rivers added, calling it "an absolute shell" of itself.
Following his speech, in which he said Ukraine is "fighting to be equal members of Europe," Zelensky received a long standing ovation from the members of the European Parliament.
His speech and continued plea for help came one day after he made the request to be swiftly admitted to the EU. Today, the English Parliament approved the commencement of the process for Ukraine to join the EU. However, it is expected to take time for negotiations to transpire between Ukraine and the 27 member nations.
According to Reuters, 637 Parliament members voted in favor of Ukraine joining the bloc, while 13 voted no and 26 abstained.
Albania, Montenegro, North Macedonia, Serbia and Turkey are also trying to join the EU.