Zelenskyy Echoes Bipartisan Call for Biden to Impose Stronger Sanctions
Ukraine's President Volodymyr Zelenskyy said that he has spoken with President Joe Biden about "strengthening sanctions" on Russia.
Zelenskyy announced on Twitter that he and Biden discussed tougher sanctions on Friday, as well as "concrete defense assistance and an anti-war coalition." The Ukrainian leader said that he was "grateful" for the support from the United States.
Zelenskyy's push for a tougher response to Vladimir Putin's attack echoes that of U.S. lawmakers from both sides of the aisle. GOP Senator Lindsey Graham, Democratic Representative Adam Schiff and others urged Biden to go further with sanctions on Thursday after the president held back from issuing two harsh measures: sanctioning Putin himself or kicking Russia out of the Society for Worldwide Interbank Financial Telecommunication (SWIFT) banking system.
Russian troops launched a full-scale invasion of Ukraine on Thursday after months of escalating tensions. The attack happened just days after Putin declared two separatist regions of Ukraine, Donetsk and Luhansk, as "independent."
Newsweek has reported that U.S. officials expect Kyiv to fall within a matter of days.
Biden has issued sanctions targeting five major banks in Russia, oligarchs and their family members as well as the Nord Stream 2 pipeline. Russia will also be restricted on importing U.S.-made technology.
"This is going to impose severe costs on the Russian economy, both immediately and over time," Biden said in a speech at the White House Thursday. "We have purposely designed these sanctions to maximize the long-term impact on Russia, and to minimize impact on the United States and our allies."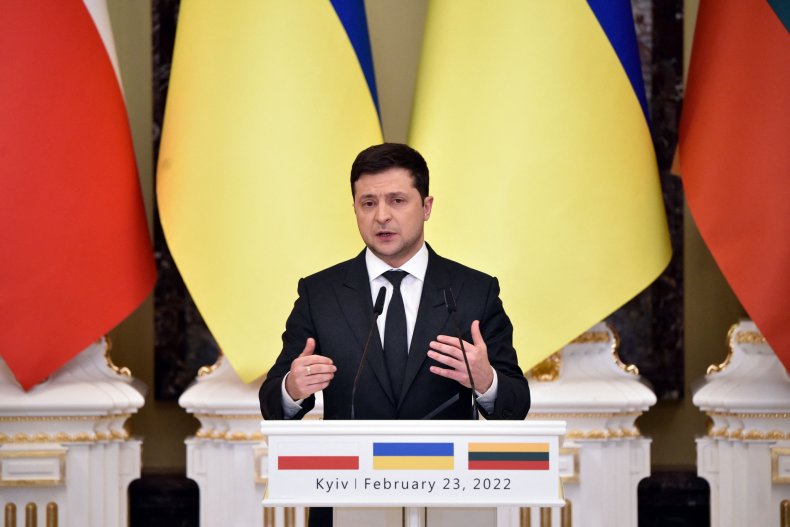 But shortly after his speech, lawmakers advised the president to take more aggressive action.
"As we seek to impose maximum costs on Putin, there is more that we can and should do. Congress and the Biden administration must not shy away from any options—including sanctioning the Russian Central Bank, removing Russian banks from the SWIFT payment system, crippling Russia's key industries, sanctioning Putin personally, and taking all steps to deprive Putin and his inner circle of their assets," Democrat Bob Menendez, chairman of the Senate Foreign Relations Committee, said in a statement.
Zelenskyy also tweeted early Friday morning that he told Ursula von der Leyen, president of the EU Commission, that "not all possibilities for sanctions have been exhausted yet. The pressure on Russia must increase."
Zelenskyy recently recorded a video of himself on the ground in Kyiv with top government leaders.
"We are all here defending our independence, our state," he says in the video. "It will continue to be so. Glory to our defenders! Glory to Ukraine!"
Newsweek has reached out to the White House for additional information on the call between Biden and Zelenskyy.
Update 12/25/2022 1:56 p.m.: This story has been updated to include information about Zelenskyy's video comments.
For more updated information on the Russia-Ukraine situation, visit Newsweek's live blog.