Zimbabwe Allowed to Sell Diamonds, Amid Claims of Human-Rights Abuses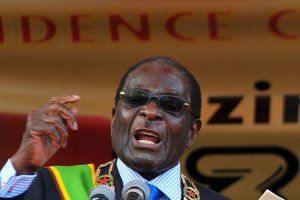 An international network that regulates the trade in blood diamonds will allow Zimbabwe—accused of torture, killings, and forced labor at its biggest diamond field—to begin selling stones once more.
In September 2006, before President Robert Mugabe ceded some of his power—which he did in a recent agreement—a 25-acre field, rich with diamonds, was discovered in a rural area of Zimbabwe called Marange. It is reportedly worth around $1.7 billion in exports per year.
The government withdrew the license from the company that discovered Marange—the mining industry and its profits are controlled by Mugabe's party, Zanu-PF—and took the mine for itself. But, according to The Daily Telegraph, the ministry of mines couldn't secure the field. And ordinary people—"teachers, nurses, bus drivers, goat-herders, schoolchildren and street kids"—began digging for gemstones.
In late 2008, government troops cracked down on the amateur miners. Human Rights Watch reported that soldiers tortured, beat, and shot those they accused of working the fields. As many as 200 died. Some were forced to dig mass graves. There were also accusations of forced labor, including children as young as 13.
The Kimberley Process, a certification system backed by the U.N. and set up to curb the trade in diamonds from conflict zones, stepped in to ban exports from Marange. Reports of illegal trading, with one deal worth $150 million, were rife. Today, following a recent inspection and the release of a human-rights activist who had been held in Zimbabwe, the World Diamond Council and the Kimberley Process agreed to allow the supervised sale of two stockpiles of diamonds. The New York Times reports that the decision was taken partly to stave off a threat from Mugabe to sell the uncertified stones anyway, a move that might have destabilized the global market.
If Marange passes two further inspections by Kimberley Process representatives in September, further trade will be allowed. Human-rights organizations claim that profits from diamonds—whether sold on the black market, in today's arrangement or in future agreements —will always go to support Mugabe and the brutal loyalists that still populate his government and military.