Zimbabwe Holds First Election Without Strongman Leader Robert Mugabe in Nearly 40 Years
Zimbabweans lined up the morning of July 30 to vote in the country's first presidential election without strongman Robert Mugabe, who led the nation for 37 years.
Approximately 5.5 million people were registered to choose their president, prime minister and local officials.
"The elections are an unprecedented opportunity for Zimbabweans to choose who they believe can deliver economic recovery after decades of violent, predatory and authoritarian rule by former President Robert Mugabe and the Zimbabwe African National Union-Patriotic Front (ZANU-PF)," International Crisis Group's Senior Consultant for Southern Africa Piers Pigou wrote prior to election day.
Twenty-three candidates—19 men and four women—are vying to be president of the southern African country, which has a population of more than 16 million. Two candidates, incumbent President Emmerson Mnangagwa, of Mugabe's party ZANU-PF, and Nelson Chamisa, of the opposition MDC Alliance, are the top contenders.
Mnangagwa, who served as the country's first security minister and then as Zimbabwe's intelligence chief, vowed to repair the country's economy and attract foreign investment. Nicknamed "The Crocodile" for his political guile, Mnangagwa was accused of directing attacks on opposition supporters after the 2008 elections.
He is being challenged by 40-year-old Chamisa, who promised to implement electoral reform and tax cuts.
Polls showed Mnangagwa leading by a razor-thin margin, according to the BBC.
Chamisa raised concerns about potential vote suppression on Monday in a tweet. "There seems to be a deliberate attempt to suppress and frustrate the urban vote. Good turnout, but the people's will is being negated and undetermined due to these deliberate and unnecessary delays," he wrote. He offered no evidence to support claims that the Zimbabwe Electoral Commission was blocking votes in urban centers, where he has a strong base, according to Reuters.
The election could allow the country to diverge from its repressive past under Mugabe, who was ousted last year in a military coup. Mugabe was elected as the country's prime minister in 1980. In 1988, he took office as the country's first executive president, a position in which he served as head of state and head of government.
Mugabe accused Mnangagwa of colluding with the military to seize power, and blamed "evil and malicious characters" for forcing him out.
"I can't vote for Zanu-PF. I can't vote for the people who have brought me into this state," Mugabe said July 29. "I must say clearly I cannot vote for these who have tormented me. I can't. I will make my case among the other 22 [out of the 23 candidates]."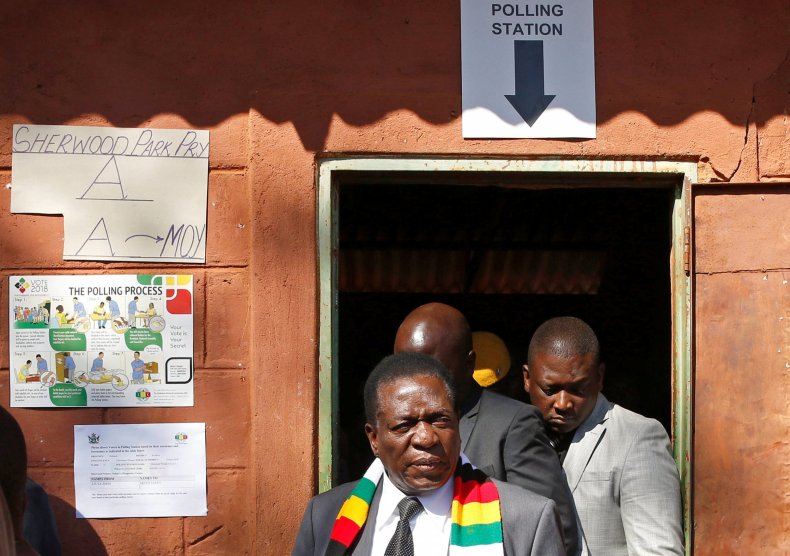 Mugabe's leadership initially provided benefits for the country, with his investments in health and education leading to prosperity.
But his power deteriorated in the 1990s. Mugabe began supporting authoritarian policies that consolidated his control of power, spent money lavishly while the economy floundered, and used violence to intimidate opposition voters. The latter years of Mugabe's presidency were marred by regular food shortages, immense inflation and high unemployment. The country's economic situation was exacerbated by sanctions levied by the EU and United States in 2002. Both accused the Zimbabwean president of undermining democracy and repressing civil liberties.
This election could facilitate the removal of Zimbabwe's branding as an anti-democratic state, and the removal of Western sanctions.
"The elections, if free and fair, provide an opportunity to establish a strong opposition presence in parliament for the first time since 1987 or to even topple Zanu-PF," Heike Schmidt, associate professor in modern African history at the University of Reading in England, told CNN. "What one can say so far is that pre-election violence and intimidation appears to be less than on previous such occasions, and that President Mnangagwa appears utterly confident in his election victory."
Results will be announced on August 4.