Robert Mugabe Thankful for Absence of Islam in 'Highly Developed' Zimbabwe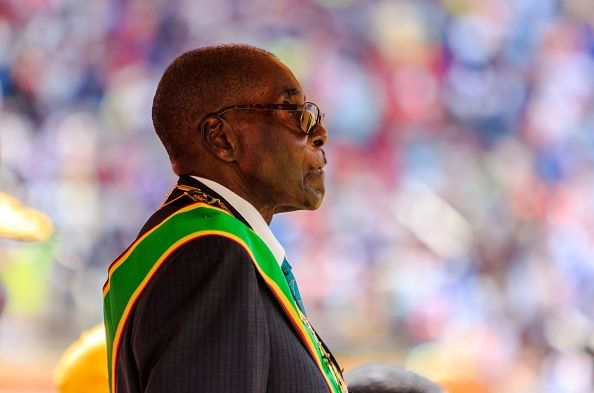 Zimbabwe President Robert Mugabe has blamed Islam for the violence plaguing many African countries.
The 93-year-old Mugabe was on a panel discussing fragile states at the World Economic Forum on Africa in Durban, South Africa on Thursday when he said some countries on the continent are destabilized by religious influences, News 24 reported.
After stating that splits within the Christian church did not lead to violence, Mugabe said: "In the Islamic world, the belief is that the more violence you exert on the population, the more they listen.
"In Africa you also had a touch of the Muslim world in some countries, but in the south it wasn't our experience, thank God," he said.
Nearly 84.5 percent of Zimbabwe's population of 15.6 million people is Christian with an estimated 1 percent Muslim, according to the 2015 International Religious Freedom Report by the U.S. Bureau of Democracy, Human Rights and Labor.
The Islamic Welfare Organization based in the capital Harare has not responded to a request for comment on Mugabe's remarks.
Mugabe also denied Thursday that Zimbabwe was a fragile state.
"Zimbabwe is the most highly developed country in Africa. After South Africa, I want to see another country as highly developed," he said.
Mugabe added that Zimbabwe has 14 universities and that the country's literacy rate is above 90 percent.
"And yet they talk about us as a fragile state," Mugabe said. "We have a bumper harvest, not only maize, but also tobacco and many other crops. We are not a poor country. If anyone wants to call us fragile, they can. You can also call America fragile."
Mugabe, who has ruled the country for 37 years, acknowledged last year that Zimbabwe was in the midst of a financial crisis and said the country was in a "critical time... for regime change," according to the African News Agency.
The World Bank said in April that, although Zimbabwe's economy is expected to grow by around 2 percent in 2017, extreme poverty "is projected to have risen substantially." At least 21 percent of the population lives on less than $1.90 a day.
Zimbabwe has also been affected by a two-year drought. As a result, the UN estimated that at least 4 million people are facing food shortages due to a lack of rain that has depleted harvests.
The state-run Zimbabwe National Statistics Agency put unemployment at 11.3 percent in 2014. However, the Zimbabwe Congress of Trade Unions said Monday that the country's unemployment rate stands at 90 percent and called for a regime change.
Presidential elections in Zimbabwe are due in July 2018. Mugabe is expected to run again.