Zion Williamson Makes History on Return from Injury as Duke Beats Syracuse in ACC Tournament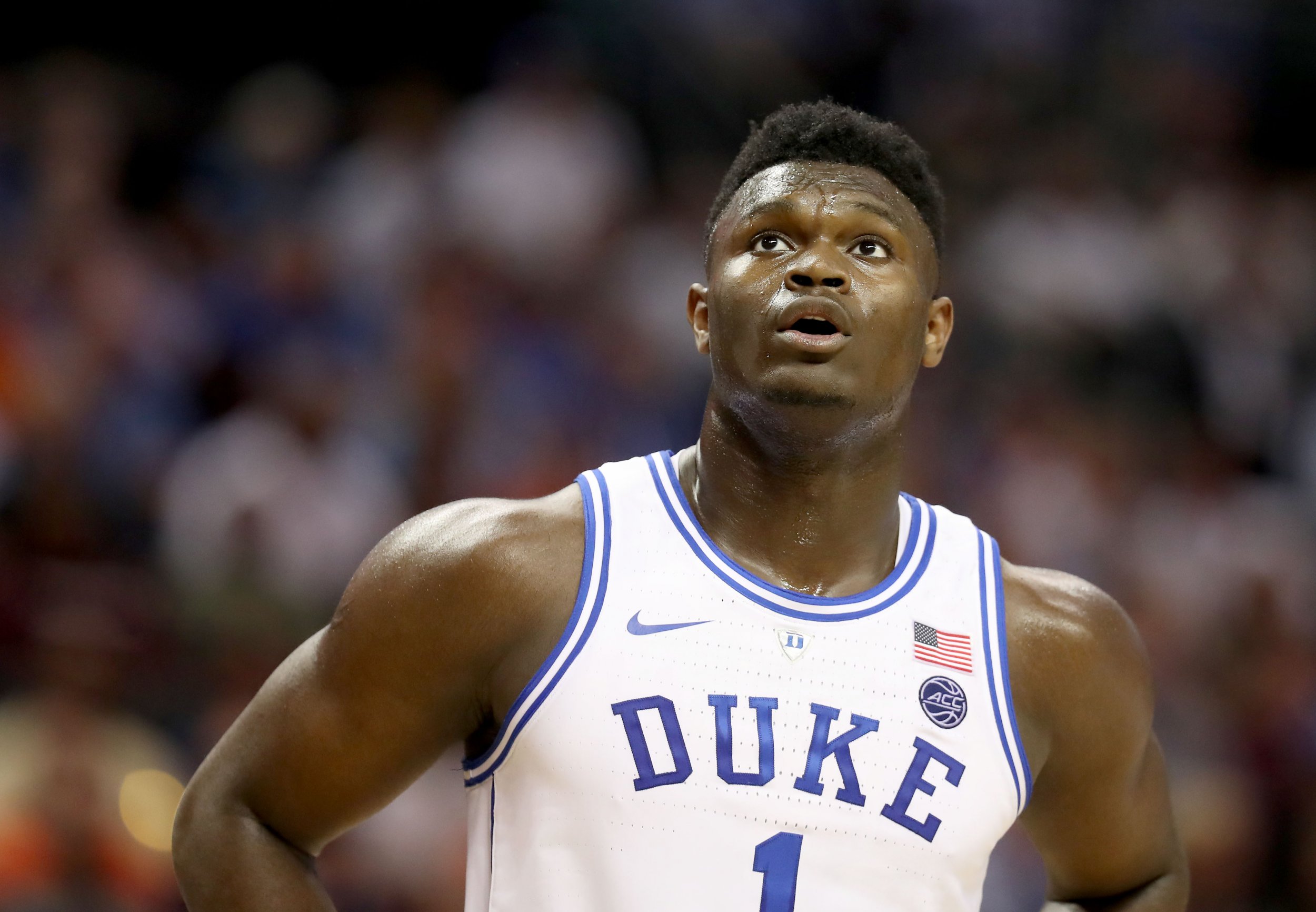 Zion Williamson marked his return to action in emphatic fashion, breaking a six-decade conference record.
The Duke freshman had not played since suffering a knee sprain on February 20 when his foot busted through his sneaker, but was back to full fitness against Syracuse on Thursday night. Williamson shot an immaculate 13-of-13 from the field, finishing with 29 points, 14 rebounds and five assists as the Blue Devils beat the Orange 84-72 in the quarterfinals of the Atlantic Coast Conference (ACC) Tournament.
The 18-year-old's shooting performance was the most field goals without a miss in an ACC Tournament game, beating a record that had stood for 66 years. It was also the best shooting performance in Duke's history.
According to ESPN Stats & Info he was also the first Duke player since Christian Laettner in 1992 to finish with at least 25 points, 10 rebounds and five assists in the same game.
During his injury layoff, some suggested Williamson should sit out the remainder of the season to avoid jeopardizing his chances of being the number one overall pick at the upcoming NBA draft.
The Blue Devils star, however, never considered the option.
"I knew I was going to be back," Williamson told The Associated Press. "Everybody has their right to their own opinion, but I knew I was coming back the whole time."
Williamson, who was named the ACC Player of the Year and the ACC Rookie of the Year, set the tone early.
With just two minutes gone, he intercepted a pass and dribbled down court before finishing the move off with a trademark dunk.
He would add a further four dunks during the game, sending a powerful message to anyone who doubted Duke's credentials.
Syracuse coach Jim Boeheim was certainly impressed by what he saw of Williamson, comparing him to a younger version of Charles Barkley.
"I've been in this game over 50 years, and I've seen some great players," he told ESPN. "I'm not saying he's better than those guys, but he can do things nobody has done in this game.
"I mean [Barkley] was close, but this guy's bigger, stronger. And I mean he's a crazy different type of player. There aren't guys like him."
Next up for Williamson and Duke is a familiar foe, as they face North Carolina in the semifinals of the ACC Tournament. The Tar Heels won the two previous games against the Blue Devils, 88-72 in February when Williamson got injured after 36 seconds and then 79-70 in the final game of the regular season last week.
Syracuse, meanwhile, will await word on whether it has done enough to be awarded a spot in the NCAA Tournament.