Zion Williamson Injury Update: Duke Star Suffers Mild Knee Sprain After Nike Shoe Blows Up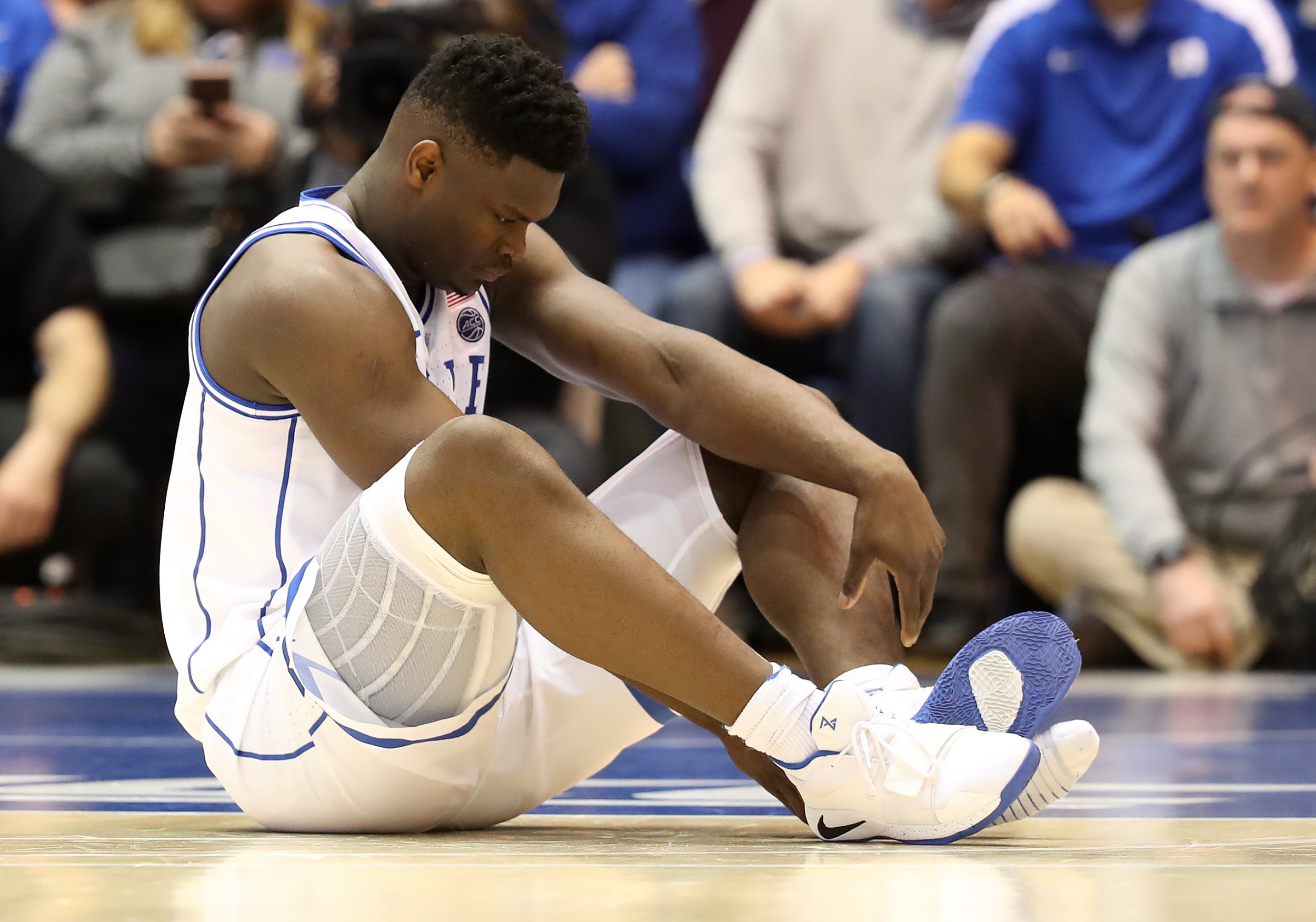 Duke sensation Zion Williamson suffered a bizarre injury on Wednesday night as his left Nike shoe fell apart just 36 seconds into the game against North Carolina.
As the freshman planted his foot down, the sole completely ripped loose from the rest of the shoe along the edge, leaving Williamson clutching his right knee in pain after slipping awkwardly.
The 18-year-old limped off the court and did not return for the remainder of the night. After the game, Blue Devils coach Mike Krzyzewski described the injury as a "mild knee sprain" and indicated a more detailed timetable on Williamson's return will be released on Thursday.
Krzyzewski, however, said Williamson's knee was stable, which seemed to indicate the ligaments were not interested by the injury.
"It's a mild knee sprain," he said as per Duke's official Twitter account.
"The knee is stable. We don't know how long he will be out for."
Without their star, who averages 22.4 points per game this season, Duke never got going and suffered an 88-72 home loss against the Tar Heels.
Krzyzewski admitted his players looked lost after Williamson limped off.
"It put everyone in the position of having to figure it out, playing without him, while playing a really good team. It's not a good situation," Krzyzewski was quoted as saying by ESPN.
"At halftime the realization that he's not there settled in. And we played horrible to start the second half. The final 16 minutes I thought we played really well, but it was too late."
The Tar Heels made the most of Williamson's absence, scoring 32 of their first 34 points in the lane and finishing with 62 points in the paint. Duke's inside scoring, in contrast, was limited to just 28 points.
"Obviously, you lose a national player of the year candidate," Krzyzewski told the Associated Press, "There are going to be gaps of what you have to do."
Duke forward Cameron Reddish echoed his coach's thoughts, suggesting the team had missed Williamson's presence as much as his scoring.
"We miss him as a player, but it's not just that," he added.
"He is also the source of our energy. So, without him on the floor, that energy is missing. We have to be back in the gym tomorrow, figuring out how to find that energy while he is gone. However long that is going to be."
Number-one ranked Duke slipped to 23-3 for the season with the loss and travels to 18th-ranked Syracuse on Saturday next.