Barack Obama, LeBron James and Twitter React to Zion Williamson Injury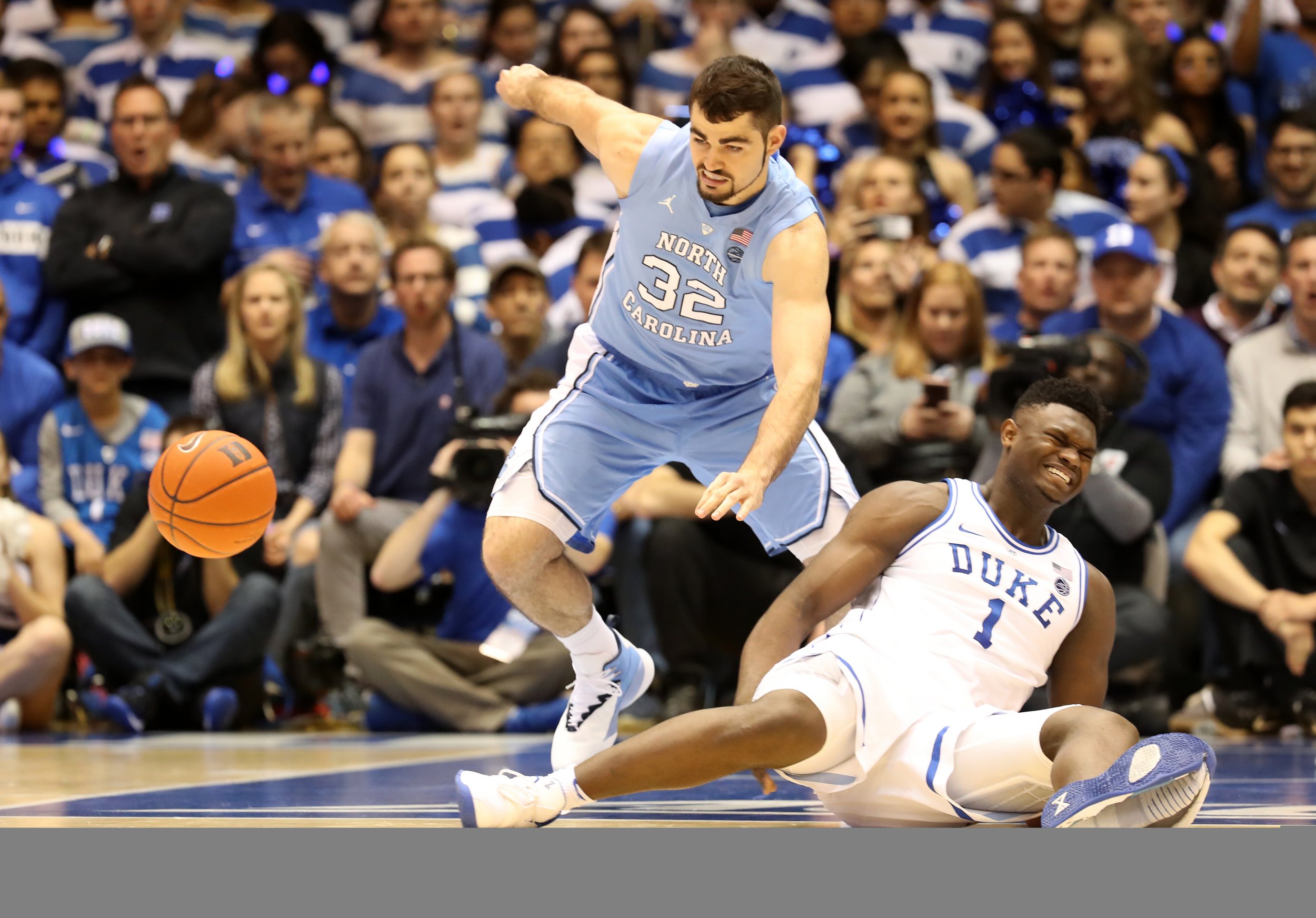 Duke star and national player of the year candidate Zion Williamson suffered a knee injury on Wednesday night after his left Nike shoe came apart.
With only 36 seconds played in the Blue Devils' 88-72 home loss against North Carolina, the freshman planted his foot down inside the arc to dribble, only for the sole to be almost entirely ripped away from the rest of the shoe.
Williamson limped off clutching his right knee and did not return for the night. Duke coach Mike Krzyzewski later described the injury as a mild knee sprain.
The impact of Williamson's freakish injury extended way beyond the world of college basketball, given the 18-year-old has emerged as one of the most exciting prospects in years and is almost guaranteed to be the first overall pick of the 2019 NBA draft.
Former President Barack Obama, a huge basketball fan, was in attendance on Wednesday night and tweeted that he wished Williamson a speedy recovery.
Puma, meanwhile, used the injury to take a dig at Nike, suggesting the Duke freshman would have not suffered a similar fate had he been wearing a different brand of shoes. The tweet was eventually deleted, but not before it was screen grabbed by some eagle-eyed users.
LeBron James was just one of the many NBA stars who wished Williamson a fast recovery, while Utah Jazz guard Donovan Mitchell highlighted the unfairness of the NCAA system in which players don't get paid but can endure potentially career-defining injuries.
ESPN analysts Mark Jones and Adam Schefter both suggested it would be in Williamson's best interest to sit out the remainder of the season to avoid other injuries, which could jeopardize a lucrative NBA contract.
Williamson is a first overall pick in waiting and the sight of him clutching his knee would have sent shivers down the spine of the general managers of the teams in the draft lottery. The teenager had previously indicated he would like to play at Madison Square Garden, and New Orleans Saints wide receiver Dez Bryant suggested the next time Williamson stepped on a court he would do so in a Knicks jersey.
Former NBA star Carlos Boozer, meanwhile, also wished Williamson a speedy recovery. Except that instead of tagging the Duke freshman in the tweet, Boozer tagged Zion National Park, which is located near Springdale in southwestern Utah.
The park duly accepted the unexpected publicity.
Duke said more details on the extent of Williamson's injury and a timeline for his recovery would be disclosed on Thursday.