Zip-Liners Encounter Sloth Hanging Out on Wire in Video Viewed 7.2M Times
Andrew Raymer told Newsweek that he and his 13-year-old son recently had "an experience of a lifetime" when they got an up-close encounter with a sloth.
Sloths have recently become increasingly popular after stars such as Kristen Bell ranted about them and they were characters in pop culture films such as "Ice Age" and "The Croods," according to The Dodo. In a viral TikTok video that has accumulated 7.1 million views, the boy is seen zip lining at Go Adventure in La Fortuna, Costa Rica, among innumerable trees and wildlife.
In the video, the boy is in front and speeds down the line and through the lush green canopy in front of his father who is filming in close proximity. Suddenly, out of nowhere, the boy puts on the brakes, and his father does the same. A sloth had overtaken the zip line and prevented the duo from advancing. The boy, unable to slow down fast enough, seems to run right into it.
"It's a sloth!" the boy replied. "I just clocked it straight in the face."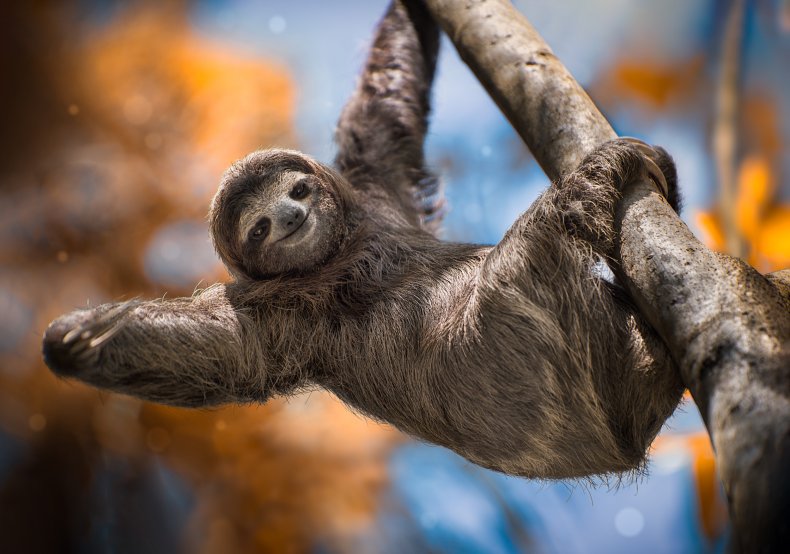 "Don't worry, don't worry," his father said to him.
Raymer wonders aloud where the sloth "jump[ed]" from, stumping the boy. Meanwhile, the sloth gives the pair a look as if they negatively affected his leisurely afternoon.
"(My son) hadn't seen a sloth before since we are from Canada," Raymer told Newsweek via email. "The guides from Go Adventure deserve a lot of credit for how they handled the situation. It was raining so the visibility was poor. He wasn't able to see it in time to stop."
A spokesperson for Go Adventure told Newsweek that this was an isolated incident that has never previously happened.
"We had animals like the sloth or monkeys but we always check the cables, and this sloth got on it in seconds because just 30 seconds before a person [went] on it," the spokesperson said.
Neither the sloth nor child were hurt in the incident. It took the sloth about 15 minutes to remove itself from the zip line with help of park employees.
The video drew over 12,000 comments, stretching from amazement to people perceiving what the sloth would say in response if it could talk.
"They do this EVERY year," someone joked, imitating the sloth.
"He's like 'oops sorry guys let just move out of your way in 3-5 business years,'" another said.
"Can't believe there's traffic on a zip line," someone commented.
The boy was commended for his ability to spot the sloth and stop on a dime, with some saying it's a story he will tell for the rest of his life.
"That's a cool kid for not freakin or screaming like most kids would," one person said.
"Kid is going to remember ramming into a sloth for the rest of his life and is going to tell the tale in college," another joked.
One person said, "Kristen Bell is somewhere crying right now," in reference to when the actress was gifted a sloth by her now-husband Dax Shepherd on her 31st birthday a decade ago.
Last month, a two-toed sloth was born at the St Augustine Alligator Farm Zoological Park—where its parents have lived since 2019.
The creatures, although often the butt of jokes for their speed and comical yet involuntary reactions, can have a rough side. This past January, two sloths grappled at The Smithsonian Zoo during a winter scene that included numerous animals.
Raymer said he "never imagined the video would go viral," saying his family was "shocked" and entertained as they watched the views climb higher and higher.
"We will definitely be returning to Costa Rica!" he said.
Update: 03/17/22 11:15 A.M. ET: This article was updated with a comment from Go Adventure.