Zoë Kravitz Responds to Criticism of Her Met Gala 'Naked' Dress
Zoë Kravitz put on a dazzling display at last week's Met Gala in a Saint Laurent gown.
Arriving at the prestigious event, often referred to as the Oscars of fashion, Kravitz stunned in a halter-neck floor-length mesh gown, with a matching bedazzled thong visible underneath.
She accessorized with Jessica McCormack diamond earrings and open-toe black heels.
After sharing pictures of her look on Instagram, actress Mindy Kaling commented on her post: "Let me be clear: I am in love with you."
Though many loved the outfit, others were not so kind.
In comments documented by the Instagram account Comments By Celebs, one detractor wrote: "I don't understand why they go practically naked. She's gorgeous. Why does she feel the need to wear a dress like this?"
The 32-year-old actress responded: "Being uncomfortable with the human body is colonization/brainwashing. it's just a body. we all got em."
Kravitz has since deleted all of her posts from her public account.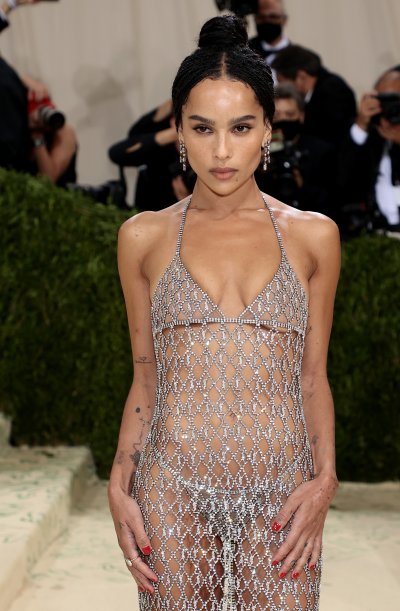 The Big Little Lies star previously opened up about struggling to see herself as beautiful in an interview with Independent.ie as she said: "It affected me growing up not seeing women like me in magazines and feeling like I had to be blonde and white to feel beautiful.
"I always thought I needed to be tall and blonde and have straight hair.
"I went to school with people who didn't look like me and I felt really uncomfortable with the fact I looked different and had Black family members and white family members, and it didn't feel good to be different.
"Obviously now I've grown into myself, I think that the things that make us different are the things that make us beautiful."
'Naked' Dresses at the Met Gala
Kravitz was not the only star to attract attention for her barely there dress at the 2021 Met Gala.
Model and reality star Kendall Jenner also stepped out in a see-through Givenchy gown, which drew from Audrey Hepburn's dress she wore while starring as Eliza Doolittle in My Fair Lady.
Emily Blunt's embellished Miu Miu gown was also sheer from the waist down and model Imaan Hammam wore a vintage Versace gown complete with a see-through bodice.
See-through dresses have a well-established history at the Met Gala. In 1974, Cher turned heads in a Bob Mackie creation.
The dress served as inspiration for Kim Kardashian's Roberto Cavalli gown at the 2015 event.
2015 was a banner year for the barely-there dress as many of the Met Gala's traditional big hitters also walked the red carpet in daring outfits.
Jennifer Lopez's sheer Versace gown had carefully placed red crystals, leaving the side of her body almost completely exposed.
Beyoncé closed the red carpet, as the last to arrive in a Givenchy gown with embellishments strategically placed, leaving much of her midriff, back and legs on display.
She previously wore another near-naked dress at the 2013 event, also by Givenchy.
In 2016, Madonna made headlines for her dress that exposed her breasts and buttocks. She later called the Givenchy outfit a "political statement."
A year later, Kendall Jenner's La Perla gown exposed much of her body and left a black thong visible while Bella Hadid turned heads in a sheer low-backed Alexander Wang catsuit.
2018's event saw Kravitz in another Saint Laurent creation, this time a see-through lace gown with one side left open.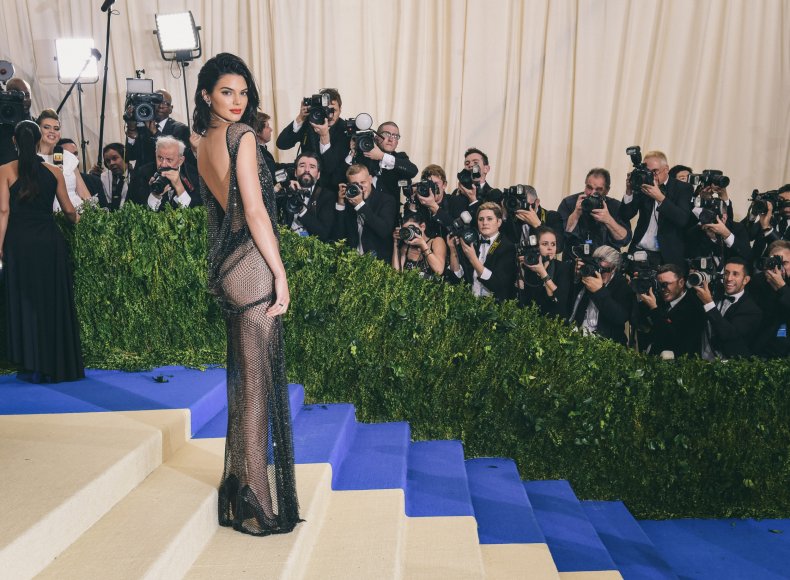 In Focus
Model and reality TV star Kendall Jenner first wore a see-through dress to the Met Gala in 2017, arriving in this La Perla gown.
Launch Slideshow

16 PHOTOS
In 2019, Hadid again stunned in a black Moschino gown with a cut-out on her hip.
Emily Ratajkowski left her midriff exposed in a sheer gown by Dundas while Stella Maxwell and Joan Smalls also donned sheer outfits.
Lady Gaga, who served as the Met Gala's co-chair in 2019, went one step further, arriving in a billowing hot pink Brandon Maxwell gown before staging a red carpet performance that saw her reveal a black gown underneath, another hot pink dress under that before finally stripping down to just black lingerie.