Zoe Saldana Attacked With Racial Slurs After Defending Chris Pratt
The hate against Chris Pratt has spilled over onto his Guardians of the Galaxy castmate Zoe Saldana. People on social media began attacking Saldana and calling her racial slurs after she tweeted a message of support at Pratt.
"No matter how hard it gets, stick your chest out, keep your head up and handle it. —Tupac," Saldana tweeted on Tuesday, adding, "You got this @prattprattpratt . Your family, friends, colleagues & everyone who's ever crossed paths with you knows your heart and your worth!"
Almost immediately, upset fans who had been criticizing Pratt turned their attention to Saldana, including a number of people who took to Twitter to spew racial slurs at her, calling her hateful names.
"Just a nasty biracial woman," one Twitter user wrote in response to Saldana's message.
Saldana is just the latest Marvel Cinematic Universe star to face the wrath of fans on social media for coming to Pratt's defense. Other members of the movie franchise have also been attacked for their support of Pratt, who has been the target of criticism and backlash recently, over speculation as to his political and religious beliefs.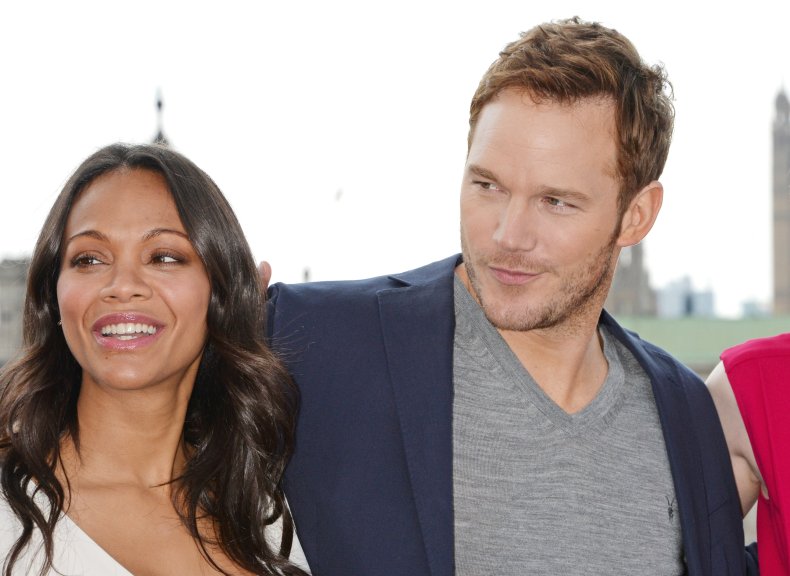 Avengers star Mark Ruffalo came under fire on Tuesday also, after he tweeted this message: "You all, @prattprattpratt is as solid a man there is. I know him personally, and instead of casting aspersions, look at how he lives his life," Ruffalo tweeted. "He is just not overtly political as a rule. This is a distraction. Let's keep our eyes on the prize, friends. We are so close now."
Iron Man himself, Robert Downey Jr., caught heat from fans on Instagram after he criticized "the sinless" for their harsh comments of his "#brother Chris Pratt."
"A real #Christian who lives by #principle, has never demonstrated anything but #positivity and #gratitude... AND he just married into a family that makes space for civil discourse and (just plain fact) INSISTS on service as the highest value," Downey wrote on Tuesday. "If you take issue with Chris,,, I've got a novel idea. Delete your social media accounts, sit with your OWN defects of #character, work on THEM, then celebrate your humanness.."
This cancel campaign against Pratt was launched after TV writer Amy Berg shared a tweet on Saturday that said, "One has to go," alongside photos of Pratt and fellow actors Chris Hemsworth, Chris Pine and Chris Evans. Hundreds of responses to the tweet suggest that Pratt is the least liked of all the Hollywood Chrises, and many Twitter users have speculated that Pratt's a supporter of President Donald Trump because he hasn't spoken out in support of Democratic presidential candidate Joe Biden.
Pratt's religious beliefs have also come under fire. He's a member of Hillsong Church, which has been called out in the past for promoting anti-LGBTQ beliefs. Pratt has defended his beliefs, and said that the claims about Hillsong Church are "absolutely untrue."